Categories:
Fight Reports
|
Comments Off

on Winky Beats Tito!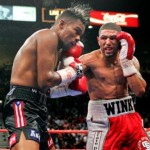 In a fight that defied all analyst predictions Ronald "Winky" Wright decisively beat three division champion Felix "Tito" Trinidad for the WBC Middleweight title elimination spot in front of a sellout crowd of screaming boxing fans at the MGM Grand in Las Vegas. 
Tito paid for violating one of the unwritten code of boxing regarding come backs, the law states that you should get back into the rhythm of the game by first fighting a couple of respectable stiffs before stepping into the ring against the active lions of the division. Tito showed complete disdain for this rule and in his very first assignment after a two and half year hiatus away from the ring he made a comeback against the dangerous slugger and just recently dethroned WBC, WBA and IBF champion Ricardo Mayorga, Tito proved the law wrong that time by inflicting a savage beating on Mayorga proving to himself that he was ready and he threw caution to the winds into accepting the dangerous Middleweight eliminator assignment against reigning unified WBA and WBC Light Middleweight Champion Winky Wright. 
Either due to his one dimensional forward fighting style or Wrights southpaw stance, Trinidad was simply unable to get past Winky accurate jab, or his ear tight ear muff defense. When Tito managed to get on the inside, he was unable to connect with his vaunted left hook or with any of the wild power shots we have come to expect from him. The world of boxing waited in vain see him put together a combination of shots to end the fight as dramatically as the Corrales versus Castillo fight of about a week ago, but it never came. 
Winky on the other hand followed his game plan and landed 262 punches, connecting virtually at will with his jab snapping back Tito head and drawing blood from his nose as early as the second round. He dominated every single round showing true ring generalship with an impenetrable defense that had Tito landing only 58 punches throughout the fight. The three judges concurred with his performance and awarded final scores of 120-107, 119-108 and 119-108 all in favor of Winky Wright. With this performance you have to wonder about Trinidad's future because he did worse than Sugar Shane against Winky, for now the coast looks temporarily bleak as he considers his possibilities.
On the other hand, Winky has now gone undefeated in ten straight fights and he has finally earned our respect and will never be underestimated ever again. But he still has his work cut out for him as he is now the mandatory and universally recognized challenger to the winner of the Bernard Hopkins versus Jermain Taylor unified Middleweight Title clash – True greatness lies in destroying that winner.
Stay Tuned.
Related Articles: