Categories:
Fight Reports
|
Comments Off

on Zsolt Erdei and the Cruiserweight Division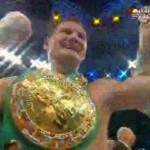 By Michael Amakor – November 21, 2009
Zsolt Erdei (31- 0, 17kos) seized the WBC Cruiserweight belt from defending champion Giacobbe Frogmenni (26-2 -1, 10kos) in a 12 round competitive contest in front of a boisterous crowd at the in Sparkassen-Arena, Kiel, Schleswig-Holstein in Germany
Although Zsolt got the decision I believe Frogemeni deserved the nod as the defending champion and he certainly proved his point by pressuring Erdei from the middle rounds to the bell, and the judges acknowledged his efforts, but scored it 115-113, 114-114 and 115-113 razor thinly against the 40 year Italian.
I have never been a fan of the unbeaten Hungarian Zsolt Erdie, mostly because he restricted most of his fights to his adopted country of Germany and also because I never got to see any of his fights before today if not for the internet , but nevertheless he really impressed me in this fight because despite weighing in at a very light 178.8 lbs, he still withstood all the 195.88lbs Frogemeni had to offer and went toe to toe in this fast paced grueling fight to seize the WBC Cruiserweight belt.
True boxing fans must admire Zsolt Erdie for making over 10 defenses of his WBO light heavyweight title even if you think it was against sub par opposition, it was a very gutsy move stepping up from his comfort zone at 175 into the cruiserweight division renown for its limited purses, but the dearth of star talent in the division due to frequent migrations by its fighters northwards presented a golden opportunity for Zsolt to challenge and win this fight to become an undefeated two division champion.
However, past responses to his reign as the WBO 175 Champion which he won by beating Julio Gonzalez in his most notable win way back in 2004 has up until now been marked by extreme apathy in international boxing circles. To underscore this apathy, this fight went mostly unnoticed and unreported by mainstream media and independent boxing websites, and whenever I brought up his name during either the Glen Johnson vs. Chad Dawson II press conference or on radio and TV shows I participated in, he was so thoroughly ignored I really suspect that the hosts did not know who he was and for good reason as he fought no 175 pounder worthy of mention during his long reign, we missed unification fights versus Hopkins, Calzaghe, Tarver, Glen Johnson, Dawson, or even Clinton Woods to mention a few. Perhaps he had good reasons for restricting his affairs to Germany but that has made him an unknown and unmarketable commodity internationally and the only reason I tuned in to his fight was because it was for a cruiserweight belt.
I do not think that he belongs in the cruiserweight division as I suspect that he will fall mightily before the fury of a brutal assault from either Cunningham, Adamek, Mormeck, Guillermo Jones, Herbie Hide or even Wayne Braithwaite, but he may be able to get past the badly faded Enzo Macarinelli to wet out appetites in his first optional defense. Other match-ups that scare me are that he may be targeted, cornered and beaten by faded and aging veterans like Roy Jones or Bernard Hopkins who will subsume the talent in the division and leave it high and dry,. On the bright side he may take on some of the new championship faces in the division like Ola Afolabi, and contenders like Mack Huck and even Matt Godfrey. Still none of those fights may ever happen if his management team can help it giving the way the have safely guided Erdei's career to date..
Perhaps my European compatriots may correct my impressions about his star pull in boxing crazy Germany, and impress upon us all the need to take the fight to his door, but it is time for all boxing fans, promoters and sanctioning bodies to put their heads together to give this Champion a true international test before he drags down my favorite division – Cruiserweight.
Related Articles: