Categories:
Other News
,
Press Releases
|
Comments Off

on 130th annual USA Boxing New England Championships
130th annual USA Boxing New England Championships
Hosted by John Ruiz' Quietman Sports Gym
Continues this Saturday night in Chelsea, MA
Nov. 28 Final in Plymouth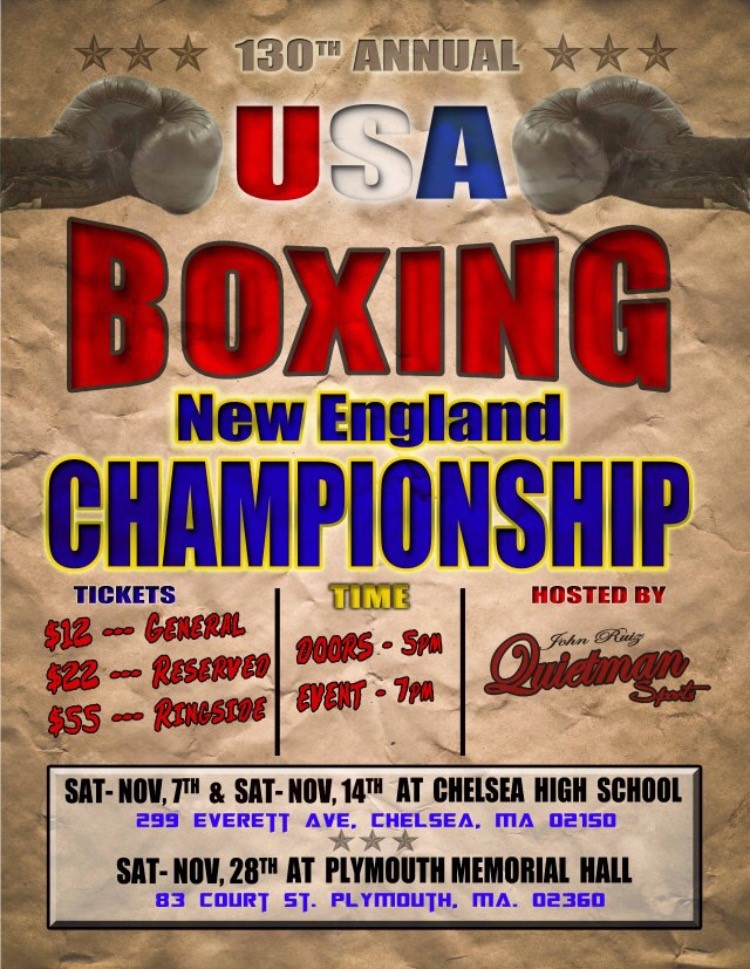 MEDF0RD, Mass. (November 11, 2015) – The second round of the 130th annual USA Boxing New England Championships, hosted by Quietman Sports Gym, will be held this Saturday night (5 p.m. doors open, 7 p.m. first match) at Chelsea High School.
Quietman Sports Gym, located in Medford (MA), is owned and operated by two-time world heavyweight boxing champion John "The Quietman" Ruiz, the first and only world heavyweight champion of Hispanic heritage.
Winners in the open and novice divisions will qualify for the championship finals Saturday, Nov. 28 at Plymouth Memorial Hall (5 p.m. doors open, 7 p.m. first match). The 2015 USA Boxing N.E. champions in each weight class will advance to the USA National Championships
"Everything was awesome last Saturday night (opening round at Chelsea High School)," Ruiz said. "It was a great show with some very entertaining matches from the JO's to novices and open boxers."
Tickets are priced at $55.00 (ringside), $22.00 (reserved seats) and $12.00 (general admission) are available by going to www.quietmansportsgym.com (click on New England Championship page) or at the door.
During the past 50 years, USA Boxing New England champions have included world champions such as Brockton (MA) middleweight "Marvelous" Marvin Hagler (1973) and Providence (RI) welterweight Demetrious "Boo Boo" Andrade (2005-2006), as well as U.S. Olympians Andrade and Providence super heavyweight Jason "Big Six" Estrada (2001-2002-2003), and Providence middleweight/heavyweight Matt "Too Smooth" Godfrey (2000 & 2004), Worcester (MA) middleweight Edwin Rodriguez (2008), and Framingham (MA) welterweight Danny "Bhoy" O'Connor.
QUIETMAN SPORTS GYM INFORMATION:
Website: www.QuietmanSportsGym.com
Telephone: 781.396.6700
Twitter & Instagram: @QuietmanSportsGym
Facebook: www.Facebook.com.QuietmanSportsGym
ABOUT QUIETMAN SPORTS GYM: Owned and operated by two-time World Boxing Association ("WBA") heavyweight boxing champion John "The Quietman" Ruiz, Quietman Sports Gym is located inside of Gold's Gym in Medford (4000 Mystic Valley Parkway), a Boston suburb located only a few miles from where Ruiz grew up in Chelsea and trained in Somerville.
Quietman Sports Gym is a full-contact, sanctioned USA Boxing gym, featuring a boxing ring and mixed-martial-arts cage, as well as a full array of modern training equipment. The multi-fighting gym offers boxing and full-contact combat fighting classes, personal and semi-private instruction, self-defense classes, and white collar boxing in a clean, safe environment.
ABOUT USA BOXING NEW ENGLAND: The New England Association, Inc., the Local Boxing Committee (LBC), is the governing body of amateur boxing in the states of Maine, New Hampshire, Vermont, Massachusetts, and Rhode Island under the authority of United States Amateur Boxing, Inc. (USA Boxing), Colorado Springs, Colorado, and the Ted Stevens Olympic and Amateur Sports Act.
The objectives of the New England Association are to foster, develop, promote, and coordinate recreational and competitive amateur boxing opportunities for all member athletes and supportive participants and to supervise such other amateur boxing matters that may properly come within its purview. The Association is a charitable, federal tax-exempt organization under section 501(c) (3) of the Internal Revenue Code. Contributions, bequests, and gifts are deductible for federal income, estate, and gift tax purposes under sections 170(c) (2) and 2055(a) (2) of the Code.
Related Articles: