Categories:
Other News
|
Comments Off

on Boxing: Barrett aims to make Tua pay for deal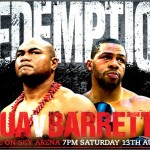 By Michael Brown | 5:30 AM Sunday Jul 24, 2011
Culled from http://www.nzherald.co.nz/boxing/news/article.cfm?c_id=23&objectid=10740492#
Monte Barrett has been described as one of the gentlemen of boxing and it is essentially a gentleman's agreement that will see him fight David Tua next month.
It doesn't appear to be about money because Barrett isn't seeing any from the pay-per-view deal with Sky TV. It's been suggested Barrett wanted only $1 per paying customer but was shut out of this. In return, Barrett is virtually shutting down any promotion of the fight.
"Of course I'm not happy about it," Barrett says from his home in Bayonne in the US. "But, you know what, I'm a man of my word. I signed a contract but I wasn't given an option.
"Is it fair Tua is getting a percentage of the pay-per-view and I'm not? Of course not. I told [my promoter] Cedric Kushner I am not going to go above and beyond to promote the fight. I can promote a fight pretty good if I had to.
"If they want to rely on Tua, then let them be. I don't mind. It's his country, it's his pay-per-view. Let them do what they have to do but I'm not getting involved. Let him worry about losing weight, getting in shape, preparing for me and promoting the fight. I'm just going to worry about beating him.
"It's not extra motivation. I don't care about that. At the end of the day, I was born the underdog. I wasn't even supposed to be here. I was in a car accident and was in a coma for nine days. They thought I was paralysed from the waist down. I have been the underdog all my life. I came from poverty so I'm ahead of the game. The most important thing is that I am in a great space in my life. Everything will work itself out."
Everything should have worked out for Barrett last time the two fought. Tua was expected to win easily against a supposed journeyman and dominated the early rounds before Barrett found his range and became the first boxer to knock Tua to the canvas when he floored him in the 12th round.
It still wasn't enough to convince the judges and Tua emerged with a face-saving but controversial draw which meant he retained his WBO Asia Pacific heavyweight and WBO Oriental heavyweight belts. Fans and commentators were stunned by the decision. Barrett looked like he expected it and immediately said it was one of the reasons he was retiring from the sport.
"These are the things that cause a man to retire because the sport of boxing is not pure like the fighters," he said moments after the fight.
He's been convinced back into the ring, largely because a job offer with HBO as a liaison between fighters and executives hasn't materialised yet. AOL Time Warner, which owns HBO, put a freeze on hiring before a deal with Barrett could be sorted.
Barrett had told HBO he was willing to give up boxing because he didn't believe he could serve two masters. "I was willing to do that because, in order to secure my future in boxing, I would be willing to give up boxing," he says.
Barrett is hopeful something can still be worked out but he has other options, including remaining in the ring. He could also enter a ring of a different kind after a friend of his, John Cena, suggested he should go to professional wrestling school. Cena, who has gone by the name of Mr P and The Prototype, is an actor, rapper and professional wrestler who has won 17 WWE championships, including 10 world titles.
"I grew up being a wrestling fan," Barrett says. "I wasn't a boxing fan until I saw [Muhammad] Ali and Sugar Ray Leonard. I got into boxing when I was 22 years old. I have been a wrestling fan since I first started walking. My son is a big fan. He told me, 'Daddy, I love God and then I love wrestling'.
"I told John Cena I would give him an answer after the fight. It's going to come down to what fits me best and where I see my future."
His immediate focus is Auckland, August 13. It's a fight promoters are calling "Redemption" but it's something Tua, more than Barrett, is seeking. Tua needs to win if he has any chance of having one last shot at a world title while for the 40-year-old Barrett it's a chance to continue something he loves. He's not bitter about the last result against Tua, just disillusioned.
"It wasn't controversial for me," says Barrett, who has been beaten by Wladimir Klitschko and David Haye. "It was controversial for everybody else. It's so sad to know there are judges who aren't capable of judging a fight right. It's political.
"It's unfair that the sport of boxing is hurting in the way it is because of that. It was pretty clear to me, him, his corner, announcers, commentators, everybody that I won the fight by three points.
"Tua is a very dominant and explosive fighter who has a big punch and I was never hurt. He never had control of the fight. He never dictated. I dictated. I did what I wanted to. I clearly won. This time my plan is to make sure I get some respectable, good judges; to go out there and put on the best fight of my life and be victorious.
"I don't know if it will come by a decision or knockout. I just know at the end I will win. I have trained 110 per cent and I'm mentally, physically, spiritually and emotionally invested in this fight."
It's just a shame for Barrett, he won't have as much to invest in the bank in return.
Monte Barrett
Nickname: Two Gunz. Age: 40. Height: 191cm. Reach: 198cm. Weight: 102kg. Record: 34 wins (20 by KO), 9 losses, 2 draws.
Win tickets
David Tua takes on Monte Barrett at Manukau's TelstraClear Pacific Events Centre on August 13 for a chance at Redemption. The Herald on Sunday and Sky TV have three double passes, worth $100 each, to give away. To be in with a chance to win, email [email protected] with details of your name and contact number, with Tua in the subject line. Entries close at midday on Wednesday, July 27.
By Michael Brown
Related Articles: