Categories:
Other News
,
Press Releases
|
Comments Off

on GOLDEN BOY PROMOTIONS VIP MEMBERS CALENDER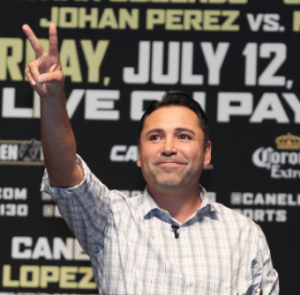 JUNE 4 – THE BELASCO THEATER – DOWNTOWN LA
Oscar De La Hoya Will Host A Special Meet and Greet with Fans at  LA Fight Club on June 4
Classic Puerto Rico vs. Mexico Brawl to Take Place in the Main Event as Jayson Velez Takes on Daniel Ramirez
Tickets On Sale Now!
Oscar De La Hoya President and Founder of  Golden Boy Promotions is scheduled to attend the June 4 edition of LA FIGHT CLUB at the historic Belasco Theater in Downtown Los Angeles and will host a special meet and greet with fans prior to the televised bouts from 6:00 pm to 7:00 p.m. Fans with tickets to the event will have an opportunity to come by the upstairs ballroom, take a picture with The Golden Boy and have him sign boxing memorabilia.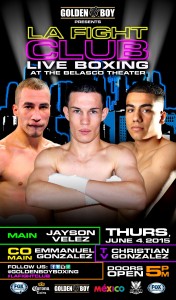 In the main event, Puerto Rico's  Jayson "Star" Velez (22-0-1, 16 KOs) of Juncos, will battle it out against Mazatlan, Sinaloa, Mexico's Daniel "Huracan" Ramirez  (11-1, 5 KOs), in a classic Puerto Rico vs. Mexico 10-round featherweight bout sure to excite fans.
The co-main televised event features Los Angeles native Carlos "The Solution" Morales (7-1-3, 2 KOs) taking on Emmanuel Gonzalez (14-1, 7 KOs) of the Bronx, New York in an eight-round super bantamweight bout.
Opening the telecast, Los Angeles favorite Christian "Chimpa" Gonzalez (9-0, 9 KOs) is scheduled to fight Darryl Hayes (3-4, 1 KOs) of Houston, Texas, in a six-round super-feather weight fight, and Rafael Gramajo (3-1-1, 2 KOs) also of Los Angeles is hoping to make airtime in a four-round super bantamweight fight against Pablo Cupul (4-16, 3 KOs) of Merida, Mexico.
In the non-televised undercard, Pablo Rubio of Whittier, Calif. will take on  Martin Regalado of Los Angeles in a four-round bout, both fighters will be making their professional debut.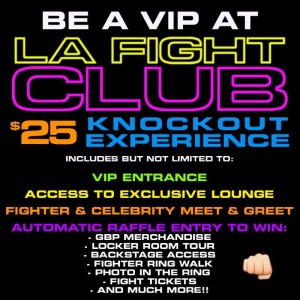 Watch the televised portion of LA FIGHT CLUB on FOX Sports 1 or FOX Deportes  at 10:00 p.m. ET/7:00 p.m. PT.
BUY TICKETS
JUNE 20: DAVID LEMIEUX VS.  HASSAN N'DAM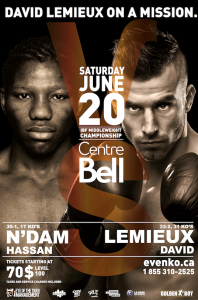 JUNE 20 – CENTRE BELL – MONTREAL, CANADA
David Lemieux Set To Take On Hassan N'Dam For The IBF Middleweight World Championship On June 20
From The Bell Center In Montreal And Live On Canadian Pay-Per-View
Tickets On Sale Now!
Eye of the Tiger Management and Golden Boy Promotions in collaboration with Evenko, announced yesterday via press conference the fight between Quebec power-puncher David Lemieux (33-2, 31 KOs) and number one contender Hassan N'Dam (31-1,18 KOs) for the IBF Middleweight World Championship on Saturday, June 20.
Live from the Bell Centre in Montreal, Canada and on Canadian Pay-Per-View, the card is set to showcase an exciting night of boxing with four additional championship belts on the line and an undercard featuring local Quebec talent.
BUY TICKETS
JUNE 26:  ALAN SANCHEZ VS.  STEVE CLEGGETT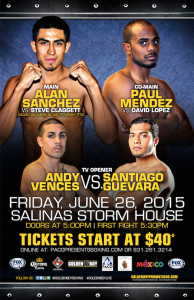 JUNE 26 – SALINAS STORM HOUSE – SALINAS, CA
Mexican-American Alan Sanchez & Canadian Welterweight Titlist Steve Claggett Battle for the Vacant IBA Americas
Welterweight Title on June 26
Tickets on Sale Now!
Shining a light on homegrown talent,  Golden Boy Live! on  FOX Sports 1 and FOX Deportes will bring a thrilling night of boxing featuring top local prospects set to hit the Salinas Storm House on June 26. In the main event, Fairfield standout Alan Sanchez (15-3-1, 8 KOs) will battle Canadian welterweight titlist Steve Claggett (21-3-1, 14 KOs) for the vacant IBA Americas Welterweight title in a 10-round bout.
In the co-main event, Paul "El Gallo Negro" Mendez (18-2, 9 KOs) will take on David "The Destroyer" Lopez (41-15-1, 25 KOs) in a 10-round super middleweight bout. In a televised six-round lightweight bout,  Andy "The Shark" Vences (11-0, 7 KOs) will face Santiago "El Lobito" Guevara (8-1, 3 KOs). Fighting for airtime, Oscar "El Tigre" Godoy (13-4, 6 KOs) will fight in a six-round welterweight bout against an opponent to be announced.
Featured in non-televised match-ups, Oscar Rojas (0-2) will take on a soon-to-be announced opponent in a four-round lightweight bout, and Josue Lugo will make his professional debut against Andrew Tinae (0-3) in a four-round heavyweight bout.
Also on the non-televised undercard two sets of brothers and Salinas-natives will fight in special amateur bouts. First Pete Tavarez (55-5) will take on Alda Alfaro (15-2) in a super flyweight bout and Andy Tavarez (40-10) will face  Angel Alfaro (30-10) in a strawweight fight.
Catch all the action LIVE on FOX Sports 1 or FOX Deportes at 10:00 p.m. ET/7:00 p.m. PT
BUY TICKETS
JULY 11: HERRERA VS. LUNDY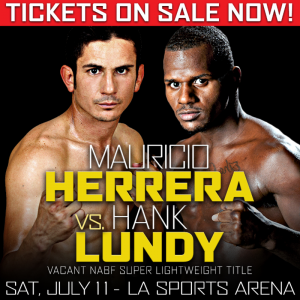 JULY 11 – LA MEMORIAL SPORTS ARENA – LOS ANGELES, CA
Mauricio Herrera to Battle Hank Lundy for The Vacant NABF Super Lightweight Title on Saturday, July 11
Live From The Los Angeles Memorial Sports Arena and Televised on  HBO Latino Boxing
Michael Perez Will Face Sharif Bogere  as The Co-Main Event
Tickets On Sale Now!
Golden Boy Promotions in association with CES Boxing will present a summer showdown between West Coast vs. East Coast on Saturday, July 11 as Southern California's Mauricio "El Maestro" Herrera (21-5, 7 KOs) battles "Hammerin'" Hank Lundy (25-4-1, 12 KOs) of Philadelphia for the NABF Super Lightweight Championship.
The 10-round super lightweight bout from the Los Angeles Memorial Sports Arena in Los Angeles will be televised live on HBO Latino beginning at 11:00 p.m.
In the co-main event and opening up the HBO Latino Boxing telecast is an exciting 10-round lightweight match-up between Michael "The Artist" Perez (22-1-2, 10 KOs) of Newark, New Jersey and Sharif "The Lion" Bogere
(27-1, 19 KOs).
BUY TICKETS
Related Articles: