Categories:
Other News
|
Comments Off

on Hopkins to Face Pascal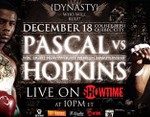 FUTURE HALL OF FAMER BERNARD HOPKINS TO FACE WBC AND RING MAGAZINE LIGHT HEAVYWEIGHT CHAMPION JEAN PASCAL IN "DYNASTY: PASCAL VS. HOPKINS" SATURDAY, DECEMBER 18, LIVE ON SHOWTIME® FROM THE PEPSI COLISEUM IN QUEBEC CITY, CANADA

New York City, NY (Oct. 20, 2010)-Legendary former World Light Heavyweight and Middleweight Champion and future first-ballot Hall of Famer Bernard "The Executioner" Hopkins will fight for the World Boxing Council (WBC) and Ring Magazine 175-pound championship against current linear champion Jean Pascal as the main event of "Dynasty: Pascal vs. Hopkins" on Saturday, December 18 from the Pepsi Coliseum in Québec City, Canada. The event will air live in the United States on SHOWTIME® at 10 p.m. ET/PT (delayed on the West Coast).
For Hopkins, (51-5-1, 32 KO's), the age-defying throwback pugilist from Philadelphia, Pa., a win overPascal (26-1, 16 KOs), the 27-year-old upstart world champion from Montreal, Canada, means becoming the oldest fighter in the history of the sport to win a prominent world title and the continuation of his boxing dynasty.
"Everyone knows I don't like to travel outside the United States to fight, but here we have another fresh face, who happens to be the light heavyweight champion, calling my name," said Hopkins. "I just say 'here we go again.' I am going all the way to Québec City, Canada to once again show that young and tough doesn't always mean good and smart. Let's see if he can stop me from beating him up and taking the title home to the States. It is these types of fights that get me motivated to train hard and once again prove that no one should ever count me out."
For Pascal, the fight signifies a dream come true as he looks to get the win over the formidable Hopkins and to start a dynasty of his own.
"Two months ago I defeated a top-five pound-for-pound fighter viewed by many as the best light heavyweight in the world in dominant fashion," said Pascal, of his win over then-undefeated Chad Dawson in August. "Now it's time to take on the legendary future Hall of Famer Bernard Hopkins and finally send him into his well-deserved retirement. He's an old fox, but I'm the young wolf. He may be the master, but I am the commander. I know he may have more experience than any fighter out there, but on December 18, I will show the world once again exactly why I am top dog in my division."
"Dynasty: Pascal vs. Hopkins" is promoted by Group Yvon Michel Inc. and Golden Boy Promotions and presented by the Casino de Montreal and The City of Québec Tourism. The 12-round world championship fight will take place December 18 at the Pepsi Coliseum in Québec City, Canada and will be televised live on SHOWTIME® in the United States. Canadian broadcasts will begin at 7 p.m. ET on Canal Indigo, Bell TV, Shaw TV and Viewer's Choice on pay-per-view in French and English.
Tickets for "Dynasty: Pascal vs. Hopkins," priced starting at C$25, go on sale Saturday, October 23 at 12 p.m. ET at Pepsi Coliseum Box Office, by calling 418-691-7211 or 1-800-900-SHOW or online atwww.billetech.com. Also available at Club de Boxe Champion 514-376-0980 and Groupe Yvon Michel Inc. 514-383-0666.
"Jean Pascal is a special young fighter in this day and age, a true throwback to the glory days of boxing" said Yvon Michel, president of Groupe Yvon Michel. "He believes that the best must fight the best, and he has shown it time and again, never turning down a true challenge. He shook the world with his win over Chad Dawson in August, and when he finishes 'The Executioner' on Dec. 18 in Québec City, he should be a lock for Fighter of the Year, an accolade given only once to a Canadian boxer in the history of our sport."
"One thing I have learned over the years is that you can never count Bernard Hopkins out," said Golden Boy Promotions CEO Richard Schaefer. "Bernard is at his best when the challenge is great and his fight against Jean Pascal is a great challenge. On Dec. 18, I expect to see yet another history-making performance from Bernard Hopkins that no fight fan should miss."
"We have an amazing lineup of world championship boxing on tap to close out the year on SHOWTIME, the finale of which is this classic crossroads fight," said Ken Hershman, Executive Vice President and General Manager of SHOWTIME Sports®. "We are thrilled to welcome Bernard Hopkins back to SHOWTIME in what could be an historic night for him and we're proud to welcome Jean Pascal in his network debut. Dec. 18 will put an exclamation point on another banner year for SHOWTIME boxing."
"Quebec City is quickly establishing itself as a true hotbed for boxing fans. Hosting this mega-fight between Pascal and Hopkins is an incredible opportunity to bring Quebec City into the spotlight of millions of viewers in Canada, the United States and across the world thanks to SHOWTIME," said the Mayor of Quebec City, Mr. Régis Labeaume. "In addition to witnessing a historic Championship battle, the thousands of fans who come to take part in this incredible event live at the Pepsi Coliseum will also get the opportunity to discover Quebec City and the all-new Christmas events we have planned that are sure to make our beautiful city the destination of choice for the holiday season."
Dec. 18 marks the amazingly ageless Hopkins' first fight since he settled his 17-year long rivalry with fellow future Hall of Famer Roy Jones Jr. via lopsided 12-round decision this past April. The 6-foot-1, 45-year-old won the World Middleweight title the first time on SHOWTIME in 1995 and continued to defend that title 20 times, solidifying his place as one of the bestmiddleweights in the history of the sport.
In an incomparable 22-year career that began in October 1988, when Pascal was just five-years-old, Hopkins has defeated many of boxing's all-time greats. Signature wins include a stunning 12th round stoppage of Felix "Tito" Trinidad in 2001, a ninth round knockout of Oscar de la Hoya in 2004, a unanimous decision win over Antonio Tarver in 2006 which crowned him Light Heavyweight World Champion and a dominant win over Winky Wright at 170 pounds in 2007. Perhaps the most impressive win of Hopkins' career came in October of 2008 when he "schooled" a then-undefeated Kelly Pavlik in a shocking unanimous decision, proving to the world that Hopkins is a true testament to the phrase "age is nothing but a number."
The 5-foot-11 Pascal, who turns 28 on Oct. 28, is looking to prove his status as one of the top fighters in the world. He catapulted into global prominence after he registered one of the year's biggest upsets in his last outing when he defended his WBC crown and captured the vacant Ring Magazine Light Heavyweight title with a shocking 11th-round technical decision over heavily favored Chad Dawson on Aug. 14. Pascal performed magnificently against Dawson and was ahead on all three judges' scorecards (108-101 and 106-103 twice) when the fight was stopped after an unintentional head-butt opened up a huge cut above Dawson's left eye.
Pascal, one of the most highly decorated amateurs ever to come out of Canada, has come a very long way in a stellar professional career spanning less than six years. After winning the NABO, NABA, and NABF 168-pound belts in 2007, the opportunity to fulfill his dream of winning a world championship came in December 2008 when he traveled to England to take on the undefeated Carl Froch in his hometown of Nottingham for the WBC Super Middleweight World Championship. Pascal dropped a close decision to Froch in a heart-pounding back and forth battle that many boxing insiders called the Fight of the Year. The young Pascal took his first and only defeat in stride and just six months later, in his first fight at his new weight of 175 pounds, defeated the dangerous and then-undefeated Adrian Diaconu for the WBC Light Heavyweight World Championship. Dec. 18 will mark Pascal's fourth defense of that title and his first defense of the prestigious Ring Magazine Light Heavyweight Championship.
SHOWTIME CHAMPIONSHIP BOXING announcers Steve Albert, Al Bernstein and Antonio Tarver will call the action with Jim Gray reporting from ringside. The executive producer of SHOWTIME Sports is David Dinkins, Jr. with Bob Dunphy directing.
Related Articles: