Categories:
Other News
|
Comments Off

on Introducing Elton Dharry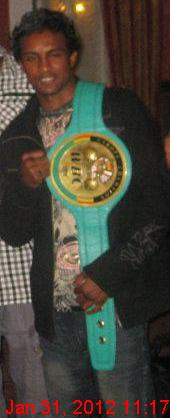 The World Boxing Council (WBC) is currently celebrating its 50th anniversary and has arranged a lucrative tournament in commemoration of that feat.
The tournament will comprise boxers within the 10 confederations under the auspices of the WBC of which Guyana is a part. Boxers competing in eight specific weight categories from within the 10 confederations will be engaged in at least four fights apiece among each other in 5 cities around the world.
May 1 has been identified as the commencement date of the tournament and participating boxers would be required to win at least 4 bouts in order to qualify for the finals of the championships. Winning the finals could net the boxer thousands of US dollars and a lucrative rating within the prestigious world body.
It is this tournament that Elton Dharry has set his eyes and his attainment of the CABOFE title puts him one step closer to the procurement of the accolade.
Elton Dharry views the initiative as a once in a lifetime opportunity and has vowed to capitalize on it. He is charting a course that will augment his chances of winning the championship "I admit that this will be a world class championship that will test me to the fullest and so I am prepared to work exceptionally hard during preparations," asserted Elton. February 25, Elton will be defending his Title against Selwyn Lett from Barbados.
He said that he wishes to engage in at least one more fight, sometime in late March or Early April, before venturing into the championships.
Related Articles: