Categories:
Other News
|
Comments Off

on Solis Defeats Austin; Klitchko Next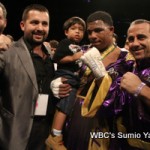 Odlanier Solis: "I wanted to make Austin suffer for the things he said at the press conferences leading up to the fight. I didn't like it when he said that when he was done with me, they were going to send me back to Cuba. Now I sent him back to Cleveland where all they have are cows.
"I wasn't tired at all. It was my strategy to fight the way I did tonight. What's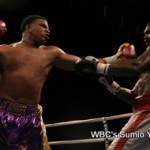 the worst thing that could have happened? I could have knocked him out or made him look ridiculous, which I did."
At the post-fight press conference: "I don't think I'm fat. What I would like to do is slap around some of the newspaper writers that say I'm fat."
Ray Austin: "Solis will beat Vitali Klitschko. He's accurate and has a good defense. He rests and recovers well, too. The only downside I see might be his chin.
"He showed a lot. I see him being the next WBC heavyweight champion. He's good."
Tavoris Cloud: "I got hit with a head butt in the second round that caused a cut over my left eye, but Zuniga was a tough guy. I knew I had better skills but he came into this fight in good shape.
"I only give my performance a "B" tonight. I will tell you I took this man seriously because I knew he would come to fight. "I want the winner of Pascal-Hopkins tomorrow night, or Chad Dawson if he ever decides he wants to fight me."
Fulgencio Zuniga: "Both times I went down were from head butts. I thought I did enough to win. "Cloud was a strong guy, a champion and a hard puncher. But I was still proud of my performance."
Ricardo Mayorga: "I showed tonight that I can still fight. [Michael] Walker thought he had something for me, but the outcome was never in doubt. El Matador is back."
Related Articles: