Categories:
Other News
|
Comments Off

on Unbeaten Byarm Headlines December 11 in Baltimore!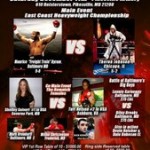 Baltimore, MD (November 26,2010) Exciting heavyweight Maurice "Freight Train" Byarm will take on perennialspoiler Theron Johnson Saturday, December 11 in the main eventof Baltimore ProBoxing's "Season's Beatings" live from the Pikesville Armory.
Tickets start at $35 and can be ordered by calling 410-675-6900, logging onto Baltimoreboxing.com or goingto the Armory's box office.
Byarm, 9-0 (6 KO's), is quickly building a reputation as a heavyweight prospect to keep an eye on,showing solid improvement each and every time he's returned to the squared circle.The Washington, DC native scored his best victory to date inJune, demolishing previously unbeaten Jason Freeman in 76 seconds.
Standing in his way will betougher than advertised Theron Johnson of Chicago, IL. Johnson, who has a deceptive4-3-1 record, is far from a pushover, and needed just 37 seconds to stoppopular Baltimorenative Jed Phipps on September 17.
Byarm and Johnson will battleit out over eight rounds for the East Coast Heavyweight championship.
In the co-featured bout,crowd pleasing middleweights Scott "Cujo" Sigmon and "Vicious" Julius Kennedywill do battle for local bragging rights.
With a reputation for puttingon exciting bouts and a never say die attitude, Sigmon is amongst the mostpopular fighters in the Beltway Region. Hailing from Bedford, VA,Sigmon has a solid 12-2 professional ledger with 5 wins by way of kayo. Sincedropping a decision to well regarded Jesse Nicklow, Sigmon has won fourstraight bouts.
Kennedy, 7-1-1 (3 KO's), isfresh off a scintillating ten round draw against the aforementioned Nicklow in a bout that had fans on their feet from bell to bell. The WindsorMill, MD native is unbeaten in his last eight fights and owns a 2009 decisionvictory over heralded prospect Aaron Pryor Jr.
With the vacant East CoastChampionship on the line, Sigmon and Kennedy will duke it
over ten rounds.
Appearing on the actionpacked undercard will be multi-time amateur champion "Slick"Nick Kisner (6-0,4 KO's), former Towsonsoccer star Shelly Seivert (4-1-1, 1 KO), light heavyweight Dale "Hit Hard asHell" Roberson-El (5-0, 3 KO's) and heavyweight Mark Orendorff (1-0) amongstother local favorites.
In addition to $35 generaladmission seats, tickets are available for $50, with individual VIP seats onsale for $75 and $100. VIP tables are sold out. All VIP ticket holders willreceive free Hor'dourves and half priced drinks.
Doors open at 7 pm and theopening bell is slated for 8. The Pikesville Armory is located at 610 Reisterstown Rdin Baltimore, MD.
Related Articles: