Categories:
Other News
,
Press Releases
|
Comments Off

on WBC CONVENTION 2015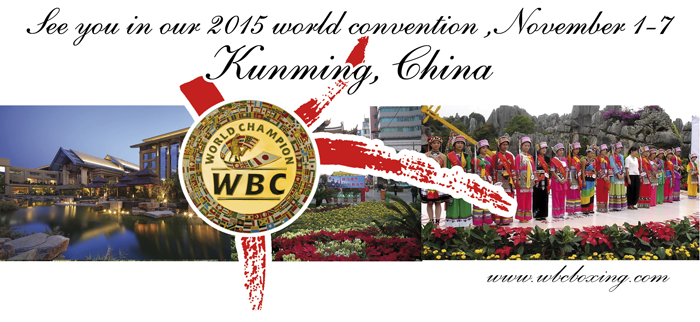 July 13th, 2015.
My dear friends,
We are very close to our 53rd Annual World Convention to be held in Kunming, China, from November 1 (arrival) to November 7 (departure). The hotel site will be the Kunming Intercontinental, which is beautiful; we will need to have perfect organization because there is an important barrier in language in China.
Everybody is recommended to proceed with direct bookings of the hotel, which makes the work much easier, to the following link:
http://demopcty.yun2.ynyes.com/
Ratings Committee members are scheduled to arrive on Thursday October 29 and work Friday 30, Sunday 31st
* If arrival on the 29 is complicated, then we will arrange the Ratings Committee meetings for Saturday 31 and part of Sunday November the 1st.
Board of Governors members are expected to arrive Friday 30 or Saturday 31st. The Board of Governors private meeting will be held on Sunday November the 1st.
SIMPLE AGENDA
November 1 – Sunday
09:30 Board of Governors private meeting
Evening: Cocktail
November 2 – Monday
09:30 Opening
14:00 Ring Officials and supervisors seminar in the main room
Evening: Awards dinner
November 3 – Tuesday
09:30 Ratings
Referees session
WBC Cares visit
Evening: Free
November 4 – Wednesday
09:30 Mandatory fights
Evening: Talent Show
November 5 – Thursday
09:30 Items of the agenda
Evening: Closing banquet
November 6 – Friday
Social activity general tour
* It is optional for anyone who wishes to depart on Friday November 6.
November 7
General departure
Please help the WBC with any information that you know of people attending the convention, because we need to anticipate how many people will attend the convention in China to be ready with all the budget and materials.
I am sure that we will have the pleasure to have you present in the traditional reunion of the world boxing community, all who have had so many great times, as well as done so much for boxing in past conventions that we must do it again.
Please accept my very best regards.
Mauricio Sulaiman
Related Articles: