Categories:
posters
|
Comments Off

on Martin vs. Ortuz Clash Heating Up in Hammond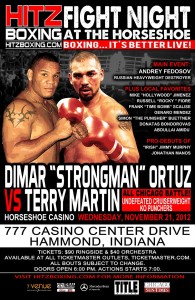 While very few of his comments can be printed verbatim, it is an understatement to say that undefeated cruiserweight boxer Terry Martin is upset with his next opponent, Dimar "Strongman" Ortuz.
The heavy-handed Martin (5-0, 5 KOs) will face fellow undefeated Chicagoan Ortuz (5-0, 3 KOs) in a "can't miss" eight-round clash on Hitz Boxing's "Fight Night at the Horseshoe" boxing event on Thanksgiving Eve, Wednesday, November 21, 2012, at the Horseshoe Casino in Hammond, Indiana.
A well-respected MMA fighter in addition to his thus-far perfect boxing career, Martin is known as an easy-going person outside the ring… but Ortuz's pre-fight comments have him boiling over.
"I can't wait till the fight. I'm going to hurt this dude bad," he seethed. "He's been talking trash about me."
When calm enough to explain, Martin says what bothers him is Ortuz's assertions that he got the better of him when they sparred in the past.
"Yes, we sparred together wearing 18-oz gloves. Now we're fighting for real in some 10-oz gloves and we'll see who gets the best of who. It's going to be a lot different. I'm going to destroy him. I'm going to hurt him bad with every punch I land. He got the best of me? What the %&*$ is he talking about?"
But that's not the only thing Ortuz said that Martin isn't happy about.
"He's also been saying his trainer (Sam Colonna) is my old trainer. That's not true either. I trained at his gym for a while, but he was never my trainer. Sam never even worked pads with me. I don't know what he's dreaming about. Maybe he's having imaginations?"
Martin says he's especially ready for this fight and nothing can stop his destruction of Ortuz that night.
"I've worked my ass off and I'm ready to go. I'm 100%. This will be my first fight where I'm not cutting twenty pounds the week of the fight. I won't be weak and my endurance will be excellent. I'm ready to go in there and bang."
Even Martin says he's surprised at how irritated he is with Ortuz.
"I never talk like this. I'm gonna f$%& this dude up. I can't wait to settle this with him. He better think before he speaks next time."
In the night's eight-round main event, Hitz will unveil his new heavyweight contender, Andrey Fedosov (22-2, 18 KOs) the former WBC Youth Heavyweight Champion from Shuya, Russia. In his Horseshoe debut, Fedosov will face comebacking former NABA Champion "Rockin" Rodney Moore (17-6-2, 7 KOs) from Houston, Texas.
In another notable six-round encounter, Chicago (via Lithuania) middleweight slugger Donatas Bondorovas (15-3-1, 4 KOs) will take on Evansville, Indiana's "King" David Thomas (10-2-2, 8 KOs).
The huge undercard (12 bouts are scheduled in total) will feature such popular local names as promising super middleweight prospect Mike "Hollywood" Jimenez (7-0, 4 KOs), who will go six rounds, and Pacquiao sparring partner and undefeated knockout sensation Abdulai "The Classiq" Amidu (20-0, 17 KOs) also going six.
Also featured will be four-round fights for Frankie "Time Bomb" Scalise (4-1, 4 KOs), Genaro Mendez (4-1, 3 KOs), kickboxing and Golden Gloves champ Simon "The Punisher" Buettner (2-0, 2 KOs), Russell "Rocky" Fiore (6-2-1, 6 KOs) and, making their pro-debuts, "Irish" Jimmy Murphy and Jonathan Manos.
Complete match-ups will be announced shortly.
The high-class atmosphere and luxurious surroundings the Horseshoe has to offer make their boxing shows a Las Vegas-style night of boxing that Chicago-area fans don't have to get on a plane to enjoy.
The Horseshoe Casino has an intimate, comfortable venue with luxurious seats, a spectacular gaming area, free parking, exquisite food and all the amenities — and is just 20 minutes from Downtown Chicago.
Tickets are priced at $90 Ringside & $40 Orchestra and available at all Ticketmaster outlets and ticketmaster.com.
Please Note Early Start Time: On fight night, doors open 6:00 pm and the action starts at 7:00.
All bouts are subject to change.
Related Articles: