Categories:
Pre-Fight Jabs
|
Comments Off

on Zamora vs Knight will be a war
Story and potos by Pepe Rodríguez/WBC
The American Ava Knight, and the Mexican Ibeth Zamora, are ready to fight next Saturday October 26 at the Deportivo Agustin Millan of Toluca Mexico.
In a crowded press conference, that took place at the Palacio Municipal of Toluca, Mexico, the WBC light flyweight World Champion, Ibeth "La Roca" Zamora, said that the steel hammer Ava Knight says she has in her fists, are actually cotton, so she will not take back to her country the WBC green and gold belt. And added that the American brunette, has not done anything in Bantam and Super-flyweight, and the only important thing she did, was to knocked out Arely Muciño in the first round, because the victory against Mariana Juarez was complicated.
Ava's face with these strong statements was surprised, but very sure of herself said: I came to Mexico for the WBC title and I will not go back home without it, I will not say in what round, but I will end the Rock as soon as possible to go to sleep early next Saturday.
Ava Knight is between a "Roca" and a hard place
By Pepe Rodriguez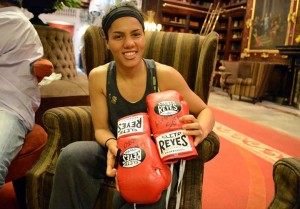 she's as hard as nails and has already showed a diamond like imperviousness!
Ava's in the final phase of her preparation for the fight against WBC Lt. Flyweight champion Ibeth "Roca" Zamora, in Toluca on October 26th.
Knight has earned the nickname of "Mexican Destroyer" for having defeated several Mexican fighters including Mariana Juarez.
This fight against Roca, was ordered as mandatory by the WBC and is the challenging opportunity that the WBC Diamond champion has been eagerly seeking. She said:
"I'm glad my work is being valued. Female boxing is developing and of course it can lead a card. This will be one  great fight!
"I got absolutely nothing against Mexican fighters, it's just that I have had to fight them and I have a goal to accomplish. I now face another Mexican fighter. Ibeth stands in my way between me and the world title. I do have a lot of Mexican fans who know and appreciate my quality and they don't care about nationality. My  victory will be for them!"
This card will be done by Promociones del Pubelo with the support of Cerveceria Corona.
Related Articles: