Categories:
Pre-Fight Jabs
|
Comments Off

on Braehmer Defends Title vs Maccrinelli on April 5
***Enzo Maccarinelli: I want this title more than anything in my career***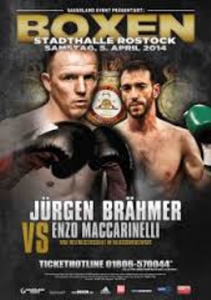 Enzo Maccarinelli (38-6, 30 KOs) travels to Rostock, Germany to challenge Juergen Braehmer (42-2, 31 KOs) for the WBA World Light Heavyweight Championship on April 5.
Maccarinelli, the former WBO Cruiserweight Champion, knows what it takes to become a world champion and makes no secret of his desire to take the title from Braehmer in front of the German's home fans.
Q: What do you think of your opponent Juergen Braehmer?
EM: I really respect him. He was a top quality amateur, who beat Ricky Hatton twice I believe. He is a very tough, hard man who has been around almost as long as me.
Q: How have you been preparing for this fight?
EM: I have been training with former WBU World Middleweight Champion Gary Lockett, a top young trainer, at his gym in Cardiff. I have paid for some of the best sparring around and will have had an eight-week camp by fight night.
Q: What do you believe will give you the advantage over Braehmer on April 5?
EM: I will have the biggest heart and desire to win the battle. I want this title more than anything in my career. I really want to go out on top by winning this final world title.
Q: Braehmer is known for his technical abilities and his southpaw stance, will this influence your game plan?
EM: Gary and I have come up with a game plan to adjust to Braehmer's style. I have sparred thousands of rounds with the best southpaw of recent years, Joe Calzaghe. I know a southpaw better than he does!
Q: How would you describe your own style?
EM: I used to be about the big left hooks and right hands, coming forward swinging, but under Gary I have learnt to use my boxing brain and it is now a controlled all-out attack.
Q: You know what it takes to become a world champion, will that experience help you when facing Braehmer?
EM: I've had twenty championship fights in my career, from British to World title level, of course it is all experience in the bag, but I think this fight against Braehmer will be totally different and I wont be reliant on any of my previous experience, it will come down to who wants it more, and that's me!
Q: What made you decide to step down in weight and how have you found the transition to light heavyweight?
EM: I was making the cruiserweight limit easy for world title fights and just felt that I could go down to light heavyweight and still retain my power, which has been the case. I am faster and stronger now.
Q: British fans are known to travel to support their fighters, will you be expecting a big crowd cheering you on and will this give you an added motivation on the night?
EM: I will have fans there, but whether I have twenty thousand supporting me or two fans in the crowd, it won't make a difference in the ring, I'm fully focused on my job on the night.
Q: What is your prediction for fight night?
EM: An Enzo Maccarinelli victory.
Joining Maccarinelli in action at the Stadthalle in Rostock will be undefeated Welsh prospects Lewis Rees (9-0, 5 KOs) and Liam Williams (8-0-1, 3 KOs). Rees, a decorated amateur and current Welsh Champion, will face Renald Garrido (11-7, 2 KOs), while 21 year-old Williams goes toe-to-toe with Yuri Pompilio (5-8-2, 1 KO).
***Juergen Braehmer: History will not repeat itself ***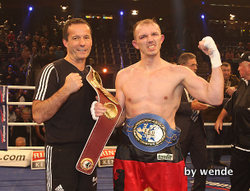 Juergen Braehmer (42-2, 31 KOs) will make the first defense of his WBA World Light Heavyweight Title against Enzo Maccarinelli (38-6, 30 KOs) on April 5 in Rostock, Germany.
The reigning champion returns to Rostock for the first time since an ill-fated challenge for the WBA crown in 2008. With this defeat still fresh in his mind, Braehmer is adamant that history will not repeat itself when he faces Maccarinelli.
Q: Mr. Braehmer, what comes to your mind when you think of boxing in Rostock?
JB: That you should only step into the ring when you are fit to fight.
Q: Is this answer related to your missed world title opportunity in 2008?
JB: Yes it is, back then I got roped into the fight by my former management and promoter despite being ill and therefore not in a fit state to compete. The rest is history – history that will not repeat itself. I have sworn this to myself.
Q: You will return to Rostock on April 5 as the defending champion. Is there a difference between defending a title and challenging for it?
JB: When you are the champion you do not have to wait in the ring as long as your opponent for the first bell to ring. Other than that I do not see any real difference, whether it be in the preparation or during the bout. You are fighting for the championship of the world. The man with the biggest heart will win, simple as that.
Q: Your coach Karsten Roewer must have had a lot to do with you recent success. Has he prepared you for the challenge that Maccarinelli will bring to the table?
JB: Definitely! Working with Karsten is fun and he has got me back to the top. He often says the right things in between rounds and sees things that I might not notice in the heat of the battle. We really have a great chemistry. But please do not sit him beside me when I am driving, as he is a terrible back-seat driver – I would rather walk.
Q: Your opponent has said that sparring with the legendary Joe Calzaghe makes him know more about southpaws than anyone else. Does that worry you?
JB: Absolutely – not! When was the last time he sparred Calzaghe – a decade ago? And even if he knows him inside out, it will not help against me. I may be a southpaw but my style is totally different to his famous compatriot. He will find this out sooner rather than later.
Q: What do you see as your key to victory over Maccarinelli on April 5?
JB: I think my ability to adapt and the variety of my attacks will be the deciding factor. It will not only be my selection of punches that does the damage but also their power. Maccarinelli is a former cruiserweight, who has had to come down 25 pounds in weight. I do not see him as a natural light heavyweight and I am known for being a pretty good body puncher, so I believe I am going to wear him down.
Q: Your 35 years old – is retirement already on your mind?
JB: Certainly not! Just look at the other world champions in my weight class – in comparison to them I am a spring chicken. Hopkins is going to turn 50 and Stevenson is 36. Only Kovalev is younger than me. As long as I am feeling at the top of my game, I will keep on doing what I am doing, and that is defending my belt.
There are still a limited number of tickets available for this show via www.eventim.de.
Related Articles: