Categories:
Pre-Fight Jabs
|
Comments Off

on Brewster vs. Golota Pre-Fight Analysis
By Michael Amakor – May 2005
On May 21 2005, Andrew "The Foul Pole" Golota challenges Lamon "Relentless" Brewster for his WBO Heavyweight Title at the United Center in Chicago on HBO.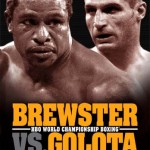 Back on July 11 1996, a virtually unknown Andrew Golota was a punch away from scoring a career defining victory over former Undisputed Heavyweight and Ring magazine champion Riddick "Big Daddy" Bowe battering him against the ropes for several rounds. He was clearly winning the fight but got disqualified for repeatedly hitting below the belt. A rematch was rescheduled and he once again dominated the fight pummeling and flailing away at Bowe who fought back on instinct firing back with heavy shots of his own. Golota began to crack under the pressure and succumbed to throwing a series of low blows that earned him a second disqualification. Bowe got old during those fights and received such a beating that he retired from the game for eight years before making a comeback in 2004, but by then the Legend of the "Foul Pole" was born.
Riding on the wave of this notoriety Golota squared off against Lennox Lewis for the WBC title; he was promptly knocked out in the very first round. Two years later in his bid to capture the NABF Heavyweight title he knocked down Michael Grant twice and seemed to be on the verge of knocking him out for good but could not close the show fast enough before Grant rebounded back with some uppercuts that discombobulated Golota enough to tell the referee he did not want to continue after rising from a knockdown in the 10th.
And who can forget his disastrous outing against Iron Mike Tyson in 2000; when he again cracked under the pressure of receiving a barrage of punches, he quit the fight shoving his furious trainer out of the way and walked out of the arena under a blistering tirade of curses from enraged fans who pelted and showered a rain of drinks on him. He banished himself from the sport of boxing for three years and it looked like he was finished and out of the game forever, but he made a comeback in 2003 and after just two successful outings against Brian Nix and Terrence Lewis he got unusually rehabilitated by legendary promoter Don King right into a title shot against Chris Byrd for the IBF Heavyweight Belt.
The world of boxing waited in muted excitement expecting to see another explosion, but Golota was different and remarkably calm. This time he traded shots with Byrd down the stretch in a very competitive fight that many ringside experts thought should have earned him the crown. The judges saw it differently and scored the bout a draw and Byrd got to keep his title.
His performance impressed Don King who maneuvered him into another title shot against John "The Quiet man" Ruiz the WBA champion. This fight was very competitive and Golota fought valiantly even scoring a knockdown, but he withered away in the championship rounds and Ruiz kept his title in a controversial decision that Golota cannot stop talking about to this day. Everyone thought he had gotten his very last shot at a title. His record now stands at thirty eight victories, five losses with one draw and Don King has now positioned him to challenge Brewster for the WBO Heavyweight Belt.
Now Brewster is a former WBO NABO and WBC Continental Americas Heavyweight Champion who was virtually unknown until he scored an upset against former china chinned champion Wladimir "Dr Steelhammer" Klitchko for the vacant WBO belt. He persevered against the intial onslaught of the towering Ukrainian and knocked him out in the fifth round scoring an upset that shocked the boxing world, since then he has defended his title once winning a unanimous decision over Kali Meehan in 2004. A review of his resume shows victories over B class fighters like Tommy Martin and Nate Jones in his other title winning efforts, but you wonder about his pedigree when you find out that he also lost to Charles Shufford and the glass jawed Clifford "Black Rhino" Etienne earlier on in his career. To his credit he has so far amassed a record of twenty seven knockouts, and before his split decision victory over Meehan he had knocked out six opponents in a row. On May 21 he will be looking to do the same against Golota to consolidate his position in the division; this fight will be a good test of his abilities at the world class level.
This fight is a tough one to call, as both guys are fighting for their very survival. This is more especially true for The foul Pole who knows this will be his absolute last shot at a title, and if his last fights against Ruiz and Byrd are anything to go by he will come to fight and he may now have acquired the necessary skills, experience and self control to finally pull this one out of the bag, but Brewster will be most unwilling to give up his belt without a fight and he will train relentlessly to ensure that impossibility and he has vowed that "This is an opportunity for me to prove that I am the truth because the truth will set me free". We shall see and may the best man win
Related Articles: