Categories:
Pre-Fight Jabs
|
Comments Off

on Briggs vs Mercer Pre-Fight Analysis
Briggs vs. Mercer Pre-Fight Analysis
By Michael Amakor
On August 26, former WBO Heavyweight champion Ray Mercer and former IBU Heavyweight Champion Shannon Briggs, will fight each other in a battle for survival in the heavyweight division at the Hard Rock Live Arena, in Hollywood, Florida on Showtime.
Mercer is not only an ex-Sergeant in the US Army, he was also a heavyweight Gold medalist at the 1988 Olympic games, and a former NABF heavyweight champion, and at his peak, he frightfully knocked out Tommy Morrison, who at the time had a 28-0 record and was considered one of the best up and coming heavyweights in the division. Mercer, also knocked out Bert Cooper and battled Evander Holyfield for 10 rounds, losing by decision.
In one of his best fights to date back in 1996, Mercer squared off against Lennox Lewis in a tough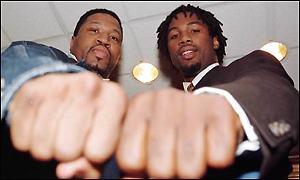 battle that many felt should have earned him a win or a draw. Instead, he saw Lennox Lewis getting the nod outright. A bitter Mercer cried bloody murder and barked for a rematch, but by then, the focus had shifted away to the victorious Lewis, who later went on to regain his titles leaving Mercer's career stagnant, which was also in part due to a combination of problems including a bout with hepatitis.
Most historians may mark his decline after that fight, because even though he has eleven wins mostly by knockout since then, it was all against low quality opposition. His only loss since then, was against theheavyweight phenom, Wladimir Klitschko, who used him for brutal target practice before the referee terminated the one-sided pounding that saw Mercer go down for the first time in his career. When you discount that fight, you will realize that he has not fought a top ranked contender in over ten years. During this time, he dabbled in highly lucrative K1 competitions, that saw him competing out his element. However, now he is facing a re-surging Shannon Briggs, who could put another loss on his record and finish Mercer's long career.
Briggs was a rising prospect in the early nineties, sporting trademark dreadlocks that seemed to garner him fans, until running into a third round stoppage loss in March 1996, against journeyman, Darroll Wilson, that fueled speculation about Briggs' abilities. However, but he persevered and became the lineal champion after beating two-time former champion, Big George Foreman, in November 1997. Four months after that victory, he went down three times en-route to being stopped in the 5th round by then WBA Champion, Lennox Lewis. Just like Mercer, after his loss to Lewis, Briggs' career has been less than spectacular ever since. He went on after that fight to battle to a draw against Franz Botha; Briggs also suffered a loss to lumbering behemoth Jameel Mccline, and drew against journey man Sedrick Fields, further diminishing his star appeal and sliding him down the rankings. His poor showing could be attributed to his acting career as he was featured in "Bad Boys II" and like Mercer, he also made some appearances in K1 competitions, which among several other things, saw him box only once in 2004.
Briggs made a comeback in 2005, and was very impressive in his last fight knocking out the previously unbeaten Abrahim Okine in his second fight of the year. Briggs staggered and knocked Okine down two times in the first round alone, before the referee stopped the fight in the third round. That performance emphatically showcased his restated determination to battle his way back into title contention. Briggs now stands at forty two victories, including thirty six knockouts, with four losses and a draw.
Both fighters have faced Lennox Lewis, which may give an indication about how the might fare against each other, because while Mercer battled Lewis in a war of attrition for twelve rounds, Briggs fell to the superior firepower of a two gunned Lewis in just the sixth round. In another curious statistic, Mercer also beat Briggs old nemesis, Daroll Wilson in a ten rounds, something Briggs was unable to do in his youth back in 1995.
Further examinations of their respective pedigrees reveal that that the granite-jawed Mercer had a stellar amateur background, which saw him winning a gold medal. However, no amount of past laurels or conditioning can help the fact that he is now forty four-years old. He has, however, vowed that he will "Do his talking in the ring with his fists," against  Briggs, but he may not be able to pull the trigger this time, to live up to the merciless moniker he earned from brutal stoppages of twenty five opponents during the course of his career.
Briggs, on the other hand, is from the famed Brownsville section of Brooklyn, from which Riddick Bowe and Mike Tyson emerged. He may be on a mission to uphold its honor, and although he seems to have been around forever, he is only just 33 and may actually be coming into his prime, if his last performance against Abraham Okine is anything to go by. Briggs is also a great athlete, who not only outweighs Mercer, but also has a three inch reach and height advantage. These facts may embolden him to lunge in with one of his characteristic uppercuts (a punch that stunned Lewis) that could crack the seeming unbreakable jaw of Mercer for good.
Enough said, may the best man win.
Related Articles: