Categories:
Pre-Fight Jabs
|
Comments Off

on Cotto vs. Mayorga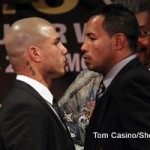 RICARDO MAYORGA:
"I made a promise to Don that I will never fail him. Don is the best promoter in the world and Bob is a close second. I will prove to everyone on March 12 that I am the man and you are the woman.
"That belt you are holding, polish it up for me because I will be taking it on March 12. I will make a promise here today that I will knock him out in four rounds.
"I have been watching all of your fights for the past two months, you are punch drunk – you can't take a punch anymore and I will retire him. You and your trainer will fail.
"Like Margarito after the Pacquiao fight, you will be thinking about retiring when I am done with you. I will make you think twice about getting in the ring again. Don't let your mom or your family suffer anymore by watching you get in the ring. I will knock him out and prove to the people in Nicaragua and here that I am better than you in that ring.
"This is the first time I will fight someone that is as small as a kid. I think my pants are taller than you.
"Christy, it is an honor to be fighting on the same card as you the way you have always stood up for women's rights. I don't even have tapes of all of my fights but I have all of yours.
"Buy the pay-per-view so you can watch the retirement party for Miguel. Your hands are like a woman's. Look at my hands – they are man's hands. You came to Nicaragua and talked smack and told everyone I was a nobody. On March 12, all the Puerto Ricans are going to be wearing black for your wake. You will pay for what you said.
"I see fear in your eyes. We have never crossed paths but I have to tell you I have never liked you as a fighter."
EMANUEL STEWARD (Cotto's trainer):
"Ricardo, you are the best. I was enjoying Mayorga talk so much I didn't even want to come up and talk. Everything he says he believes. He's not just hyping the fight. He is a tough guy.
"When they told me he was fighting Mayorga, I thought, wow, that is like going from one extreme to the other (Cotto fought Foreman in his last fight). Foreman boxes very fast and we are going in with Mayorga. Mayorga is a very tough man, physically and mentally. Forget about boxing, he is a fighter. He is going to come out and throw punches from all angles. He will probably come into the ring at about 170 pounds.
"People think it's a mismatch but it's a very tough fight. Miguel Cotto has always been one of my favorite fighters and that's why I got involved with him. When we got together we had to go back to what worked. He had been fighting like he was 4'5″, which made even Pacquiao feel taller than him.
"Miguel will win the fight because of all of his experience. I think there will be a knock out. There could be a decision, but I think there will be a knockout."
MIGUEL COTTO: "Welcome to the first press conference where Ricardo Mayorga talks. I am a professional fighter and I know what my job is. My job is to fight in the ring and make good fights because nobody wins a fight with their mouth.
"Yesterday I was with him and he was playful and serene but today I guess he gets excited with all the lights and cameras on. When we get to the fight there will be lots of cameras on there also, but you will have to fight to back up your words.
"I didn't interrupt you so don't interrupt me – the door is over there if you want to leave. With those little pants I beat Shane Mosley. Do you remember him? Shane Mosley?
Related Articles: