Categories:
Pre-Fight Jabs
|
Comments Off

on Cruiserweight Showdown: Cunningham vs Hernandez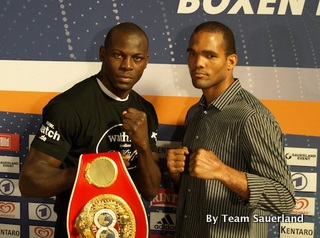 IBF Cruiserweight Champion Steve Cunningham (24-2, 12 KOs) is "ready to go to war on Saturday night October 1, 2011" when he clashes with Yoan Pablo Hernandez (24-1, 13 KOs) in Neubrandenburg, Germany. The 35-year-old American voiced his confidence today during the final press conference in a redesigned church. "I have followed his career for a long time. Hernandez is one of the top cruiserweights and a very strong opponent. But I have defeated all reigning cruiserweights champions and I will clinch another victory on Saturday night. The weapons are oiled and I am ready to go to war."
Hernandez, who became the WBA Interim Cruiserweight Champion in February when he stopped Steve Herelius, is looking forward to Saturday night. "Cunningham is good, I know what he did to my training partner and stablemate Marco Huck. Saturday will be time for revenge. I have a lot of respect for him but I am ready to become world champion."
Also on Saturday night, former IBF Middleweight Champion Sebastian Sylvester (34-4-1, 16 KOs) makes his comeback after losing his title to Daniel Geale. He will face Grzegorz Proksa (25-0, 18 KOs) for the vacant European Middleweight Title. "I am not impressed by Sylvester," Proksa said. "He has shown no improvement in his last fights. I don´t think he will have any surprises for me. I will remain unbeaten and I will win the title on Saturday." Sylvester was unimpressed. "He talks like he is the big favourite and I don´t have a chance at all. That´s fine for me. He can say what he wants. All I will do is show up on Saturday night, win all 12 rounds and then I´m done with him."
In the third title fight of the night, Karo Murat defends his IBF Intercontinental Light Heavyweight Title against Gabriel Campillo.

***Q&A: Yoan Pablo Hernandez***
Yoan Pablo Hernandez is ready for the biggest fight of his life when he challenges IBF Cruiserweight Champion Steve Cunningham (24-2, 12 KOs) in Neubrandenburg, Germany on October 1. Boxing-online.com has caught up with the 26-year-old (24-1, 13 KOs).
Q: What do you think of Steve Cunningham?
YPH: "He is a very good boxer. This fight is a tremendous challenge for me and my chance to show everybody how good I am."
Q: What will your tactics be like for this fight?
YPH: "Cunningham is fast and experienced. That is something I need to be aware of. That´s all I can say. Of course neither my coach Mr. Wegner nor I will reveal the strategy beforehand."
Q: Cunningham has already defeated your team-mates Marco Huck and Enad Licina. Are you scared that you might be his third victim?
YPH: "No, not at all. Every fight is different. I felt sorry for Marco and Enad that they lost. Marco´s defeat has been quite a while ago, so who knows what the outcome would be now. What I know for sure, however, is that October 1 will be my big day. I will be the new champion."
Q: You are from Cuba. Is the fight against Cunningham also a fight between Cuba and the USA?
YPH: "No. It's a fight between two boxers, that´s it. And even though I was born in Cuba, I´ve been living in Germany for quite a while now and feel at home over here."
Q: Not long ago, you had a special visitor…
YPH: "Yes. My mother came and visited me. I had not seen her for more than six years. It was a very emotional and unforgettable moment for us."
Q: You knocked out Steve Herelius in February to become the vacant WBA Cruiserweight Champion. You were supposed to fight Guillermo Jones. What happened?
YPH: "I´m not sure. But then came the chance to fight Cunningham, which is great because I can finally accomplish my dream of becoming world champion. I´ve been training ever since February, so I will be in top shape."
Q: Cunningham is also a member of Team Sauerland. Is he more of a "team-mate" or "enemy" for you?
YPH: "Neither. He is my opponent inside the ring. He is somebody I want to beat. And I will beat him."
***Q&A Steve "USS" Cunningham: "I always have the top cruiserweights on my radar"***
IBF Cruiserweight Champion Steve "USS" Cunningham (24-2, 12 KOs) will put his belt on the line against Yoan Pablo Hernandez (24-1, 13 KOs) in Neubrandenburg, Germany on October 1. Boxing-online.com has caught up with the 35-year-old American ahead of his third fight for Team Sauerland.
Q: How has the preparation been going?
USS: "Everything has been going great, I'm feeling good and looking forward to the fight. I'm always in the gym, even without a fight scheduled, and I always have the top cruiserweights on my radar."
Q: Hernandez is a tough fighter. He is also a southpaw. Have you already fought other southpaws? Have you had a special preparation for this fight?
USS: "Yes, I have fought other southpaws in my career, and I used to spar with Chris Byrd as an amateur and pro. I have no problems with fighting southpaws."
Q: You have already beaten all four reigning world champions. Looks like Hernandez is one of the biggest names out there that you have yet to beat?
USS: "I believe him to be the best challenger for me right now. I think he is a good fighter and will bring a good fight. I want to put on a great fight for the German fans and would love for it to be the fight of the year."
Q: You defeated mandatory challenger Enad Licina in your last fight in April. But you said you were not entirely happy with your performance?
USS: "Our initial fight date was changed and we travelled back to America for a short period to resume camp. When I returned to Germany the week before the fight, I had caught the flu. I spent the first three days in bed and was not feeling well at all. I was determined and even though I knew I wasn't 100%, I felt confident that my best at that time would be enough. And thank God it was. I felt drained during the fight, I really could not push the way I wanted to and trained to. But prayer, faith and hard work brought me through."
Q: Your clash with Hernandez will also be a clash of two top trainers – Naazim Richardson and Ulli Wegner…
USS: "They are both great trainers. I know 100% that brother Naazim Richardson is the best trainer for me. He works equally as hard as I do in preparing for a fight and I trust him in the ring to tell me what needs to be done. Wegner is a great trainer too, his work speaks for itself. Two great trainers, two great fighters, it's going to be a GREAT fight."