Categories:
Pre-Fight Jabs
|
Comments Off

on Culcay vs. Hamilcaro – Light Middleweights meet in Nuremberg on December 15
On December 15, Jack Culcay (13-0, 9 KOs) squares off with Frenchman Jean Michel Hamilcaro (17-4-3, 5 KOs) in Nuremberg, Germany. The Amateur World Champion of 2009 won the WBA-Intercontinental Title against Frederic Serre at the o2 World Berlin this August. The talented German then defended his belt for the first time in a bout with Mark Thompson of Great Britain on September 29. If it is up to the 27-year-old, the fight in Nuremberg will make it two successful defenses in a row.
However, Hamilcaro is travelling to Germany with some ambition of his own.
The 26-year-old was a slow starter at the beginning of his career but has been undefeated in his last 13 fights. In October of 2011, he won the IBF International Championship against Lenny Bottai from Italy. Since then he defended the title twice – winning one fight by TKO in March against the
Argentine Marcelo Alejandro Rodriguez and fighting out a draw in a bout with the Italian Francesco Di Fiore.
But Culcay will enter the ring with a lot of confidence. During his last fight on September 29 in his new hometown of Hamburg, Germany, he beat Mark Thompson in style, ending the fight by TKO in round five. "I am very pleased with that fight," said Culcay. "In Thompson I had a really good and
experienced opponent. Adding his speed into the mix it is clear to see that I had to be at my best in order to win."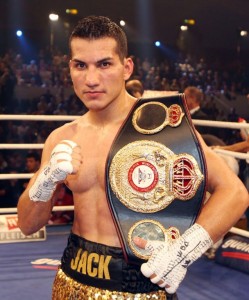 The WBA Intercontinental Champion is already preparing for his next challenge, Hamilcaro. "My team – consisting of my coach Ismael Salas as well as my manager and fitness coach Moritz Klatten – will take a closer look at Hamilcaro and then come up with the perfect strategy to ensure that I will keep my belt," according to WBA´s eleventh ranked light middleweight. "They will detect all of his strengths. He won't be able to surprise me with anything. I will be in great shape."
In general, Culcay has always had hard preparations ahead of every fight in his career. Especially towards the end of the year, the going can get pretty tough and straining for any athlete. But according to the man raised in Darmstadt near Frankfurt, Germany such hard preparations makes the
difference. "There is no way I can lose when I put so much hard work and effort into every single training session. I'm sure that Hamilcaro will have not been training as hard as me." He also promises: "I will still be in possession of the title at the beginning of next year. In 2013 I will be aiming for even bigger things. But before that, I have to be successful on December 15."
Related Articles: