Categories:
Pre-Fight Jabs
|
Comments Off

on Dustin Dirks vs. Thomas Ulrich: Third time´s the charm?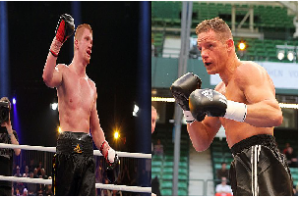 Another exciting match-up is on the cards on May 5 in Erfurt: Light-Heavyweights Dustin Dirks and Thomas Ulrich, both from Germany, will square off in the Messehalle. Dirks is undefeated, having won all of his previous 23 fights (17 KOs). Ulrich on the other hand surprisingly lost his last bout back in April 2011 against the Lithuanian Sergej Razvadovskij. The record of the former European Champion stands at 32 victories (22 KOs) to six losses out of 38 fights. The fight in the Messehalle will determine who will play a bigger role in the future of the light-heavyweight division.
Up until now the bout has been ill-omened. The fight has already been rescheduled twice. The first time, Thomas Ulrich had to cancel the bout scheduled for January 14. During his training camp, the former European champion broke his left eye socket while sparring in the ring. "It was a fracture to my orbital cavity. It looked worse than it actually was. But of course I was not able to step into the ring. Fortunately I did not have to rest too much and I was able to continue with my running training," remembers Ulrich.
A lot is on the line for the 36-year-old. The former world title challenger and previous European champion knows that he will have a strong opposition in Dirks. "He is a tough kid, maybe even the rising star in the division," said the boxer of coach Ali Yildirim. "If I manage to access only 80 % of my abilities, it could be enough for a strong guy such as Dirks is." Coach Yildirim is just as confident as his boxer. "In my opinion, Thomas is still a natural. If he just keeps boxing and his head is right, he can challenge the very best the sport has to offer."
Dustin Dirks is not taking his opponent lightly either. The prodigy of coach Otto Ramin had to pass on the second date of the fight scheduled for March 31 in Kiel. "It started off with a flu. Then I was head-butted during sparring and had a bruise. I had a huge headache. And it turned out that I also had a dislocation of a vertebra in my neck. Now I am fine and look forward to taking on Thomas Ulrich. I have never faced such a strong opponent," according to the 23-year-old.
Although both men are from Berlin and both are signed to the same team, it is not about the prestige. "I treat every opponent the same way and with the same level of respect. Therefore it is a fight like any other. Some people may say that he is past his peak but I have to be prepared for every eventuality," Dirks said. "He probably just had a bad day during his last fight. It could be a whole different thing when he squares off with me. Ulrich is very agile. He is also capable off throwing some fast punches. For both of us this fight will determine where we stand."
As both Berlin-based men are in full training mode, the bout scheduled for May 5 should go ahead as planned and third time hopefully is the charm. The night of boxing in Erfurt also offers some more world-class fights: Marco Huck (34-2, 25 KOs) will defend his WBO Cruiserweight World Championship against mandatory challenger and interim champion Ola Afolabi (19-2-3, 9 KOs). Super-Middleweight World Champion Robert Stieglitz (41-2, 3 KOs) also puts his belt on the line on the same night. The boxing fans can also look forward to a heavyweight title fight when Kubrat Pulev (15-0, 7 KOs) and Alexander Dimitrenko (32-1, 21 KOs) will battle it out for the vacant European Championship.
Related Articles: