Categories:
Pre-Fight Jabs
|
Comments Off

on ECHOLS VERSUS IKEKE
By Michael Amakor
On April 15th, number 17th ranked Middleweight Contender Kingsley "Sharp Knuckles" Ikeke the current NABF,NABA and WBO NABO Middleweight Champion takes on former NABF and NABA Super Middleweight Champion "Kid Dynamite" Antwun Echols at the Northern Quest Casino in Spokane Washington.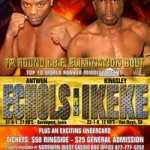 Kingsley has been a rising star in the division for the last two years albeit with victories over nondescript opposition and now he appears ready for big time competition. His choice of Kid Dynamite is a very risky gambit because not only is Echols a gifted high pressure veteran, he has only fallen short twice against Bernard Hopkins for the IBF belt and a decision loss to Anthony Mundine for the WBA Super Middleweight Belt in competitive fights
Is Sharp Knuckles ready to take on tough but perhaps battle weary Kid Dynamite, this remains to be seen and the fight is ever more important because a win for Ikeke positions him for a title shot against unified Middleweight Champion Bernard Hopkins down the road, He is already talking tough about what this fight means to him, but the kid could let loose dynamite knowing that a loss could turn him into a journey man or retire him permanently with the cows in sunny side Iowa. Besides that he does not have that much to look forward too and a third rubber match against old foe Hopkins leaves a bad taste in everyone's mouth.
But you never know, Hopkins may get dethroned by Jermaine Taylor and the new King may decide to set an example against the number two contender to his supremacy. We shall see
This fight will be televised on ESPN2 at 8pm est/6pm pt
Related Articles: