Categories:
Pre-Fight Jabs
|
Comments Off

on Elton Dharry fights Antwan Robertson on August 1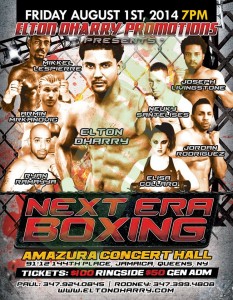 QUEENS, NY (JULY 9, 2014)–On Friday night, August 1, a special night of boxing will take place at the Amazura Concert Hall in Queens, New York as Elton Dharry Promotions will presents its inaugural boxing event.
In the main event, the show's promoter, Elton Dharry will look for his 13th consecutive victory when he takes on Antwan Robertson in a scheduled 8-round Bantamweight bout.
Dharry, who resides in Brooklyn, New York via Guyana has been on quite a hot streak while winning title belts all over the world.
He has a record of 15-5-1 with 9 knockouts.
Dharry captured the WBC Caribbean Bantamweight title with a 7th round stoppage over Dexter Marques (8-1). He made one defense of the crown with a 1st round stoppage over Selwyn Lett.
Dharry won the WBU Americas Bantamweight title with a 10-round majority decision over previously undefeated Rudolf Hudge (7-0-3). In his very next bout, he won the Guyanese Bantamweight title with a 3rd round stoppage over Orlando Rogers.
Dharry is coming off a 1st round stoppage of Desi Williams on May 18, 2013 in Charlotte, North Carolina.
Dharry was scheduled to face Lee Haskins for the WBC International Bantamweight Title on March 1st, 2014 however; bout was cancel due to a delay in acquiring visa.
Robertson of Minnesota has a record of 9-9-1 with 6 knockouts.
The 28-year old Robertson turned pro in 2007 and won his four bouts which included a win over Brandon Quintana. The capable Robertson has two wins over Brad Patraw (6-0) & (7-3). He has faced good competition and should provide Dharry with a solid test.
Robertson is coming off a defeat to Jamal Parram on November 15, 2013 in Altoona, Iowa.
In a six round Super Bantamweight bout, Ryan Ramayya (1-0-2, 1 KO) of Queens, NY will battle Josh Crespo (1-1-2, 1 KO) of New Haven, CT.
Mikkel Lespierre (5-0-1, 3 KO's) of New York, NY will take on Pedro Andres (1-3, 1 KO) of Bridgeton, NJ in a six round Jr. Welterweight bout.
In four round bouts:
Neuky Santelises (5-2, 4 KO's) of Manhattan, NY will take on Phil Nazario (0-3) of Bronx, NY in a Super Featherweight bout.
Jordan Rodriguez will make his pro debut against Killer Jackson in a Super Bantamweight bout.
Elisa Collaro of Brooklyn, NY via Italy will make her pro debut against Rachel Vidal (1-2-1) of Oklahoma City, OK in a female Super Bantamweight fight.
Armin Mrkanovic (6-2, 3 KO's) of Queens, NY will take on an opponent to be announced in a Cruiserweight bout.
Livingstone Joseph will make his pro debut against Julio Rivera in a Welterweight bout.
Tickets for this outstanding evening of boxing are $100 for ringside and $50 for General admission and can be purchased by calling Paul at 347-924-0845 or Rodney at 347-399-4808 and will be available on www.eltondharry.com beginning Friday, July 11.
Related Articles: