Categories:
Pre-Fight Jabs
|
Comments Off

on Empire State Showdown: Melson-Thompson set for October 20!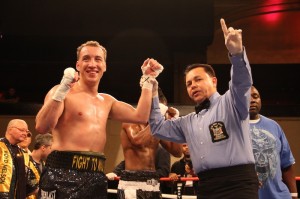 New York, NY (October 15, 2012) – Captain Boyd "Rainmaker" Melson of New York City by way of Brooklyn, NY will challenge fellow New Yorker Jason Thompson in a six round junior middleweight contest Saturday, October 20 on the inaugural fight card at the Barclays Center.
The heavy-handed Thompson fought a number of quality fighters, including contenders Jonathan Gonzalez and Mike Jones, 2008 US Olympian Sadam Ali and junior middleweight prospect Steve Martinez. Although his official professional ledger is 5-6-1 with 4 knockouts, Thompson's anything but a safe opponent. Thompson owns two first round stoppages against previously unbeaten opponents and fought a total of six undefeated fighters.
"Thompson's fought a lot of top guys and he's not just coming for the paycheck," said Melson, who is less than a month removed from an impressive victory over Yolexcy Leiva. "He's also from New York and there's a ton of pride involved when two guys from the same area face one another. I expect him to have a lot of people in the arena that will be rooting against me and that's not something I'm accustomed to."
Since turning pro in November 2010, the West Point graduate's won 10 of his 11 bouts, displaying solid boxing skills along with good power in both hands. Although he's won most of his fights handily, Melson recognizes that he's got to keep improving with every performance.
"A lot of people told me my last fight was my best as a pro," said Melson, who was selected as an alternate for the 2008 Olympics. "There are still things I'm working on and plan to showcase against Thompson. He's a very tough opponent regardless of what his record is and I'm expecting a solid challenge on Saturday evening."
Tickets to the first ever boxing card at the brand new Barclays Center are available on Teamfighttowalk.com. The website also has t-shirts and wristbands on sale, with 100% of the money (along with Melson's entire fight purse) going to Justadollarplease.org to support bringing trials to the United States to cure Spinal Cord Injuries.
In association with the 501 (C) 3 nonprofit Justadollarplease.org, Melson and his best friend Christan Zaccagnino created Team Fight to Walk, whose mission is to raise awareness within the boxing community as well as the entire nation about the importance of bringing Clinical Trials to the United States to help cure Spinal Cord Injuries. Team Fight to Walk is comprised of Melson, Zaccagnino, former Rutgers football player/ESPY honoree Eric LeGrand, two-time cruiserweight champion Steve "USS" Cunningham, title contender DeAndre "The Bull" Latimore, Edgar "El Chamaco" Santana, Hector "Machito" Camacho Jr., 2008 US Olympians Demetrius "Boo" Andrade and Shawn Estrada along with prospects Sid "The Messenger" El Harrak, Jeff "TNT" Spencer, Denis "Da Momma's Boy" Douglin, Will "Power" Rosinsky, Floriano "Italiano" Pagliara, Danny "Little Mac" McDermott, Vinny "The Lion" O'Brien, Ahmed "Prince of Egypt" Samir and Delen "Sniper" Parsley.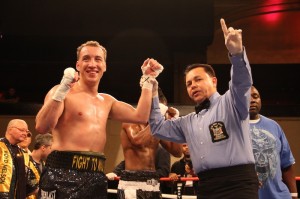 For more information or to make a donation, go to teamfighttowalk.com or Justadollarplease.org. All specific questions about the nature of the Clinical Trial to cure Spinal Cord Injury can be sent to [email protected]
Related Articles: