Categories:
Pre-Fight Jabs
|
Comments Off

on Klitchko Defends Belts vs. Chisora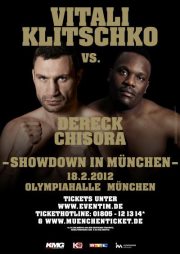 Vitali Klitschko defends WBC heavyweight championship against Dereck Chisora in Munich, Germany on February, 18
Two-time WBC World Heavyweight Champion Vitali Klitschko will defend his title against Dereck Chisora at the Olympiahalle Munich, Germany on February, 18, 2012.
Dereck "Del Boy" Chisora is 27 years old and is rated in the Top 15 in the WBC world rankings. From 2010 until 2011, Chisora was the Commonwealth and British heavyweight champion. In his last fight, Chisora lost a very controversial split decision against Robert Helenius in Helenius' hometown of Helsinki, Finland. Every boxing fan that watched this fight thought that Chisora clearly won and should be the real European champion. Dereck Chisora's fight record is 15 wins (9 KOs) with two defeats.
Dereck Chisora: "Wladimir Klitschko did not fight me last year so I am now going to get the world championship belt from his older brother Vitali. I will show Vitali that his time is over and make him retire. After I beat Vitali, if Wladimir wants revenge I will also fight him and take all their heavyweight championship belts back to London!"
Vitali Klitschko is 40 years old with a professional record of 43-2 with 40 KOs. His two defeats came only as a result of injuries and he never lost his title in the ring. Klitschko has the highest knock out percentage of any world champion with 93 percent. Vitali Klitschko is only the fourth boxer along with Muhammad Ali, Evander Holyfield and Lennox Lewis to win a heavyweight championship belt for the third time. It will be Klitschko's 16th World Heavyweight Championship fight in Munich.
Vitali Klitschko: "Chisora has proven in his last fights that he is very strong with his infighting. His great performance against Helenius showed that he should be the European champion but I won't be intimidated by his trash talking."
In Germany, Klitschko vs. Chisora will be shown live and exclusively on Klitschko's German TV partner RTL.
Ticket sales start on December 15 and will be available on www.eventim.de.
************
NEW YORK, NY (February 15, 2012) – World Boxing Council (WBC) heavyweight champion VITALI KLITSCHKO (43-2, 40 KOs), of Kiev, Ukraine, defends his title against world-rated contender Dereck Chisora (15-3, 9 KOs), of London, England This Saturday! February 18, in Olympiahalle in Munich, Germany. Klitschko vs. Chisora kicks off the first of three heavyweight title fights, which will be broadcast live to the U.S. on three consecutive Saturdays, exclusively on EPIX, the multiplatform premium entertainment service. EpixHD.com will stream the fights live as part of a special free trial offer for boxing fans. The EPIX live telecast and the EpixHD.com live stream will begin at 4:30 p.m. ET / 1:30 p.m. PT.
Vitali Klitschko: Good morning, good afternoon; I don't know what time it is now in the United States. Outside here in Munich it is so cold and snowing but it is a warm atmosphere. The arena is sold out and everybody is excited to see the fight Saturday night. Klitschko defends the title against Chisora and actually it is a pretty warm atmosphere. So many people are traveling from (all over the world); from United States, from Great Britain, from Russia and everybody is excited and everybody knows it will be a very interesting fight.
FIGHTKINGS QUESTIONS/SPORTSMANSHIP
Michael Amakor: What's your motivation for this fight, because it seems clear that you're the better fighter? What's your motivation for this fight?
Vitali Klitschko: You know what (it's by) the fighter. It's a belief. (Please) don't underestimate Chisora. He's young, very aggressive; he's very hungry and he wants to be World Champion very much. I was very impressed when I saw his last fight against Robert Helenius.
Before their fight everybody would talk about Helenius like he was the next world champion and yes, of course; I saw the last fight and everybody (loved) Chisora. Chisora may have lost the decision, but many experts who saw the fight, saw Chisora dominate the fight. He beat Helenius, but in split decision, Helenius won.
After this fight, I (called) to my manager and told him I want to fight this guy. This will be very good challenge for me. This will be really interesting fight for – not just for audience; but for me, because I need a challenge. And my thoughts, my opinion; I (can't) fight a nobody. I need a challenge. I want to fight the strongest challenger and Chisora is one of them and I'm more than sure the fight Saturday night will be very, very interesting.
I feel that; I smell that. He deserves my respect from Klitschko. He wants very much to be the world champion. I am giving him the chance and let's see if he can use this chance or not.
Michael Amakor: Have you changed anything about your training in preparation for this particular fight, because of how he did against Helenius in his last fight?
Vitali Klitschko: Yes, of course. I use different sparring partners and because Chisora has a totally different style than Sosnowski and Sosnowski was pretty fast, and has a different technique and that is (why) I changed my preparation. But believe me; I will be in good form. I understand how important this fight is and I understand it's very dangerous. He's very good fighter and I don't want to make a mistake.
Michael Amakor: I note this in the picture and the press conference between the two of you. I mean both of you are smiling and laughing and hugging each other like you were brothers and I notice that in all your other fights. What's your view about all the challengers you face and how do you – are you friends? I mean do you like Chisora? Will that be – will that make it difficult for you to knock him out? But basically, what do you think about sportsmanship? How do you view your opponents and why are you so friendly in the press conferences?
Vitali Klitschko: All I know about Chisora is his professional career. He has a good chin, and he has good boxing quality. We make small talk. Chisora was friendly. It's nothing personal; just business.
My career is just business, boxing, sports; nothing personal. And that's why I smile at him.
ON FUTURE CHALLENGES AND AMERICAN FIGHTERS
Q: Vitali, I agree with the last caller; you have been a terrific champion, so congratulations on that. What do you think of the career you have had? How would you rate your career, the way it's gone so far?
Q: It seems like you haven't really had a true challenge since
you fought Lennox Lewis in 2003. Do you see any true challenges out there on the heavyweight horizon? Chisora could possibly be a challenge, but you seem to have just breezed through your competition since then. Do you see anything on the horizon that excites you in this division?
Vitali Klitschko: You know (it) is – it's very difficult to compare Arreola with Lennox Lewis. Lennox Lewis was a big star; he was big star. Right now, all the big stars have retired and Evander Holyfield and Mike Tyson are not there, Lennox Lewis is not there. No big names and that's why everyone from the new generation who challenge the Klitschkos gt stopped. Any moment there can be a new guy and he can be tough, and he can give us a tough challenge. And one of them is Dereck Chisora.
No, it's not crisis, although somebody told us the name of the crisis is the Klitschko Brothers, because nobody can beat the Klitschko Brothers. Everybody wants to see a new name rise up to a new challenge, where in any moment that someone from a younger generation who has good skills, who is very motivated and who doesn't have fear can make a serious charge. And in my personal opinion, Dereck Chisora is big challenge for me I smell that in this fight.
This fight will be not easy. This fight will be a real good challenge for me and I will do my best to beat Dereck Chisora and yes. Every fighter needs time to build his name by fighting better opponents. That's how my brother and I did it.
But anyone has a chance. We are ready to fight anyone in the heavyweight division and we're doing that together (as brothers).
ON DAVID HAYE
Q: Vitali, I'm just wondering; do you think that Dereck Chisora is a better fighter than David Haye?
Vitali Klitschko: Oh, good question. Do you know what? It's – right now, I tell you, he has exactly the same skills of David Haye, but David Haye was coming from cruiserweight. Dereck Chisora is a real heavyweight fighter and that why he has a much stronger punch and after the fight, I can give you a more exact answer. Right now, in my personal opinion; they both probably have the same (level) of skills.
Q: How do you expect Dereck Chisora to fight you differently than David Haye fought your brother? In other words, obviously, people expect him to try more than David Haye did, but what are your thoughts on that?
Vitali Klitschko: David Haye didn't want to fight. He just kept running away from my brother. He didn't come in to fight. I expect a better fight from Dereck Chisora. He's actually fighter. He wants to go in and fight and to go the distance. He tries to challenge his opponent and I didn't see that in the last fight between David Haye against Wladimir Klitschko. And that's why they both have totally different styles. Dereck Chisora is more aggressive than David Haye.
Q: Do you expect David Haye to agree to fight you after, assuming you win this fight?
Vitali Klitschko: David Haye so unpredictable and we tried to make a deal and I hope the fight comes through, but right now we are miles apart from making the contract. Right now I don't want to talk about it; I am focused totally to – for the Chisora fight and I hope that after Dereck Chisora, David Haye changes his mind and I can give a chance to David Haye to fight for world title.
Everyone, every fighter has a dream to fight for world title and I have a feeling I tell every time to David Haye, please fight me. Please fight for the world title; it's the most prestigious title in the world. And then if he doesn't want to do that, it's OK. David Haye always tries to find excuses why fights do not happen. I hope David Haye one day makes a decision to fight me.
Q: You mentioned earlier that your career's not over yet. So how many more times to do you plan to fight this year; in this calendar year?
Vitali Klitschko: The year's just beginning. It's first fight in this year, but definitely it will depend of my condition, depend of health and actually, I can do one or two fights more, if everything goes smoothly. I'll give it my best; and hope, if everything is fine, returning to the ring in a couple of months.
Q: Assuming you know after the Chisora fight, how long are you going to give David Haye to sign a contract? Is there a drop-dead deadline or something like that?
Vitali Klitschko: I will have to wait to give you an answer for that. Right now, I'm totally focused on Dereck Chisora fight. After the Dereck Chisora fight, I will give you the answer for your question, but right now I'm not ready to talk about that.
Q: You've only fought once in United States since your comeback in 2000 and I just want to know if American fans have seen the last of Vitali Klitschko in the United States or if you do plan to come back over here again.
ON NICOLAI VALUEV
Q: People have been asking you about your future opponents. One guy that you talked about in the past that you really to fight; he hasn't been around for a while, is Nikolai Valuev. Have you still got any wish to fight him at some point, if you could talk him into it?
Vitali Klitschko: Nikolai Valuev is a member of Russian parliament right now. I received an official answer from Nikolai. He's retired and doesn't want to fight anymore. It would be very interesting fight. It's very interesting, the way I have to find sparring partners for the fights and he's actually – I am – I'm 6' 7", but Nikolai Valuev, 6' 9".
Q: Six-eleven, (actually).
Vitali Klitschko: Six-eleven; sorry. He's 6' 11" and I never fought against anyone so big and this fight would be interesting for me, for the audience, especially since Nikolai looks so impressive. But I have bad news. Nikolai doesn't want to fight anymore because he has retired.
Q: Well you could have a fight between the two politicians if you could talk him into it, so it would be really interesting. You're involved in politics as well.
Vitali Klitschko: You're right; you're right. For that, I would have to be a member of the Ukrainian parliament. Maybe next year, I will be a member and after that we can come back to this question with one member of Russian parliament; one (inaudible) fight against another one. This of course is joke. But anyway, I have a dream to fight Nikolai, but you know he decided, because of an injury, because of his hip – a lot of injuries and he decided to retire. And I am full of respect for him and I wish Nikolai a lot of luck in his political career.
Vitali Klitschko: Thank you very much everybody. Thank you very much for your questions. Thank you very much for following the Klitschko Brothers' career. I wish for everyone who sees the fight on Saturday night a lot of enjoyment from it. I feel that this fight will be one of the most interesting of my fight career. I have really good challenger and it will be very good fight and I hope this will be a real big battle in heavyweight division. Have a nice day and we see each other Saturday night.
Related Articles: