Categories:
Pre-Fight Jabs
|
Comments Off

on Fight card at the patriot center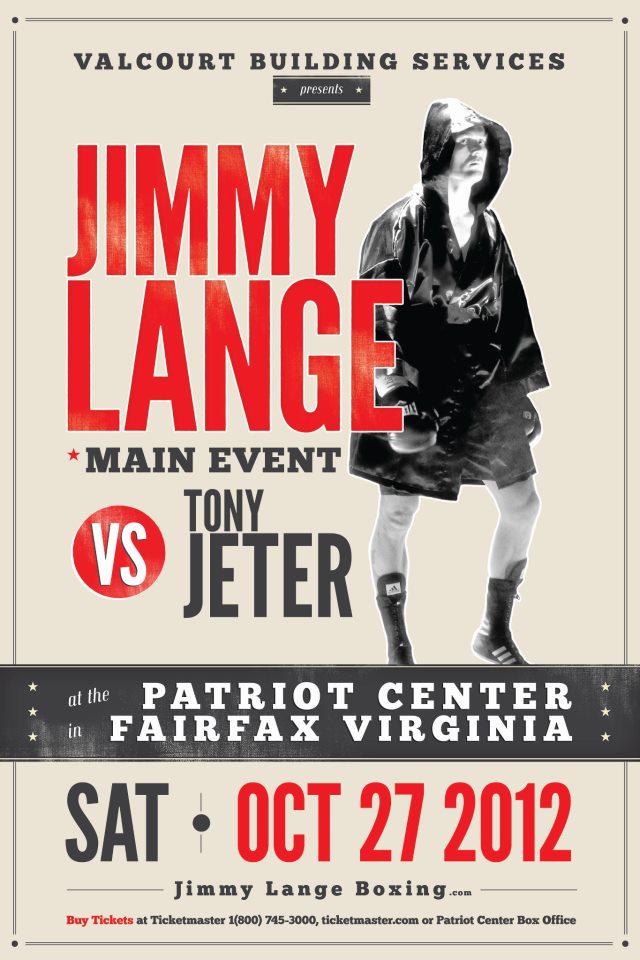 Main Event: Jimmy Lange vs. Tony "Mo Better" Jeter – 10 Rounds – Middleweight
Lange, who was showcased on the first season of the NBC reality show, The Contender, has served as the region's main boxing attraction since his days at Michael's Eighth Avenue. The Great Falls, VA boxer has headlined all 14 Patriot Center shows and boasts a seven-bout winning streak. During his career, he has held numerous championship belts including the World Boxing Union (WBU) junior middleweight and World Boxing Council (WBC) NABA USA Light Middleweight titles. Lange scored a unanimous 12-round decision over Ruben Galvan in his last fight held on February 11, 2012 in Fairfax. He has an 11-2-1 record at the Mason arena.
Jeter is also familiar to Patriot Center fans. He displayed his punching power during his Patriot Center debut in September 2009 when he dropped Keith Gross with a devastating right that earned "KO of the Year" honors from Boxing Along the Beltway. Lange will be Jeter's toughest opponent to date and first 10-round contest (Lange has gone 10 rounds six times and 12 rounds three times). The Stevensville, MD boxer went 9-0-1 following a two-and-a-half year hiatus from the sport before being upset by Jose Felix last December. Jeter, who trains out of Club One Fitness and promotes his own shows under Jeter Promotions, avenged the loss two months later to claim the Universal Boxing Organization (UBO) All-America and United States Boxing Union (USBU) Middleweight belts. Last month, he scored a 5th round TKO over Tyrel Brown to capture the WBC's Fecarbox Championship belt.
Co-Main Event: Zain Shah vs. Harry Joe Yorgey – 6 Rounds – Middleweight
Undefeated power puncher Zain "Tiger" Shah (5-0, 3 KOs) of Washington, DC will face his toughest opponent to date, squaring off against former world-class contender "Lightning" Harry Joe Yorgey (24-1-1, 11 KOs) of Bridgeport, PA in the evening's co-feature. The bout was originally scheduled for the February 2012 Patriot Center card, but the flu bug sidelined Shah who had to withdraw.
Shah, a Chantilly (VA) High School graduate who trains at Gleason's in Brooklyn, NY, last fought two years ago, scoring a no contest against Julius Kennedy at the Patriot Center on September 10, 2010. Originally recorded as a second-round TKO, the Virginia Commission changed the decision to a no contest upon a video review several weeks after the fight. Shah defeated Omar Simms and John Terry in his previous Patriot Center appearances.
Yorgey defeated two previously undefeated fighters, Jason LeHoullier and Ronald Hearns, before falling to Alfredo Angulo in a WBO light middleweight championship fight in November 2009. Looking to return to the national scene, the Philly area fighter has notched two victories since, including last February against Lawrence Jones at the Patriot Center.
Brandon Quarles vs. John "No Mercy" Mackey – 6 Rounds – Middleweight
Alexandria, VA's Brandon Quarles (9-0, 2 KOs) is another local boxer putting his undefeated record on the line against a rugged veteran in John Mackey (13-8-3, 6 KOs) of Washington, DC, now living in Birmingham, AL. Quarles, a graduate of Alexandria's T.C. Williams High School, won his pro debut against Vincent Batteast in July 2010 at the Patriot Center and has rattled off eight straight victories over the past two years. He will face his stiffest competition to date in Mackey who has faced top Beltway boxers Tony Cygan, Jessie Nicklow, Cecil McCalla, George Rivera and Joshua Snyder plus ring veterans such as Tarvis Simms, James McGirt, Jr. and Derek Ennis.
Lawrence Jones vs. Ivan "King Shango" Ziglar – 6 Rounds – Middleweight
After serving as a sparring partner for Miguel Cotto at the former four-time world champion's training camp last month in Puerto Rico, Washington, DC's Lawrence Jones (4-6-2, 1 KO) returns to Fairfax to battle Ivan "King Shango" Ziglar (7-2-1, 4 KOs) of Virginia Beach, VA.
Jones, a trainer/instructor at Northern Virginia's LA Boxing, has always put on competitive fights at the Patriot Center where he has gone 2-2-1. He lost to contender Harry Joe Yorgey last February.
Now fighting out of DC where he serves as an instructor at LA Boxing's Georgetown gym, Virginia Beach-native Ziglar has rattled off five straight wins, most recently against Jimmy LeBlanc two months ago at the Washington Convention Center.
Immanuwel Aleem vs. Mark "The Honorable" Baltimore – 4 Rounds – Super Middleweight
Former top amateur, now rising pro prospect Immanuwel Aleem (2-0, 2 KOs) of Richmond, VA looks for his second win when he challenges tough DC prospect Mark Baltimore (1-0, 1 KOs).
Aleem, who along with his older brother Moshea form the "Fighting Aleems," had a very successful amateur career before turning pro three months ago. He was the Silver Gloves Regional and National Runner-up Champion in 2009; a Junior Olympic Regional Champion and Nationals Semi-Finalist Bronze Medalist in 2010 and the USA Senior Regional Champion and Last Chance Qualifier Quarter-Finalist in 2011.
Born in Washington, DC and training out of Hillcrest (MD) Boxing Gym, Baltimore has fought 23 amateur bouts and competed in the Ringside World and Title National Boxing Tournaments.
Both fighters had impressive pro debuts on the same card – June 2012 in Arlington, VA – with nearly identical results. Aleem KO'd Jess Noriega at 2:03 in the first round, while Baltimore finished off Fernando Alvarez at 1:43 in the first stanza.
Jerry "The King's Son" Odom vs. Jason Denson – 4 Rounds – Super Middleweight
Highly-regarded amateur star Jerry Odom of Washington D.C. will make his pro debut on the undercard, facing Akron, OH's Jason Denson. Training out of NoXcuses Boxing gym in Capitol Heights, Odom won the 2012 National Golden Gloves Tournament of Champions at 178 pounds on May 5. He led Washington, DC to the team title and earned The Golden Boy Award for the tournament's most outstanding boxer.
Antoine "Action" Douglas vs. Valdez Eason – 4 Rounds – Super Middleweight
Antoine Douglas, a 2011 USA Boxing National Championships bronze medalist, will make his highly anticipated pro debut on the card when he faces Valdez Eason (0-6) of Cincinnati, OH. Training out of Alexandria Boxing Club, Douglas and his sister, Tyrieshia, were the only brother-sister duo to qualify for the 2012 U.S. Olympic trials. Antoine lost in the semi-finals, while Tyrieshia advanced until losing in the championship bout. Despite growing up in the DC foster care system, suffering many hardships, he has excelled both in and out of the ring. He captured the 2009 Junior Olympic National Title, won a silver medal in the 2010 National PAL Championships in the 165-pound class, and claimed the bronze medal at the 2010 USA Boxing National Championships. Douglas, now living in Burke, VA – right down the road from the Patriot Center – was an honors student at DC's Anacostia High School and was invited to participate in the White House's D.C. Scholars Program.
Joseph "Raw Talent" Rector vs. David Huffman – 4 Rounds – Junior Welterweight
Rising junior welterweight prospect Joseph Rector (1-0, 1 KO), who grew up in Reston, VA and graduated from Seneca Valley High School in Germantown, MD, will battle David Huffman (1-8) of Milwaukee, WI. He recorded a first-round TKO over Samson Townes in his pro debut earlier this month in Arlington, VA at Henderson Hall. A two-time regional Golden Gloves champion, Rector won the Mayor's Cup Championship four times as an amateur. Huffman has fought his last three bouts in the District earlier this year, going the distance with prospects Kevin River and Reynaldo Gaines (winning once and losing twice).
Andre Ward vs. Mario "Bazooka" Flores – 4 Rounds – Cruiserweight
Two upcoming DC cruiserweights will collide when Andre Ward (1-1-1, 1 KO) and Mario "Bazooka" Flores (1-0, 1 KO) meet at the Patriot Center in search of their second win.
A native of Coney Island in Brooklyn, NY, Ward is stationed at Fort Meade in Anne Arundel County, MD where he serves as an Army Staff Sargent. Training out of Laurel, MD's Young Titans Boxing Club, he lost a decision to Zakki Scott in his last fight on March 10, 2012 at the Washington Convention Center.
Flores, an Annandale (VA) High School graduate who trains out of Champions Boxing/Fitness in Rockville, MD, was a 2007 MD/DC/VA Golden Gloves Champion at 201+ pounds. He competed in the 2007 Nationals making it to the semi-finals before losing to eventual medalist and current undefeated heavyweight Deontay Wilder. He's looking to get back on the winning side after dropping a majority decision to Ramadan Yasser in April 2011.
Doors will open at 6:00 pm, with the first fight scheduled to begin at 7:00 pm. All bouts are subject to change.
Tickets, priced at $40, $75, $125, $250 and $500 (plus applicable service charges), can be purchased through all Ticketmaster outlets including the Patriot Center box office, online at www.ticketmaster.com/ and via Phone charge at 1-800-745-3000.
Related Articles: