Categories:
Pre-Fight Jabs
|
Comments Off

on Gunn and Johnson confirm "Celtic Warrior vs Road Warrior"!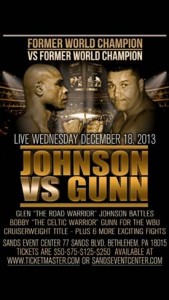 Hackensack, NJ (December 5, 2013) – Hard hitting contender Bobby "The Celtic Warrior" Gunn and 2004 Fighter of the Year Glen "The Road Warrior" Johnson confirmed they'll meet Wednesday, December 18 at the Sands Casino in Bethlehem, PA.
Tickets for the XFE promoted "Celtic Warrior vs Road Warrior" are available by going to http://sandseventcenter.com/event/details/world-championship-boxing/ or calling the Sands box office at 610-297-7400. The card is also available on IPPV for just $14.99 and can be ordered by going to http://www.gfl.tv/Events/Fight/Boxing/Glen_Johnson_V_Bobby_Gunn/2139
A former IBA, WBC-USNBC and WBA-NABA cruiserweight champion, Gunn's 21-5-1 as a professional with 18 wins coming by way of knockout. Born and raised in Canada but based in Hackensack, NJ, the bare-knuckle boxing legend was slated to face eight-time world champion Roy Jones Jr. Unfortunately, Team Gunn received word that he would not be going through with the fight, opening the door for Johnson in what has the potential to be the most exciting cruiserweight fight of 2013.
"I know he's a former champion with a great record and I respect him," Johnson said of Gunn. "He's a natural cruiserweight and has fought some big names. This is my first fight at cruiserweight and there's definitely some risk with doing that but I'm looking forward to the challenge. I've been working on some new stuff (in the gym) and I feel energized again. I needed a break from boxing and now I feel like a new fighter. I'm looking forward to the 18th and am excited about getting in the ring to show what I still have."
Globally recognized as one of the toughest fighters in boxing history and for his willingness to fight in his opponents' backyards, Johnson's professional record is a solid 52-18-2 with 36 knockouts. The Miami based Jamaican took the boxing world by storm in 2004, viciously knocking out the aforementioned Jones Jr. while topping world champions Clinton Woods and Antonio Tarver. Since turning pro back in 1993, Johnson has one of the most impressive resume's in history, facing Bernard Hopkins, Jones Jr., Tarver (twice), Chad Dawson (twice), Carl Froch, Sven Ottke, Tavoris Cloud, Lucian Bute and Silvio Branco amongst others. In 72 professional fights spanning 500 rounds, Johnson's only stoppage defeat came while he was still on his feet against the legendary Hopkins.
"To be honest with you, this is a way tougher fight," said Gunn, who battled Enzo Maccarinelli, Tomasz Adamek and James Toney. "It's been a dream of mine to Roy Jones Jr as long as I can remember but he backed out only a few weeks before fight night. I'm very thankful that Glen Johnson accepted the bout on short notice. He's fought everybody you can think of and was on the wrong end of a lot of bad decisions. This is a very dangerous fight for me but I'm a fighter and what fighters do is fight. I know he's never been knocked out before and was only stopped on his feet once but he's also never faced a solid cruiserweight. My goal is to end the fight early and take my frustrations (over the Jones situation) out on Johnson."
Related Articles: