Categories:
Pre-Fight Jabs
|
Comments Off

on Hardworking Promotions Presents Dedication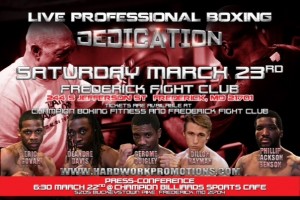 FREDERICK, March 16 – Hardwork Promotions presents an exciting night of professional boxing in Frederick, Maryland, on Saturday night, March 23, 2013. The boxing card, entitled, "Dedication," will be held at the Frederick Fight Club, 244 S. Jefferson Street, Frederick, Maryland, 21701. The card will feature seven professional bouts, including the pro debut of former Olympian Ytalo Perea, touted prospect Dillon Hayman, as well as pro-debuts of two successful area amateurs, Eric Govan and Gerome Quigley. The first bout will begin at 7:00pm. Doors will open at 6:00pm.
Hardwork Promotions was formed by Venroy July, who works in Baltimore, Maryland, as both a professional cruiserweight boxer and an attorney. July recognizes the hardships endured by fighters and plans to use boxing as a means to have them empower their communities, and as such Hardwork Promotions plans to donate a portion of its profits from each show to a desigated nonprofit organizion. Consistent with this goal, a portion of the profits from "Dedication" will be donated to the Salute Military Golf Association "whose mission is to provide rehabilitative golf experiences and family-inclusive golf opportunities for post-9/11 wounded war veterans in an effort to improve the quality of life for these American heroes."
The fighters to be featured on the card include:
Ytalo Perea, an accomplished amateur fighter, having represented Ecuador in the 2012 Olympics, and holds on his resume a win over U.S. heavyweight olympian, Dominic Breazeale. Perea will be making his pro debut on "Dedication," and plans to start the quest to becoming the next great heavyweight.
Dillon "the Stalker" Hayman (Frederick, MD, Pro Record: 3-0-0, 2 KOs) is a local fan favorite who looks to continue his three fight win streak in front of his hometown fans. As an amateur boxer, Hayman won the 2011 Maryland Golden Gloves Champion (junior) at 152 lbs. He is currently a freshman at Montgomery Community College.
Devar "The Warrior" Ferhadi (Frederick, MD, Pro Record: 1-0, 1 KO) brings devastating power punching ability to the light heavyweight division. In his pro debut, Ferhadi stopped his opponent with a vicious body shot. Ferhadi competed for a spot on the Iraqi National Boxing Team.
Eric "Inferno" Govan (Laurel, MD, pro debut) makes his pro debut in the light heavyweight division. He has trained with some of boxing's best, including local stars, former super middleweight champion, William Joppy, and former welterweight Champion, Paul "The Punisher" Williams.
Gerome "GQ" Quigley (Baltimore, MD, pro debut) looks to make an impact in the welterweight division after taking a lengthy hiatus from the sport. As an amateur, Quigley amassed an impressive record of 68-5.
The weigh-ins and pre-fight press conference for "Dedication" will be held on Friday evening, March 22, 2013, beginning at 6:00pm, at Champion Billiards Sports Cafe, located at 5205 Buckeystown Pike, Frederick, Maryland, 21704. This event is open to the media and is free for the general public (all ages are welcome).
Tickets for "Dedication" are priced at $40 (general admission) and $60 (VIP) are on sale now at two Maryland locations: Champion Boxing Fitness, located at 11540A Rockville Pike, Rockville, Maryland, 20852, and Frederick Fight Club, located at 244 S. Jefferson Street, Frederick, Maryland, 21701.
For more information on Hardwork Promotions, visit www.HardworkPromotions.com, follow us on Twitter at @Hardwork_Boxing, and visit us on Facebook at www.facebook.com/HardworkPromotions. For all media inquiries contact 919-923-8763 or email [email protected]
Related Articles: