Categories:
Pre-Fight Jabs
|
Comments Off

on Hopkins vs Taylor Pre-Fight Analysis
By Michael Amakor |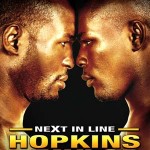 On July 16th, Undisputed Middleweight Champion of the world Bernard "The Executioner" Hopkins defends his WBA, WBC,WBO and IBF titles against WBC Continental Americas Middleweight Champion Jermain "Bad Intentions" Taylor at the MGM Grand Hotel and Casino in Las Vegas, Nevada on HBO in a fight Labelled Next in Line.
The Executioner first made me his fan with his thrilling and brutal stoppage of skilled southpaw Joe "The Sledgehammer" Lipsky in the 4th round back in 1996, you had to see that knockout as Hopkins suddenly stepped back and unleashed a blur of vicious uppercuts that absolutely stopped Lipsky dead on his feets,Hopkins showed killer instinct by immediately putting together a combination that sent the sledgehammer to the canvas almost unconscious prompting the experienced Referee – Mitch Halpern to wave off the fight even before Lipsky's head had touched the canvas, Joe Lipsky has not fought again since that knockout.
Another thing that endeared me to Hopkins was his ring entrance, which is quite tame now, but back in 1996 it was a menacing spectacle to behold, he usually walked slowly into the ring cloaked in an executioners mask with an entourage of burly masked bodyguards who carried his swords, battle axes, and Championship belts right behind him like a funeral procession, that along with his hard core eloquencial ponitifications was truly inspiring, I knew after that fight that this guy was on a mission and he could really bang.
Back then he let the world know that he was not getting the best fights because no one wanted to fight him, he wanted to fight Roy Jones in a rematch and urged Don King,to work with his then promoter Butch Lewis who had labeled him the Hagler of the nineties when signing him up, to get him career defining fights. He finally got the chance to showcase his skills, five years later, when he competed in the Don King sponsored Middleweight unification series by stopping legendary Felix Trinidad in the eleventh round to become the unified Middleweight King.
Three years later he went on to stop Oscar De la Hoya with a single devastating body shot to annex the WBO version of the middleweight to claim absolute supremacy of the division. He has also surpassed Carlos Manzon's title defense record with 20 title defenses of his own, and has crushed the likes of Antwun Echols, and former champions Keith Holmes, Simon Brown, Segundo Mercado and recently dethroned Light Heavyweight King Glen Johnson. But he is now on the north side of 40 and father time will have to catch up with him someday, the only question is when, and this is where Taylor comes into the picture.
For several years now boxing pundits have been unanimous about Taylor believing with each successive victory that that he is the future of the Middleweight division cautioning that he should be properly handled against progressively higher caliber opposition to prepare him to one day challenge Hopkins for the undisputed Middleweight crown. That Day will come on July the sixteenth. But the question that will be answered at the 13th round is whether Taylor is mounting his challenge too soon as Hopkins is vastly more experienced than his foe.
This glaring fact has led normally reticent Bouie Fisher, Hopkins trainer, to conclude that Jermain Taylor will be champion one day, but not against Hopkins as he has more schooling to do, an opinion seconded by Hopkins who gives Taylor all the credit in the world for fighting him now, but who nevertheless comically donned some glasses and pretended to puff on a tobacco pipe to prove his point that he was a professor about to school a pupil about the finer points of the sweat science during a recent press conference.
But they may both be proven wrong as Bad Intentions has a ton of amateur experience including winning a couple of National Golden glove titles as well as winning the bronze medal at the 1998 Goodwill Games and at the 2000 Olympics in Sidney Australia.
He now sports a professional record of 23 victories, including stopping 17 of his opponents inside the distance. He seized the WBC Continental Americas Middleweight Title from Alfredo Cuevas in 2003 and went on to crush former IBF Light Middleweight Champion Raul Marquez, former WBC Continental Americas Light Middleweight champion Alex Bunema and recently out pointed faded but competitive former WBA Middleweight champion William Joppy over twelve rounds to prepare himself for the Hopkins fight.
Taylor also has some advantages over Hopkins, the biggest of which is that he is Fourteen Years younger, he is also physically bigger than Hopkins and works behind a stiff piston like jab with knockout power. These advantages could allow him shock Hopkins who may find out too late that he is currently ill unprepared to handle the furious frenetic pace that a younger fighter at his peak, could bring to the table, Hopkins may be forced to quit under fire from punches thrown with bad intentions or the matter may be decided for him by a brutal stoppage. Just last month we saw veteran reigning champion Kostya Tsyzu cave in to a ferocious Ricky Hatton when he quit the fight, so there is a real possibility that this could happen in this fight.
But in order to win Taylor better be in the best shape of his life, because Hopkins is a mentally tough and physically strong fighter who can box and brawl as he creates numerous firing angles for himself while releasing hard combinations and tying up opponents at any opportunity frustrating his opponents down the stretch for the win or kayo.
Both fighters share a common opponent in William Joppy who the both beat decisively via twelve round decisions, the only difference was that while Taylor out pointed Joppy in a style type fight Hopkins inflicted a severe beating on Joppy leaving him a hideous grotesque mess after twelve rounds in an ugly grudge match.
In his last fight a few months ago in February, Taylor scored a spectacular victory over the previously unbeaten Daniel Edouard in the third round and has scored eight knockouts in his last ten fights, while Hopkins has had only five kayos in his last ten fights, in his last fight he battled highly ranked Howard Eastman to a unanimous decision win underscoring the fact that his power may be slipping with age.
A victory by Taylor will blow a dose of fresh air back into the lackluster Middleweight Division which is now currently suppressed under the iron grip of a sit tight Bernard Hopkins who has enraged some boxing fans by refusing to step up in weight and take on Super Middleweight champion Calzaghe or the other heavy hitters north of the middleweight division, he has opted instead to remain a Middleweight.
Going by his achievements you cannot blame him and as the King of the division he will be most unwilling to give up his throne without a fight, and after all when you come to think of it, why should you rout for Taylor, Hopkins got there first and deserves to stay there for as long as he pleases.
Enough Said, May the best Man Win
Related Articles: