Categories:
Pre-Fight Jabs
|
Comments Off

on Huck Defends Title Against Afolabi on May 5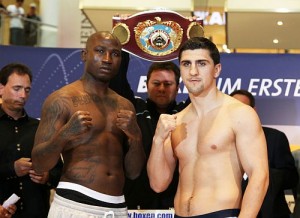 WBO Cruiserweight Champion Marco Huck (34-2, 25 KOs) will make his mandatory defence against interim champion Ola Afolabi (19-2-3, 9 KOs) in Erfurt, Germany on May 5. It will be the second time the two fighters face each other in the ring, with Huck clinching a close points victory in their first meeting in December 2009. "I had just won the title against Victor Emilio Ramirez and then had to make my first defence against Afolabi," Huck said. It was a tough fight and I won on points.
Afolabi has been victorious in all of his fights ever since. He seems to have gotten stronger. I will be prepared for a hard night on May 5."
After challenging WBA Heavyweight Champion Alexander Povetkin in February, Huck will have to lose weight again. "He weighed around 95 kilos prior to the Povetkin fight," coach Ulli Wegner said. "Now he has to lose five kilos. That is something new for him. He has a lot of muscles, so it won´t be easy. But we will get it done during the hard preparation."
Team Sauerland General Manager Chris Meyer is happy to bring the fight to Germany. "We look forward to fighting in Erfurt again," he said.
"Huck has great memories of the city. In August 2010, he stopped Matt Godfrey at the Messehalle. After long negotiations with K2´s Tom Loeffler, who represents Afolabi, all important matters have been agreed on. Now the contracts are ready to be signed."
***Sdunek: "Saturday I will be up 2:1 against Wegner"– Huck and Afolabi focused***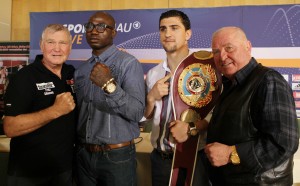 Normally at a press conference only the fighters of the main event are in the spotlight. But this was not the case on Wednesday afternoon in Erfurt. The spectators of the big fight night on May 5 are also keen to find out which coach comes up with the better strategy for the world championship bout between the cruiserweights Marco Huck and Ola Afolabi.
Hence the two coaching legends of German boxing, Ulli Wegner and Fritz Sdunek, did not hold back at the conference. But before they got started, the WBO champion himself had a few things to say. "Ola Afolabi is a really tough guy. But mentally I am very strong. Therefore he won´t get my title," said Huck. This is the second time that the 27-year-old will be boxing at the Messehalle in Erfurt and he is extremely happy to do so. His first fight here, back in August 2010, ended with a KO victory over the American Matt Godfrey. "The fans here are extremely enthusiastic about boxing so it is amazing that they will get to witness such a great show."
But of course Ola Afolabi has a very different view and already sees himself as the new WBO cruiserweight champion. "My experience is now so big, due to the professional surroundings of Fritz Sdunek and K2 promotions, that it is not possible for me to walk out of the ring as the loser. I will give Marco a boxing lesson and if he tries anything crazy I will knock him out", said the Brit.
Fritz Sdunek, Afolabi`s coach, is looking forward to his third encounter with his rival Ulli Wegner. Back in 2000, he won the first battle with Wegner when Vitali Klitschko fought off Timo Hoffmann. In August 2007, Wegner then got one back on Sdunek as his prodigy Arthur Abraham knocked out Khoren Gevor in round eleven who back then was coached by Sdunek. "I am very excited to once again see Ulli in the opposite corner," said Sdunek. And he is not surprised by the optimism of his own fighter Afolabi. "Ola lives in Hollywood. They do talk very fondly of themselves over there. Also Marco´s break after the Povetkin encounter at the heavyweight division was quite short. That must have taken its toll and it might be too early for him to take on one of my fighters. On Saturday we will leave the arena victorious and I will be in the lead with 2:1 against Ulli."
But Wegner, who just turned 70 last Thursday, was not just going to take this little tease quietly. "The challenges in the cruiserweight division are much bigger than the heavyweights," according to the nine-time coach-of-the-year. "And it is a pleasant coincidence that the coach of Marco`s challenger is my old friend Fritz." Wegner continued: "Both men have grown since their last encounter back in 2009. Not too long ago, I have been praising Marco for sticking to the tactics during his fights. If he manages to do the same again on Saturday he will win once again."
Super-Middleweight Robert Stieglitz is also planning to leave the ring victorious. The WBO champion will face off with the Australian Nader Hamdan. The winner of the bout will then have to face Arthur Abraham, the mandatory challenger, in the next fight.
"Right know I am not even thinking about facing Arthur," said Stieglitz. "I am only concentrating on the next fight. As soon as I have won the bout on Saturday night, we can start talking about Arthur Abraham."
But his opponent Nader Hamdan is planning to grab his chance with both hands. "I didn't think twice about accepting the fight as I have nothing to lose."
The third part of the main event, the fight for the vacant European Heavyweight Title, also promises to be very exciting. Kubrat Pulev, the prodigy of coach Otto Ramin, also knows that it will be a thrilling encounter. "I don´t want to say too much about the fight. The only thing I will say though is that I will win," said the 30-year-old.
The former heavyweight champion of Europe, Alexander Dimitrenko, was very optimistic himself. "I have been in this business for quite a while now and I am not even in my thirties yet. I have been through ups and downs. Therefore experience-wise I am in front and it will show on Saturday."
*** Huck vs. Afolabi: Back to the future! ***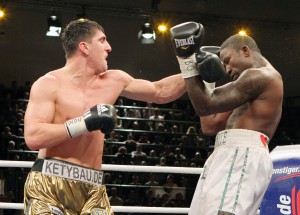 The rematch is just around the corner. Once again Marco Huck (34-2, 25 KOs) and Ola Afolabi (19-2-3, 9 KOs) will fight it out for the WBO Cruiserweight World championship, this time at the Messehalle in Erfurt on May 5. In December 2009, the two athletes squared off in Ludwigsburg. Back then Huck won an exciting bout by unanimous decision. Two-and-a-half years later both men believe that they have grown and developed into better boxers. May 5 will show who really has put in the work since then.
The current champion is aware of the fact that his opponent is stronger than before. "He must have developed since our last meeting, otherwise he wouldn´t be the mandatory challenger for my belt," said Huck. "But I myself have become a better boxer in comparison to two years ago. With each fight I become wiser and more experienced." Afolabi is also adamant that he is a much improved fighter than he was in their previous face-off. "I wasn´t completely prepared to take on Huck in our last fight," he stated. "But now I have a new coach in Fritz Sdunek who has taught me so many things. He made me a more complete fighter." But nevertheless he is well aware of his opponent's strengths. "He doesn´t have many weaknesses. He is a very solid fighter and keeps coming forward." According to Afolabi, he does see himself having the advantage on the night. "We are both better fighters than in the first fight, it is just that I have learned many more things than he has."
But all eyes will not just be on the two main acts of the night. The duel between the two legends of German boxing, the coaches Ulli Wegner and Fritz Sdunek, who will once again cross paths, will also be fascinating. On one side Wegner will do everything in his power to ensure that prodigy Marco Huck remains champion, while on the other hand Sdunek will be looking to take Huck´s belt off him with his man Afolabi. Asked who is the better coach, both fighters saw their respective just a nod in front. "I couldn´t be any happier than having Ulli Wegner on my side," said the German whose reign as champion with Ulli Wegner by his side started back in August of 2009. Afolabi believes that Sdunek has the upper hand. "I have a lot of respect for Ulli Wegner, but I have to say Fritz because of everything he has taught me."
Both fighters see themselves having the edge over the other and both are convinced that the match-up will end in their favor. "I will be the world champion and will take the title with me," said the interim-champion. "I am much stronger and my punch is much harder, it will not go the distance." But for Huck everything else than a victory is out of the question. "I know that I will win this one again. This time I will be even more convincing," said the champion. "He should be prepared for an early end to his night."
Related Articles: