Categories:
Pre-Fight Jabs
|
Comments Off

on Introducing Ava "The Lady of Boxing" Knight
Pictures by Team Ava Knight
EDITORS NOTE: Ava "The Lady of Boxing" Knight (Chico, California, 8-1-3, 5 KOs) defends her IBF Flyweight title on June 30, 2012, against Susana "Toluquita" Vazquez (Toluca, Mexico, 8-6-1, 3 KOs) at the Auditorio Centenario, located in Torreon, Coahuila de Zaragoza, Mexico. The scheduled 10-round bout will be featured on the Mexican television network, Televisa, as part of their weekly boxing series, "Sabados de Corona.
*******************************************************
Ava "Lady of Boxing" Knight, a professional women's boxer of Polish and African-American descent, was born in Chico, California. Growing up in a low-income household with both of her parents and two sisters, Knight overcame economic hardship and peer pressures. She tried ballet, but could not afford to participate in extra-curricular sports. She remained focused on her schoolwork and maintained a high grade point average until her high school graduation. A female friend introduced her to the sport of boxing by regularly taking her to the local gym.
In June 2001, at the age of thirteen, Knight began her boxing training at Chico Boxing for Fitness. Known for her quiet and reserved nature, Knight found a home within the sport of boxing, which allowed her to train inexpensively and box on her own. She didn't use boxing as an outlet to escape pressures of every day life, but enjoyed learning new moves and improving on her technique. Knight boxes without much emotion, and tries to stay three steps ahead of her opponent, much like a game of chess. She is particular in how she chooses to set up her punches and prepares a solid game plan before fights.
Joe Rodriguez, her first boxing coach, bestowed upon her the nickname "The Lady of Boxing." Often accompanied by his son, Louis, Coach Rodriguez trained Knight for eight years. Along with Ava's father, Elliot, the two are credited with producing Ava's strong boxing fundamentals. After just one year of introductory boxing training, she entered the amateur ranks of competition. Due to a lack of local female boxing opposition, Knight regularly changed weight classes in order to compete. She also had to consistently spar male boxers to prepare for her fights.
Early on in her boxing career, Knight never expected that she would ever compete beyond her amateur status. In 2006, Knight defeated the 110 lb. Golden Gloves Champion and the National P.A.L. 114 lb. champion twice. She won the flyweight silver medal at the 2006 National Amateur Championships and was also a two-time SanFrancisco Golden Gloves titlist. Her amateur career record was an impressive 28-4.
After years of success as an amateur boxer, Knight decided to advance to the professional level. On August 30, 2007, at nineteen years old, Knight made her pro debut, defeating Leonie Hall by unanimous decision in Colusa, California. In her next six bouts, she faced more experienced opponents, but was successful in continuing to show improvement in each of her contests.
In just her seventh pro fight, on November 18, 2008, the undefeated Knight challenged fellow undefeated boxer, Kaliesha "Wild Wild" West for the IFBA North American Title. The eight-round fight was a showcase of boxing skill between two female pugilists. That night, the judges at ringside ruled that Knight defeated West by unanimous decision. After the fight, both boxers received a standing ovation.
On August 29, 2009, Knight traveled to Mexico to take on Mexico's women's boxing legend and the WBC Super Flyweight Champion Ana "La Guerrera" Maria Torres. Weeks before the fight, Knight suffered a serious back injury, but decided that she couldn't give up the opportunity. She also suffered from food poisoning during the fight weekend. In the end, Torres handed Knight a unanimous decision loss.
Back home in Chico, her home boxing gym went out of business, her coach retired and his son moved to Texas. In 2010, Knight decided to move to the SFC gym in San Francisco, California, under the guidance of boxing trainer Ben Bautista. Relocating to San Francisco offered Knight the opportunity to not only help train others, but would allow her to continue her boxing training with a quality boxing coach, an activist in the community, and a man who has a great track record for helping kids gets off the streets. Eventually, Bautista became both Knight's trainer and manager.
On June 18, 2011, Ava Knight and Kaliesha West agreed to a rematch, this time for West's WBO Bantamweight Title. The boxing fans and media who attended the fight consider it to be one of the best women's bouts of all time. West retained the title in a split decision draw.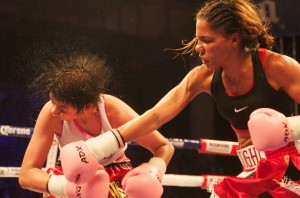 On October 29, 2011, again traveled to Mexico, in pursuit of her first major title. She defeated the previously unbeaten IBF Flyweight Champion, Arely Mucino, with a second round knockout. Knight shocked many media and fans in the women's boxing world that night, but those who had seen her fight before weren't surprised.
On March 31, 2012, Knight made her first successful IBF Flyweight title defense against Hongfah Tor Buamas. Knight dominated every round of the fight, landed an abundance of punishing blows, and eventually won by TKO in the tenth and final round.
Knight considers her boxing style to be that of a boxer-puncher. Whether she outboxes her opponents or just "goes at them and just bangs," she has knockout power in both hands, good boxing skill, is very athletic, and possesses deceptive speed in the ring.
Ava Knight is the current IBF Flyweight Champion, and sports a professional record of 8-1-3, with five knockouts. She is ranked as the top professional flyweight boxer in the United States and among the top three in the world. In her immediate future, she would like to unify all of the world titles in the flyweight division.
Within her goals in boxing, Knight desires to create a pathway for the young girls coming up in the sport and wants to be a positive role model for them. She hopes to see women boxers receive more opportunities, including more televised fights on major boxing shows.
Having completed two years of college credits at Butte College, Knight is currently working on completing her college degree in business and accounting. In addition to the training she receives from at SFC, she also teaches boxing classes at Boxing For Health, a gym located in Oakland, California. Knight instills in her many female clients the confidence and health benefits that boxing can provide.
For the latest updates on Ava Knight, "like" her official fan page on Facebook, http://www.facebook.com/OfficialAvaKnight
Follow Ava Knight on twitter @Ava_Knight or http://twitter.com/#!/ava_knight
For the latest updates on Ava Knight, visit her official website at OfficialAvaKnight.com
Related Articles: