Categories:
Pre-Fight Jabs
|
Comments Off

on Jones & Lebedev Clash for WBA Cruiser Title Tonite!!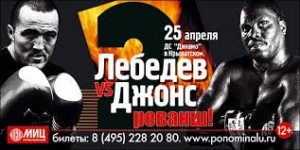 By Michael Amakor | April 25, 2014
The long awaited rematch in the Cruiserweight Division is finally upon us.
Today, April 25, 2014, WBA Cruiserweight Interim Champ Dennis Lebedev (24-1-1, 18KOs) faces champion in recess Guillermo Jones to settle all accounts for the WBA World cruiserweight title at the Dynamo Palace of Sports in Krylatskoye, Moscow.
There has been a lot of drama surrounding this rematch as Panamanian Slugger Guillermo Jones (39-3-2, 31 KO) was stripped of the title he won after testing positive for duiretive furosemide in their first fight on May 17, 2013.
In that fight Dennis Lebedev was winning on points before a couple of shots and head butts contorted up his face, closed his eyes and rendered him unable to defend himself against Jones who rebounded to KO him in the 11th round.
After a lot of wrangling and counter threats by both parties, mostly engineered by Guillermo Jones promoter, the legendary and influential Don King, the WBA once again reinstated Jones as "champion in recess" a moniker he had earned before the fight and Dennis Lebedev regained his status as WBA champion, but the WBA ordered an immediate rematch and after many delays and purse wrangling, the fight is finally happening in Moscow.
A frustrated Guillermo Jones has vowed to punish Russia's Dennis Lebedev for all the ignomy he has suffered, especially since he claims his drug use was to treat an ailment he had unrelated to the fight. He arrived in Moscow a couple days ago ahead of the weigh in to get acclimated.
Dennis appears confident of victory and weighed in at a trim and ready 198.6lbs compared to Guillermo Jones who tipped the scales right on the 200-pound cruiserweight limit.
The WBA named Giuseppe Quartarone as referee and César Ramos (PR), Jean Legland (FRA) Carlos Sucre (VEN). and  Carlos Chávez (VEN) as officials and supervisor respectively.
The fight is not being broadcast on US TV, but is being streamed on the WBA website at http://www.wbanews.com/ at 2:30pm (-5GMT).
The 34-year-old Lebedev is the favorite and the odds have him at -220, while the 41-year-old Lebedev is the underdog at +177 according to sportsbook.com. Other sites have different odds all favoring Lebedev.
May the best man win, look for a feed if you can, as this fight is guaranteed to be as brutal as their first fight.

___________________________________________________________________________________

_______________________________________________________________________________
___________________________________________________________________
DENNIS LEBEDEV VS GUILLERMO JONES I – MAY 17, 2013
Related Articles: