Categories:
Pre-Fight Jabs
|
Comments Off

on Lange-Jeter 2: The Rematch
Fairfax, VA (September 18, 2014) —- It's on. Jimmy Lange vs. Tony "Mo Better" Jeter — Part Two.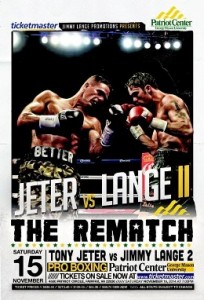 Two of the DMV's most popular boxers will square off again in a highly anticipated, 10-round rematch on Saturday, Nov. 15, 2014 at Patriot Center, Jimmy Lange Boxing officials announced today. Tickets, starting at $50, are now on sale for "Lange-Jeter 2: The Rematch" presented by Jeff Valcourt and Valcourt Building Services, through all Ticketmaster outlets and the Patriot Center Box Office. The North America Boxing Association's (NABA) vacant USA Middleweight belt, as well as the possibility of moving up in the World Boxing Association's (WBA) ratings, will be on the line as well.
The middleweights faced off on October 27, 2012 in Fairfax with Jeter pulling off the upset of the former Contender TV series star by way of split decision (91-94, 94-91, 93-92). The controversial back-and-forth battle sparked immediate debate and conversation throughout the region, setting the scene for an epic return engagement.
In the first fight, Jeter's unrelenting attack and rough-and-tumble style seemed to confuse Lange taking him out of his normal style. Although some thought it was controversial, it was still a crushing loss in Lange's career, while helping propel Jeter in the boxing world and rankings — he's currently rated #19 in the world by the World Boxing Council (WBC).
Both boxers know what's at stake in the rematch.
"I'm looking forward to this fight more than any in my career. I'm offering no excuses for losing last time because excuses are not my style. I'm training very hard for the rematch and I'm doing it my way. I'm excited to return to the ring and thankful that Tony has offered me this opportunity for a rematch," said Lange (38-5-2, 25 KO) of Great Falls, VA who underwent surgery twice since the fight – first in April 2013 and again in August 2013 to repair badly torn ligaments in his left elbow. He completed his rehabilitation, is fully recovered and is back in gym preparing for the rivalry showdown.
"It's Tony Jeter versus Jimmy Lange again in what we're calling 'The Rematch. I'm a little surprised that Jimmy wants to get back in the ring with me after the beating he suffered in our first fight," said Jeter (17-4-1, 12 KO), the current World Boxing Council (WBC) Fecarbox Middleweight titlist, who has gone 2-1 since the win, including a loss to Patrick Nielson for the WBC Silver Medal Championship on February 15, 2014 in Denmark. "I'm very respectful of Jimmy and what he's done in the past, and I even have to say I like Jimmy. However, on November 15th we are not friends, he will be my enemy, and my intention is to win even more convincingly than I did in 2012. I am training hard and will be ready to put on a great show for all the fans. I am looking to pick up in the first round of this fight right where I left off in the 10th round of our first fight. "
Prior to appearing on the first season of the NBC reality show, The Contender, Lange drew notice for his attractive fighting style headlining Ballroom Boxing shows at Michael's Eighth Avenue. Over the past decade, he has been region's driving force with his Patriot Center shows. Along the way he has captured the World Boxing Union (WBU) Junior Middleweight and the WBA-NABA USA Light Middleweight belts.
Training out of his own gym, Club One Fitness, Jeter also serves as a local promoter with his next Jeter Promotions show (in association with RBA Promotions) scheduled for October 11, 2014 in Springfield, VA. He currently holds the WBC Fecarbox Middleweight belt and earned Boxing Along the Beltway's "2012 Boxer of the Year" for his stunning upset win over Lange. The Maryland native has also won the Universal Boxing Organization (UBO) All-America and United States Boxing Union (USBU) Middleweight belts.
The rematch will headline another exciting card from matchmaker JD Brown, and will feature six more bouts including a return appearance from popular, undefeated world champion Tori "Sho Nuff" Nelson (10-0, 1 KO) of Ashburn who will defend her Women's International Boxing Association (WIBA) World welterweight championship on the Ponytail Promotions card on September 27 in Springfield, VA. Lange-headlined shows – this will be the 16th held on the George Mason University campus – have always produced highly entertaining events showcasing both up-and-coming talents and accomplished veterans.
Doors will open at 6:00 pm, with the first fight scheduled to begin at 7:00 pm.
Tickets, priced at $50, $75, $125, $250 and $500 (plus applicable service charges), can be purchased through all Ticketmaster outlets, including the Patriot Center box office, online at www.ticketmaster.com/ and via Phonecharge at 1-800-745-3000.
Related Articles: