Categories:
Pre-Fight Jabs
|
Comments Off

on MAYWEATHER VS GATTI PRE-FIGHT ANALYSIS
By Michael Amakor / June 2005
In a fight labeled "Thunder versus Lightening", Floyd Mayweather steps up in weight to challenge legendary Arturo Gatti for the WBC Light Welterweight (154lbs) belt on June 26 at the Boardwalk Hall in Atlantic City in a bout to be televised on HBO pay per view.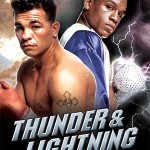 Mayweather, at only twenty-eight, has already amassed a stellar record of thirty three victories, which includes knocking out twenty of his foes before the final bell. He is a highly skilled and technically superior boxer, who has been consistently ranked by Ring Magazine as one of the top ten, best boxer in the world today. He remains "undefeated" to date "against A class fighters" as he usually pontificates during pre-fight interviews before his fights. But the verbal exchange between these two combatants has degenerated to an ugly state as misunderstood comments, and protracted fight negotiations between the two camps have fuelled the fire.
Mayweather, has been the most vocal of the duo vowing to "step on and crush" Arturo Gatti in front of his legion of fans for some comments he made about him. This is no idle threat as he has always backed up his words by action in his past fights. He was similarly enraged by Diego Corrales in all the publicity for their fight, when the bell rang he proceeded to overwhelm Corrales and knocked him down to the canvas five times forcing his corner to throw in the towel in total defeat.
Arturo Gatti, on the other hand, is one of the most dangerous sluggers to lace up a pair of boxing gloves in recent memory, he is a warrior who fights to the end through the pain of ghastly cuts, broken wrists, a detached retina, or a broken jaw. Just when you think he is done, he regroups and fights back with such reckless abandon that some boxing fans have questioned his sanity. He has also been involved in two fights labeled by Ring Magazine as the "Fight of the year" against Ivan Robinson in 1998, and Micky Ward in 2002. Apart from these fights, he has also been involved in other classic boxing fights that have endeared him to boxing fans around the globe.
In analyzing this fight, you have to remember that Gatti, although only just thirty-two years old, may already be shopworn from being involved in too many brutal slugfests, most fans will be tuning in to see whether he still has any fire left in him to beat down the rising Floyd Mayweather.Jr. Until just recently his career was on a downward spiral after losing three fights in a row in 1998 alone, soon after took some time off from fighting.
He was almost written off by several boxing analysts, until he hired Buddy McGirt as his new trainer. Mcgirt changed his whole training regimen and showed him how to use movement and his boxing skills to avoid taking unnecessary punishment and win fights in the process. His improvement as a fighter was remarkable, and was highlighted for the world to see in his second fight against Micky Ward where he won almost every round. He also dominated Jesse James Leija and Leonard Dorin easily by boxing beautifully as McGirt can usually be heard commenting about in his corner between rounds.
After digging through a list of opponents that Gatti and Mayweather have both faced, we may be able to predict the outcome of this fight by their respective performance against former WBU Super Featherweight Champion Angel Manfredy. For while Arturo Gatti got brutally beaten by Manfredy in an eight round slugfest, Mayweather was not inclined to engage in such antics, and crushed Manfredy in just two rounds to defend his WBC Super Featherweight title for the then second time. Mayweather has also faced better quality opposition while Gatti, despite his vaunted fearlessness has not faced the same level of competition, and has six losses during his career already.
Another key to deciphering the outcome of this fight may be drawn from the buzz surrounding this fight, and by drawing a parallel to the first fight between Evander Holyfield and Iron Mike Tyson back in 1996. In the pre-fight events leading up to that fight, we suddenly became aware of how angry Tyson had become, because he had heard that Holyfield had said he would not fight him because he was an ex-con, or so the story goes. An angry Tyson seemed to cling to that slight to summarize his motivation for fighting Evander Holyfield, who remained calm throughout these verbal spats until the bell rang and he proceeded to crush Tyson.
Mayweather, as is typical of his past pre-fight antics has once again gotten quite riled up by using real or imagined slights committed by Gatti, as one of the biggest motivating factors for winning this fight, almost debatably like Tyson did before losing to Holyfield instead of perhaps thinking of a greater purpose to win. Mayweather has now resorted to lambasting Arturo Gatti any chance he gets on ESPN, and recently during an interview during the Tarver versus Johnson telecast on HBO. These ugly outbursts may speak volumes about his composure, or lack thereof, in contrast to Gatti who has remained calm just like Holyfield did when Tyson and his camp kept up the verbal pressure.
This tactic could well backfire on Mayweather like it did for Tyson, because a cornered Gatti could be dangerous, he may conserve his energy and dominate Mayweather, just as Holyfield did after the bell rang. Another relevant fact is that Gatti is older than Mayweather, just like Holyfield was against Tyson, sometimes the older fighter has one last fight left in him. Notwithstanding all this Gatti may still be ill equipped to handle Mayweather's speed, he might experience an epiphany in the ring if he decides to resort to the slugging tactics that has endeared him to boxing fans because he could fall prey to a lightening fast combination that could stop that kind of aggression dead in its tracks, and back up Floyd's assertion that he is just another paper champion.
On paper, Mayweather wins this fight easily, and he has proclaimed that there are already six proven ways of beating Gatti, against no known formula against him as he remains unbeaten against all comers. A majority of boxing experts have picked Mayweather to win this fight, but he better be prepared as Gatti may test him like no other fighter has before him, because not only is Gatti physically bigger but he is also a ferocious body puncher who landed a total of eight hundred and ninety seven punches against Ivan Robinson in just two fights. If he lands even half of those punches against Mayweather, there may be trouble as we do not yet know how Mayweather will respond to that kind of pressure and he may be unwilling to die in the ring, something Gatti seems prepared to do every time he steps in the ring.
Still, I think Mayweather will be very motivated for this fight, because a win over Gatti will guarantee greater paydays in the future, and vault him to superstardom; something he believes has eluded him for a long time now. His other qualifications are that he is one of the ring leaders of a group of angry young pugilist determined to sweep away the old guard who are blocking their paths to greatness. Ricky Hatton fired the first shot recently by disposing veteran Kostya Tszyu, Jermain Taylor is now loading his guns to take out Bernard Hopkins. Mayweather is next, and he must win in-order to belong to that elite group.
Enough said May the best Man Win
Related Articles: