Categories:
Pre-Fight Jabs
|
Comments Off

on McCreedy headlining May 9 'Homecoming' Show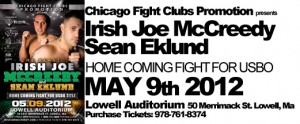 LOWELL, MA (May 4, 2012) — When popular super middleweight "Irish" Joey McCreedy (13-5-2, 6 KOs) headlines the May 9th "Homecoming" show at Lowell Memorial Auditorium, it'll be a dream come true because, by all rights, the 27-year-old fan favorite is lucky to be fighting after he suffered a career-threatening injury six years ago.
Lowell is a hotbed for amateur boxing, annually hosting the New England Championships, but "Homecoming" – presented by Chicago Fight Clubs Promotion ("CFC Promotion") — is the first pro show there in seven years. Lowell is best known as the home of "Irish" Micky Ward and Dicky Eklund, the principal subjects in the award-winning movie, "The Fighter." They will be working McCreedy's corner with Eklund as chief second.
Back in 2006, McCreedy suffered breaks on both sides of his jaw in the opening round of a fight at Mohegan Sun that he eventually lost by technical knockout in the fourth round to Andre Hemphill. For most fighters an injury like that would have meant instant retirement but, amazingly, Joey was back in the ring 1 ½ years later. May 9 he'll be taking on Dion Savage (11-3, 6 KOs) in the 10-round main event for the vacant United States Boxing Organization ("USBO") 168-pound title.
"After that (broken jaw), to be honest, I never thought I'd be fighting today," McCreedy admitted. "In the first round I broke my jaw in two places (pointing the the rightand left sides), but I didn't give-up and kept fighting until the fourth round, when everything started spinning and I couldn't see. Dicky and Micky are like family and I got my attitude from watching them fight and knowing what they've been through. I feed off both of them. And I think my football days (fullback at Lowell High) had something to do with it, too. You have to be tough to be a running back. That's the type of guy I am. I'm a crowd-pleasing fighter who won't give up. I believe in God and that everything happens for a reason. Who knows where I'd be today as a fighter if I hadn't broken my jaw? It's 10 times stronger now because I have titanium plates in my jaw."
McCreedy and his close friend and CFC Promotions stable-mate, Sean Eklund, are the reasons their promoter, Cynthia Tolaymat, and manager, her husband Wasfi Tolaymet, are promoting the May 9 show in Lowell.
Joey and Sean (10-4, 2 KOs), whose uncles are Ward (chief second) and Dicky, have dreamed since they were kids about fighting together, at home in Lowell, on the same pro card. Both have fought there as amateurs but never as pro boxers. Eklund faces light welterweight James Ventry (7-13-1, 4 KOs) in an eight-round co-feature.
"Fighting in front of our family, friends and local fans is what we've dreamed about for so many years," McCreedy explains. "Lowell is a blue-collar town and most people don't have the money to travel to our fights. Memorial Auditorium is only a few minutes from everybody's house in Lowell. There's pressure fighting at home because you don't want to let anybody down. The Golden Gloves are big in Lowell, but we're brining pro boxing back here. Cynthia and Wasfi are great people who are taking a risk because they really believe in us. We're grateful for them giving us a chance to fight at home. I feel great after they sent me to train at Winning Factor in Pennsylvania. I did a lot of strength-and-conditioning work, learned how to eat better, and I'm in the best shape of my life. I can't wait to get into the ring May 9th. It's going to be exciting for me, Sean and the entire city of Lowell. Everybody knows I'll be giving it my best."
Eklund originally trained McCreedy after he turned pro in 2005. They went their separate ways for a few years but have been together the past two. "Joey looks better than ever," conditioning zealot Dicky confirmed. "We've been working hard to get him throwing compact punches. Joey's a tough kid and, if he does what I want, we'll all be leaving after the first round. He shouldn't have any problems with this guy, as long as he does what we've worked on. I always liked fighting in Lowell and I think Joey's going to come out strong and end things early."
Also fighting on the card is promising Chicago light welterweight Antonio "Aztec God of War" Canas (6-0, 3 KOs) vs. Tyrone Chatman (9-1-1, 6 KOs) in a six-bout. Also in action on the undercard in four-round bouts are pro-debuting welterweight Jimmy Smith, of Portland (ME), vs. Rafael Vasinmo, of Lawrence (MA); and pro-debuting middleweight Bernie Ongewe, of Dracut (MA) vs. Anthony Jones (0-0-1). Smith is a former New England Golden Gloves Tournament winner who served two tours in Iraq as a U.S. Marine. All fights and fighters are subject to change.
Tickets, reasonably priced at $25.00, $40.00 and $75.00, may be purchased by calling 978.761.8374 or at the Lowell Memorial Auditorium box office. Doors open at 6 PM/ET, first both scheduled for 7:00 PM/ET. Go to www.cfcpromotion.com or www.irishjoemccreedy.com for additional information.
Related Articles: