Categories:
Pre-Fight Jabs
|
Comments Off

on Menzer vs. Dailydaite For WBF World Title Live On Eurosport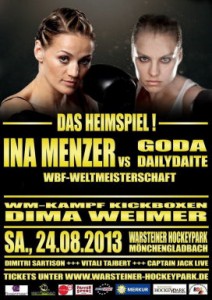 On Saturday August 24 German female boxing icon Ina Menzer will enter her farewell-fight when she takes on fellow former world champion Goda Dailydaite for the World Boxing Federation (WBF) Womens World Featherweight Interim title at the Warsteiner Hockeypark in hometown Moenchengladbach.
The WBF World championship main event, and part of an interesting undercard featuring former world champions Vitali Tajbert and Dmitri sartison, will be aired live to millions of viewers by Europe's biggest sports broadcaster Eurosport.
Still only 32 years old, Menzer, 30-1 (11), made her pro debut in 2004 and won her first world championship the following year. Over the course of the next five years she made an astonishing fifteen (!) successful defenses, and even added two more world titles to her collection, before finally losing a decision to Canadian Jeannine Garside in July 2010.
Menzer has since put together a four-fight winning streak, and is now aiming to go out in a blaze of glory by winning her fourth world championship against the undefeated Dailydaite, 8-0 (2). But, while she is full of admiration for her opponent, Dailydaite is certain she will be able to defeat the much more experienced Menzer:
"Ina Menzer is a role model for me. I watched most of her fights on TV", Dailydaite recently told German media. "But I feel that I have a good chance to win on Saturday, and I don't have the same kind of pressure on me that Ina has. Mentally I am much more free, and I am confident I can win."
From Dortmund, Dailydaite is just over three years into her professional career, and has done well to put herself in position for a German Super-Fight such as this one. In April 2012 she won the vacant WBF World Featherweight title against Arleta Krausova from the Czech Republic, a title she never lost in the ring.
Now she has a chance to become a two-time WBF Champion, and it is no secret how she plans to go about the difficult task of defeating her role model:
"Technically we are both very good, but I see my advantage as being in conditioning. I am younger, in top shape, and in the tenth round I will be able to be just as active as in the first round", said Dailydaite, who has been in training camp for ten weeks with three sessions a day.
It remains to be seen if her tough preparations will be enough to win and emerge as a new German boxing superstar, or if the accomplished and established superstar, Menzer, will be able to ride into the sunset a world champion again.
"Das Heimspiel", the Ina Menzer vs. Goda Dailydaite WBF Womens World Featherweight Interim title fight, will be promoted by Team Menzer.
Related Articles: