Categories:
Pre-Fight Jabs
|
Comments Off

on Hot Prospect Mike Reed Returns on March 7
Professional boxer Mike "Yes Indeed" Reed (7-0, w/ 5 KOs) discusses his recent win over Jorge Marquez and looks forward to facing undefeated Bay Area prospect, Bilal Mahasin.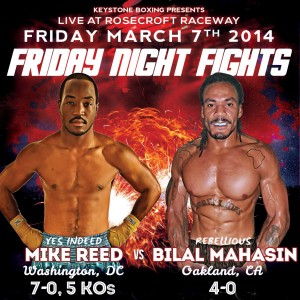 WASHINGTON, D.C., U.S.A. – Twenty-one year-old light welterweight professional boxer, Mike "Yes Indeed" Reed (Washington, D.C./Waldorf, MD/pro record: 7-0, with 5 KOs) returns to the ring on Friday night, March 7, 2014, against Bilal Mahasin (Oakland, CA/pro record: 4-0). Reed-Mahasin is scheduled as a six-round bout, which will headline Keystone Boxing's "World Class Professional Boxing" card at Rosecroft Raceway in Fort Washington, Maryland.
Mike Reed currently trains in Clinton, Maryland, at Dream Team Boxing Gym, which is owned and operated by his father, trainer and manager, Michael "Buck" Pinson. In his most recent fight on January 17, 2014, Reed defeated Phoenix, Arizona's Jorge Marquez by TKO at 2:34 of Rd 5. In that fight, the referee stopped the action when Marquez pulled away after suffering a perforated eardrum. Reed talked about his fight with Marquez. "I was satisfied with my performance. I thought I won every round, but in the first few rounds, Marquez landed more punches than I would have liked. My corner did a good job of helping me making adjustments in the fight. I used my angles well and my defense was sharp. As the fight went on, I caught fire and found my rhythm. In Round 5, I popped his eardrum with a lead right hook. When that happened, I saw him grab his ear, he took a step back, and I landed another left hand. Right after that, the referee stopped the fight."
Reed shared some thoughts about his next fight. He said, "My next opponent on March 7 is Bilal Mahasin, who is undefeated, and has been around quality boxers in the Bay Area, such as Andre Ward and Amir Khan. My team has prepared a good game plan for this fight. I'm really looking forward to the challenge. It is important for my ring experience to fight quality opposition like Mahasin. I'm working really hard in camp and plan to leave a good impression on everyone that comes to see me fight. Thank you to promoter Gene Molovinsky and matchmaker Ross Molovinsky of Keystone Boxing for allowing me to headline their show once again."
Coach Michael Pinson said, "I thought Mike showed a lot of patience in his last fight. He took his time, used his angles well. We work on using angles all the time in the gym. Mike usually fights well off the ropes, but I thought he stayed on the ropes too long against Marquez. I thought Jorge Marquez was another tough test and he forced us to make adjustments. We did what we were supposed to do, enjoyed the victory, and now we move on to our next test. Mike is fighting legitimate challengers every time he steps in the ring, and he is building toward becoming a real special fighter down the road. You don't learn a whole lot beating up guys who can't fight back. I'm expecting his next opponent, Bilal Mahasin, to come in shape and be tough. We will be ready for whatever he brings to the fight."
Pinson continued, "As far as the topic of weight is concerned, Mike hasn't had difficulty making weight at 140 lbs. When the time is right, we will go down to 135 lbs, but no time table has been set for that goal yet. Although we haven't found a promotional home just yet, we are thankful for the wonderful opportunity Keystone Boxing has given us to showcase Mike's talents. The same effort my son gives in the gym is also going towards giving back to his community and getting his undergraduate degree. We are looking forward to seeing everyone at Keystone Boxing's card at Rosecroft on Friday, March 7."
Related Articles: