Categories:
Pre-Fight Jabs
|
Comments Off

on Nielsen vs. Chudinov for WBA Interim 160 Title
***Nielsen vs. Chudinov final press conference – quotes and pictures***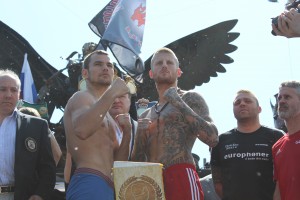 Patrick Nielsen (22-0, 11 KOs) challenges Dmitry Chudinov (12-0-2, 8 KOs) for the interim WBA World Middleweight title on Sunday June 1st at the Mytishchi Arena in Moscow, Russia. At today's final press conference the two undefeated boxers shared their thoughts on the upcoming World Championship clash.
''I am very happy to be here in Moscow and I am grateful for the opportunity to fight for the WBA title,'' said Patrick Nielsen. ''I know that Chudinov will be a tough opponent and I am expecting a close fight but I will be ready for the challenge.
''Physically and mentally I am in the best shape of my career. I am 100% focused on winning. In my mind there can be only one outcome and that is me bringing the title back to Denmark.''
''This is the most important fight of my life,'' said the reigning champion Dmitry Chudinov. ''My training has gone great and I am ready to defend my belt. I have a lot of respect for Patrick for agreeing to fight me in Moscow but he will not win.''
Nielsen's promoter Nisse Sauerland said: ''As the old cliché goes, styles make fights and these two definitely have the styles needed to make a great fight on Sunday night. We appreciate the challenge of coming to Moscow to fight for the World title. We are entering the lion's den and this spurs us on.''
Said Chudinov's promoter Vlad Hrunov: ''This will be a great fight between two undefeated boxers. I am delighted to be working with Team Sauerland once again and I am very happy that Patrick has accepted the challenge to come to Moscow and fight Chudinov on his home turf. We are in for an exciting night on Sunday at the Mytishchi Arena."
Patrick Nielsen (22-0, 11 KOs) and Dmitry Chudinov (12-0-2, 8 KOs) both made weight ahead of their WBA World Middleweight Championship clash at the Mytishchi Arena in Moscow, Russia on Sunday night.
Patrick Nielsen: 72.3 kg
Dmitry Chudiniv: 72 kg
Patrick Nielsen's younger brother Micki is also in action. Micki Nielsen (13-0, 10 KOs) faces Igor Pylypenko (4-16-2, 1 KO) in an eight round cruiserweight contest.
Micki Nielsen: 94.2 kg
Igor Pylypenko: 91.2 kg
Today's weigh-in took place at the Sexton Centre home of Russian motorcylcle club the Night Wolves.
Please fee free to use/ share/ embed the video below:

Danish fans can watch Patrick Nielsen's World Championship challenge live on TV3 + from 20.30 on Sunday June 1st.
Related Articles: