Categories:
Pre-Fight Jabs
|
Comments Off

on No More "Mr. Nice Guy"
No more 'Mr. Nice guy'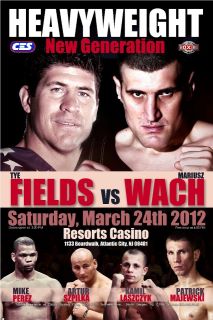 Former roommates square off as gentle giant Wach defends title against Fields
PROVIDENCE, R.I. (March 15, 2012) – Two years ago at Samuel Peter's training camp in California, Mariusz Wach found a unique way to break the ice with his new roommate, fellow heavyweight contender Tye Fields.
They bonded over lunch.
"He made me a bowl of chicken soup one day," Fields said. "He's a real nice guy."
Now Wach (26-0, 14 KOs) is preparing to feed his former roommate a steady diet of right hands as the undefeated Polish heavyweight defends his World Boxing Council (WBC) International heavyweight title against Fields (49-4, 44 KOs) in the 12-round main event of "Heavyweight New Generation," presented by Jimmy Burchfield's Classic Entertainment & Sports and Global Boxing on Saturday, March 24th, 2012 at the Resorts Hotel & Casino in Atlantic City, N.J.
Ranked No. 9 in the WBC, Wach is on the precipice of fighting for a major world title, but first he must get past the cagey Fields, a massive, 6-foot-8 Missoula, Mont., native who's facing similar pressure in what he calls "the most important fight of my career" – and his first against a Top-10 heavyweight.
"Every fight is bringing me closer to achieving my dream of becoming a world champion," Wach said, "but I try not to think about that when I'm in camp.
"Then, the moment I step into the ring, I tune everything out. It's just me and the other fighter – nothing else matters."
Wach – born in Krakow, Poland and now fighting out of North Bergen, N.J. – is aiming for his second consecutive title defense (the first came Nov. 5 against Jason Gavern at Mohegan Sun Casino) and his seventh consecutive knockout victory, an impressive streak that dates back to April of 2009.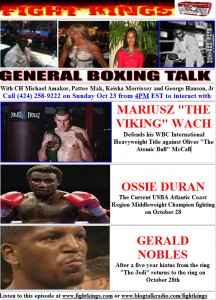 Along the way, Wach has dropped German heavyweight Christian Hammer, veteran Galen Brown, and Kevin McBride – the fighter who ended Mike Tyson's career – all within six rounds. Next weekend's showdown is scheduled for 12 rounds, but Wach has a habit of ending fights early, and considering he and Fields have combined for 58 knockouts in their 75 wins, the smart money is on this highly-anticipated title bout ending in familiar fashion.
"I work hard before each of my fights, so I'm always ready to go 12 rounds," Wach said.
"I always come with a plan, but that's a secret that stays between me and my trainers until I get into the ring."
Though Fields has never faced anyone as experienced or accomplished as Wach, he's mixed it up with several noteworthy heavyweights, including former world-title challengers Monte Barrett – No. 12 in the World Boxing Organization (WBO) – and Michael Grant, along with undefeated Cuban Mike Perez, who's ranked 25th in the WBC.
The difference this time is Fields will be standing toe-to-toe with an opponent who matches him in both size and strength. He's fared well against significantly shorter opponents, but hasn't faced anyone as tall as Wach (6-foot-7 ½) since losing to the 6-foot-7 Grant in March of 2011; the last time he beat someone comparable to Wach in terms of height was June of 2009 when he knocked out 6-foot-6 veteran Nicolai Firtha in the sixth round.
"If anything, that'll even things out," Fields said of the lack of a height advantage. "I'm not concerned."
What could help Fields the most is his experience; at 37, he's five years older than Wach and is the only one in this matchup who's gone the distance in a 12-round fight (September of 2003 in a unanimous-decision win over Sherman Williams for the then-vacant United States Boxing Association heavyweight title).
"The more experience you have, the better," Fields said. "I'm hoping it plays a factor."
"Wisdom and knowledge is always a key factor," Wach added, "but my trainers and I analyze the next opponents and figure out what their good and bad habits are. The approach I take is always the same now matter how experienced my opponent is.
"I fight to win."
Aside from Wach's hospitality, Fields also picked up on his opponent's strengths and weaknesses while he and Wach helped Peter train for Peter's title bout against Wladimir Klitschko in 2010, though Fields admits there weren't too many flaws.
"I've got nothing bad to say about him," Fields said of Wach. "He does a lot of things well. He's great defensively and is a boxing technician in the ring. He's just a good, all-around fighter. I always thought he had potential. I could tell right away."
Fields will finally see for himself on March 24th in what could be a major stepping-stone for both fighters. The winner moves one step closer to achieving a life-long dream.
"This is very exciting," Wach said. "I always enjoy fighting in New Jersey. I have a huge fan base here. I spend a great deal of time in between training getting to know my fans on a personal level, so it means a lot when they come support me."
The undercard of "Heavyweight New Generation" features four dynamic bouts, including the long-awaited return of former world-rated light heavyweight contender Joey "K.O. Kid" Spina (26-1-2, 18 KOs) of Providence, R.I., who will face former "The Contender" reality television star Jerson Ravelo (20-5, 12 KOs) of Newark, N.J., in an eight-round special attraction. Spina hasn't fought since knocking out Antwun Echols in October of 2010.
"Heavyweight New Generation" also features the return of fan-favorite Artur Szpilka (9-0, 7 KOs) of Wieliczka, Poland, who'll battle veteran Terrence Marbra (6-1, 5 KOs) of St. Petersburg, Fla., in a six-round heavyweight bout. Albanian cruiserweight Stivens Bujaj (6-0, 4 KOs) of New York City will face heavy-hitter Josh Harris (8-5-1, 6 KOs) of Youngstown, Ohio, who also trains in Providence, in a six-round bout, and Polish super featherweight Kamil Laszczyk (7-0, 5 KOs) of North Bergen will put his undefeated record on the line against southpaw Tevin Farmer (4-2-1, 1 KO) in an eight-round bout.
Tickets for "Heavyweight New Generation" are $75.00, $85.00, $150.00 and $230.00 and can be purchased at the Global Boxing Gym, located at 5601-5711 Tonnelle Ave., North Bergen, N.J., or by calling 201-348-3149 or Classic Entertainment & Sports at 401-724-2253/2254. Tickets are also available online at www.globalboxing.com, www.resortsac.com or through TicketMaster at www.ticketmaster.com. "Heavyweight New Generation" will be distributed in the United States by Integrated Sports Media for live viewing at 4 p.m. ET/1 p.m. PT on both cable and satellite pay-per-view via iN Demand, DIRECTV, DISH Network and Avail-TVN for a suggested retail price of only $29.95.
Related Articles: