Categories:
Pre-Fight Jabs
|
Comments Off

on Omar Sheika vs Garrett Wilson II on GFL
WEIGHTS
Caesars Atlantic City
Saturday, April 23, 2011
Edgardo Torres 138 Korey Sloane 138
Antowyan Aikens 163 Willie Mack 161
Keane Davis 146 Dontre King 146
Jose Medina 175 1/2 Derrick Webster 169
Bryant Jennings 224 David Williams 227
Ronald Cruz 146 Manuel Guzman 144 1/2
Garrett Wilson 184 Omar Sheika 185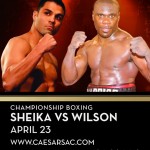 THE USBA CRUISERWEIGHT CHAMPIONSHIP THIS SATURDAY LIVE ON GFL
PLUS UNDEFEATED JR. WELTERWEIGHT SENSATION RONALD CRUZ AND UNDEFEATED HEAVYWEIGHT PROSPECT BRYANT "BYE BYE" JENNINGS
NEW YORK / ATLANTIC CITY (April 20, 2011)—This Saturday night from Caesars in Atlantic City, former four time world title challenger Omar Sheika will take on Garrett "The Ultimate Warrior" Wilson for the USBA Cruiserweight championship that will headline a seven bout that will be streamed live all over the world on www.gfl.tv
On March 26, 2010, Sheika and Wilson waged war in Hamilton, New Jersey when the huge underdog Wilson out worked and boxed beautifully over the first two-plus rounds and what many thought would be an easy victory for Sheika. With his back against the wall Sheika turned things around and hurt Wilson in round four. Being that cagey vet, Sheika seized the opportunity and finished Wilson off in round four.
That bout was streamed LIVE all over the world on www.gfl.tv
Sheika has come up short against the best opposition in the world as he fought for versions of the Super Middleweight title on four occasions only to drop fights to Joe Calzaghe, Eric Lucas, Jeff Lacy and Markus Beyer. Sheika also dropped fights to Roy Jones and Adrian Diocanu.
With a win on Saturday, Sheika will be placed back in line to chase that elusive world title.
Sheika holds wins over former Light Heavyweight champion Glen Johnson and former two-division champion Simon Brown.
Wilson has lived up to his nickname as Philadelphia's "Ultimate Warrior" as he is willing to fight anyone, anyplace, anytime.
He has fought the likes of Dennis Hasson (6-0); Dyah Davis (12-1); 6'5" Puerto Rican Olympian Carlos Negron (6-0); Julio Cesar Matthews (9-0) and Sheika.
Wilson earned this bout on the strength of his last two bouts when he held Andreas Taylor (16-10 to a draw and his last bout when he shocked highly regarded Aaron Williams (20-2-1) in the seventh round.
Headlining the undercard will be one of the fastest rising Jr. Welterweights in the world in undefeated Ronald Cruz. Cruz of Bethlehem, PA will take on rugged Manuel Guzman in a bout scheduled for eight rounds. Cruz has a perfect mark of 11-0 with eight knockouts has exploded on the scene based on his last two bout as he stopped highly regarded prospect Jeremy Bryan in six rounds and his last bout he took out Dillet Frederick in three.
Guzman of Lancaster, PA will provide a stern test as he has never been stopped in his nineteen fight career which includes battles with Latif Mundy (3-0); former Contender contestant Aaron Torres; undefeated Bayan Jargal (5-0-1); undefeated knockout artist James Stevenson; and former U.S. Olympian Sadam Ali (10-0) with most of those bouts taking place at Welterweight or Jr. Middleweight Guzman holds a win over then undefeated prospect Tommy Rainone (11-0)
Jennings, of Philadelphia has been tabbed as a Heavyweight to watch in the boxing's inner circles, has a record of 6-0 with three knockouts and is stepping up the competition to face fellow Philly banger David Williams in a bout scheduled for six rounds.
-NOTE- The first Wilson – Sheika will air for FREE on www.gfl.tv beginning Thursday April 21 at 8pm and run through Saturday April 23
FULL CARD
12 Rounds—USBA Cuiserweight Title—Omar Sheika (30-10, 21 KO's) vs. Garrett Wilson (9-5-1, 4 KO's)
8 Rounds- Jr. Welteweights—Ronald Cruz (11-0, 8 KO's) vs. Manuel Guzman (7-10-2, 3 KO's)
6 Rounds- Heavyweights—Bryant Jennings (6-0, 3 KO's) vs. David Williams (6-3-1, 2 KO's)
4 Rounds- Super Middleweights—Jose Medina (15-20, 11 KO's) vs. Derrick Webster (6-0, 4 KO's)
4 Rounds- Jr. Welterweights—Korey Sloane (PD) vs. Edgardo Torres (1-0, 1 KO)
4 Rounds- Super Middleweights—Antowyan Aikens (PD) vs. Willie Mack (PD)
4 Rounds- Welterweights—Dontre King (3-9-2, 1 KO) vs. Keane Davis (1-1)
GFL now offers full access to over 5,000 fights for the low monthly price of $9.99
***GFL is a pioneer in Internet Sports Broadcasting. Over the years GFL has broadcast more than 850 live events with over 5,000 combat sports videos in 190 countries. GFL is especially proud to have served greater than 1.8 million public viewers last year with now over 150 combat sports related website affiliates in its network. GFL combat sports genres currently include Boxing, MMA and Professional Wrestling with plans to add more fight categories in 2011. GFL has expanded its programming to include: Daily News & Radio Shows with feature interviews and industry updates along with great Fight Photos, Fighter Videos and a robust Calendar of Upcoming Fight Events.
If Combat Sports is your game…Go Fight-Every Night with GFL Combat Sports Network
Join us at: www.facebook.com/gofightliveor for press inquiries contact [email protected]
Related Articles: