Categories:
Pre-Fight Jabs
|
Comments Off

on Pollito and Kika public work out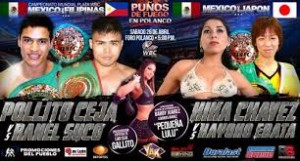 Story and Photos: Pepe Rodriguez (APR 23)
WBC'S Silver Champions, Julio "Pollito" Ceja and Yessica "Kika" Chávez held their open work out at the Romanza Gym in Mexico City. Over 200 fans showed up to watch both fighters showing off their boxing skills in preparation for their bantamweight and light flyweight fights respectively.
Julio Ceja will be defending his WBC Silver Bantamweight crown against Philipino Ranel "Francotirador" Suco, while Yessica Chavez will fight against Tenkai Tsunami from Japan in a non-title bouth.
Both are training with Hall of Famer Ignacio "Nacho" Beristain at the Romanza Boxing Gym in Mexico City. Julio and Yessica are considered strong candidates to become WBC World Champions and will step into the ring next Saturday April 26 at the Polanco Forum in Mexico City.
Also on the card, Saul "Baby" Juarez, Luis "GALLITO" Ceja and Lourdes "PEQUEÑA LULU" Juarez, who is Mariana "BARBY" Juarez's sister.
This great event ("PUÑOS DE FUEGO EN POLANCO") is organized by Promociones del Pueblo, Baja Boxing, De León Promotions, RB Producciones and Producciones Deportivas, with the sponsorship of Yak Casinos and Duralast tools. And will be broadcast live to all Mexico by Televisa (CHANNEL 5), through it serial "SABADOS DE BOX" at 10:30 PM.
Remaining tickets for the fight night are available on www.ticketmaster.com.mx and at the box office of the Polanco Fórum.
Related Articles: