Categories:
Pre-Fight Jabs
|
Comments Off

on Rahman vs Barrett Pre-fight Analysis
By Michael Amakor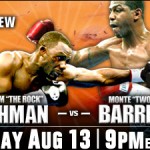 In another curious abnormality now common place in boxing today, the WBA has sanctioned a heavyweight bout to install an Interim Champion. Reigning champion Vitali Klitchko has been out of commission since December 2004 as he recovers from back surgery, before then he had fought only once in April. This saga got more interesting as a seemingly revitalized Vitali is now being rumored to prefer returning to the ring against the likes of Oleg Maskaev and Calvin Brock instead of his mandatory opponent Hasim Rahman in a bout that has often times been postponed by Klitchko in curious circumstances that leaves you questioning his motives. The WBA perhaps sensing that it may have to strip him down the road has ordered a runoff between Monte Barrett and Hasim Rahman for the interim title in a bout to be televised on Showtime.
Hasim Rahman is a capable veteran who once held the USBA and IBF intercontinental belts earlier on in his career beating other rising prospects like Ross Purity, Obed Sullivan, Jesse Ferguson, Jeff Wooden and former champions Corrie Saunders and Trevor Berbeck along the way. He exploded unto the world stage with his shocking fifth round knockout of Lennox Lewis in far away South Africa to become the unified WBC, IBF and IBO Heavyweight champion of the world in a 2001 ring magazine upset of the year.
This sudden victory catapulted him right into the media spotlight and unto a roller coaster ride of activities that saw him going on a religious pilgrimage to Mecca, turning down multi million dollar deals with HBO and Showtime, scuffling with Lewis in a pre-fight interview and squabbling with his then trainer in a moves that derailed his training camp. Needless to say he got brutally knocked out by a more focused Lennox Lewis in their highly anticipated rematch in 2001; thereafter his career went into a tailspin.
He then lost a decision to an ageing Evander Holyfield, after the fight went to the score cards from a frightening hemotoma that swelled to the size of a softball on his forehead from a clash of heads. He went on to fight to a draw against old nemesis David Tua in a rematch that many felt he had won, but he also weighed in at a whopping 245 and a half pounds which contributed in no small way to his sluggish and lethargic performance.
He hit absolute rock bottom when he lost a twelve round decision to John Ruiz in a boring hugfest for the WBA interim title back in 2003. To add insult to injury he ended up almost being stopped by Ruiz, and all of a sudden his career looked doomed. That fight spoke volumes about the Rock in the eyes of most boxing experts and fight fans who were routing for him to dispose of the unpopular John Ruiz; it was also becoming apparent to boxing observers that he seemed to lack the required motivation to achieve his full potential.
Monte Barrett on the other hand is a viable and underrated challenger with great ability and a tough chin to boot. Not only is Barrett a former WBC Continental Americas Heavyweight he is also hungry and motivated to shock the boxing world. He has lost only three out of 34 fights and has stopped 17 of his opponents inside the distance including iron man Jimmy Thunder and most recently Owen Beck. When you discount his kayo loss to Wladimer Klitchko, you will notice that his decision losses to Lance Whitaker and Joe Mesi were competitive and could have gone either way.
They Mesi fight was his first signal to the boxing world that he was maturing into his prime, in that hard fought bout he succeeded in knocking down the highly touted Mesi for the first time in his career. He also gained control of the second half of the fight and pounded away at Mesi in the final minutes. Needless to say the crowd at Madison Square garden booed his unpopular losing decision.
Undaunted, he rebounded after that loss by decisively dominating Dominick Guinn hailed at the time as one of the next great young heavyweights out there, Monte employed punishing left hooks and amazing pressure subduing Guinn into dropping the decision. He went on to kayo Owen Beck in a superior performance handing Beck his very first loss, these recent performances would seem to indicate that his knockout power is on the rise.
Unfortunately for him, we have also seen the resurgence of Rahman – who although going the distance with Al Cole after the Ruiz fight, went on to knock out Terrence Lewis, Mario Cawley, and Rob Calloway thereafter. In his last fight he brutally pounded Kali Meehan, (who had lost a razor thin decision against Lamont Brewster for the WBO heavyweight crown), forcing the referee to stop the one sided drubbing in the fourth round of a scheduled twelve round fight in a great performance that had fights fans tingling.
The key to deciding the outcome of this fight depends on the motivation of both fighters. For Rahman we hope his new found motivation and superior athletic ability perseveres long enough for him to unleash one of his heavy handed over hand rights that could stop the two gunned aggression of Monte Barrett dead in its tracks.
On the other hand Monte Barrett is a tough foe who we hope is determined to shock the world, and although on paper he is the underdog he does have deceptive power in both hands. He has also yet to earn the million dollar paydays Hasim is now used to receiving. This last fact may be the ingredient missing in Rahman and may inspire Barrett to bob and weave forward into unleashing a combination of hooks to Rahman's liver that would rock him if he comes into the ring out of shape and overweight.
Enough Said may the best man win
MAKE
Related Articles: