Categories:
Pre-Fight Jabs
|
Comments Off

on Rahman vs Klitchko: Can Hasim Deal With Vitali's Power?
By Michael Amakor: 17.08.05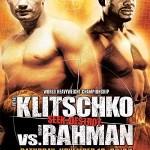 Hasim Rahman scored a twelve round unanimous decision victory over Monte Barrett to become the Interim WBC Heavyweight Champion at the United Center in Chicago in a bout featured on pay per view on Showtime. For a fight of this magnitude it was very saddening to note that many articles about this fight received scant attention by most boxing fans who could not fathom what the hype was all about, I would like to hazard a guess that the pay per view numbers were indeed low as several fans declared their intention not to buy the fight, the numbers will soon tell the true story.
The low interest in the bout underscores the confusing situation faced by random observers and fans of boxing today.
All the Heavyweight champions are virtually unknown by the general public today, a situation which is a far cry from the days of Mohammed Ali, or Mike Tyson when these champions bestrode the world like giants, and now to complicate matters further Rahman has now joined the long list of title holders.
Still, you could not really fault the WBC for sanctioning this bout as reigning champion Vitali Klitchko has been out of commission for a variety of reasons since December 2004, before then he had fought only once in April. Besides that, another big reason for low interest in this fight is basically because Vitali, since winning the WBC belt, he elected to fight England's Danny Williams, who many felt didn't deserve a shot at the WBC title. Danny Williams mainly was a name fighter based on his win over and age and injury depleted Mike Tyson months earlier. However, for some odd reason, Williams came into his fight with Vitali weighing a career high 270 lbs. (December 11, 2004) Needless to say, he was no match for Vitali, who knocked Williams around the ring like a rag doll before the referee mercifully put a stop to the brutal one-sided beating.
Rahman's victory over Monte Barrett has backed Vitali into the corner where he has no option but to fight Rahman within 120 days or risk losing his title due to it being stripped from him. This situation may finally force him to pick up the gauntlet thrown down by Rahman to prove his supremacy of the division in an action packed public media frenzy that will go a long way in determining that the last man standing will be crowned the peoples champion.
For Rahman, he won't have any easy task in front of him in attempting to beat Vitali. To start with, Vitali will have the height and size advantage over Rahman. Typically, Vitali likes to put his punches together and throw combinations, and at the same time, he has an excellent jab that he can use while on the outside. In Vitali's fight against Williams, he displayed a new uppercut that's he's recently learned, which he used over and over again to stun Williams whenever he tried to get inside on Vitali.
Unless he vastly improves over his last fight with Barrett, Rahman could find himself in way over his head, as Vitali's offensive skills are light years above anything Rahman has had to face since getting starched by Lennox Lewis in 2001.
Article posted on 17.08.2005
Related Articles: