Categories:
Pre-Fight Jabs
|
Comments Off

on Ruiz vs Golota Pre-Fight Analysis
By Michael Amakor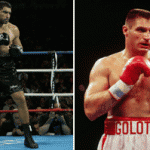 On Nov 2, Andrew "Foul Pole" Golota challenges John "Quiet Man" Ruiz for his WBA Heavyweight Champion on a star studded boxing card that features other championship bouts for supremacy in the heavyweight division.
Back on July 11 1996, Golota was a punch away from heavyweight glory when he brutally bludgeoned Ex heavyweight Champion and ring magazine number one favorite Riddick "Big Daddy" Bowe for several rounds before getting disqualified for hitting below the belt. Their rematch was no different and he was clearly winning the fight and on the verge of scoring another kayo against Bowe who absorbed a horrible beating but somehow managed to apply enough pressure to force Golota to crack and succumb to throwing repeated low blows earning him a second disqualification. Bowe retired after that beating and remained inactive for eight years, but by then Legend of the "Foul Pole" was born.
Riding on the wave of this episode he squared off against Lennox Lewis for the WBC title and was promptly kayoed in the very first round, 2 years later in his bid to capture the NABF title he knocked down Michael Grant twice but couldn't quite pull the victory punch in time before Grant rebounded forcing Golota to tell the referee he did not want to continue after rising from a knockdown in the 10th.
And who can forget his disastrous outing against Mike Tyson when he got so discompopulated from Tyson's barrage of punches he again told the referee he did not want too continue. He shoved his furious trainer out of the way and out of the arena under a blistering tirade of taunts and a liquid shower of drinks from enraged boxing fans.
It looked like he was finished and out of the game forever, but through an unusual rehabilitation by legendary promoter Don King he made a comeback right into challenging IBF Champ Chris Byrd for his crown. We all expected another explosion but this was a different and remarkably calm Golota, this time he pressured Byrd in a very competitive fight that many ringside experts thought should have earned him the crown. The judges saw it differently scoring the bout a draw and Byrd got to keep his title.
Now he squares off against WBA Heavyweight Champion , John "The Quietman" Ruiz who has a lot to be quiet about especially with losses to David Tua who knocked him out in the first round, and suffering the ultimate humiliation of losing his WBA title to blown up Light Heavyweight Roy Jones who jabbed away the title from around his waist in a spectacular display of superior boxing skills.
To Ruiz's credit after every disaster in the ring he has regrouped to surprise us with his dogged tenacity. A closer look at his resume shows victories over Nate Tubbs, Jimmy Thunder and Julius Francis, enroute to capturing the NABA, the NABF and WBA titles along the way. He has also defended his title in ugly highly unappreciated wrestling affairs over Kirk Johnson, Evander Holyfield, Hasim Rahman and Fres Oquendo.
You might not like his style but he is a rugged champion who always finds a way to win, wrestling and frustrating his opponents into submission. His fighting style in this bout could be a recipe for mayhem against the "The Foul Pole" who although a good fighter is not quite mentally balanced and short fused. An enraged Golota could take matters into his own hands and go berserk on Ruiz forcing another disqualification.
But based on his last fight Golota seems to realize that his time is up and if his war with Byrd is anything to go by, he may have tamed his demons enough to stay calm and sustain a high pressure attack on the Quietman who will retaliate using his arkward, crafty and cringy style to try and retain his crown.
May the best man win
Related Articles: