Categories:
Pre-Fight Jabs
|
Comments Off

on Rumble at Rosecroft: Sigmon vs. Benson on September 7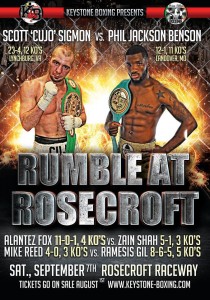 By Gary "Digital" Williams and Ross Molovinsky
Keystone Boxing's "Rumble at Rosecroft" professional boxing series returns to Fort Washington, MD on September 7th with a seven-fight card, headlined by a championship main event.
The vacant WBC United States super middleweight championship will be up for grabs as "The Real Deal" Phil Jackson Benson takes on Scott "Cujo" Sigmon in a 10-round main event. Benson (12-1, 11 KO's), of Landover, MD, is coming off his WBC FECARBOX title win over Maxell Taylor on May 11 in Millersville, MD. Sigmon (23-4, 12 KO's), of Lynchburg, VA, won a 10-round unanimous decision over Michael Rayner on April 6 in Lynchburg in his first bout since his loss to Kelly Pavlik in June of 2012.
The co-main event bout will match undefeated Forestville, MD junior middleweight Alantez "Slyaza" Fox against once-beaten Zain "Tiger" Shah of Centreville, VA in a six-round encounter. Fox (11-0-1, four KO's) won a six-round unanimous decision over Keith Collins on April 25 in Tulsa, OK. Shah (5-1, three KO's) returns to the ring for the first time since suffering his only loss — a first-round TKO to Harry Joe Yorgey on October 27 in Fairfax, VA.
There will also be a very interesting co-feature contest as undefeated rookie junior welterweight Mike "Yes, Indeed" Reed will face his most experienced foe to date when he battles Ramesis Gil of the Dominican Republic in a six-round bout. Reed (4-0, three KO's) is coming off an impressive third-round TKO over Roberto Lopez on the last Rosecroft show on July 13.
Gil (8-6-5, five KO's) has lost his last two contests to Karl Dargan and Jorge Mayonset, Jr. However, Gill will face an undefeated opponent for the 10th straight time. In that streak, Gil notched two wins over Carney Bowman and Luis Joel Gonzalez. Neither man has fought since suffering those losses.
Cheverly, MD light heavyweight Eric "Inferno" Govan will face veteran Jess "Thunder" Noriega of Lynchburg, VA. Govan (2-0) is coming off a four-round unanimous decision over Steven Tyner on June 22 in Frederick, MD. Noriega (1-5, one KO) lost a four-round unanimous decision to Monreco Goldston on August 3 in Millersville, MD.
Undefeated DC lightweight Joshua Davis returns to action in a four-round contest against Aaron Chavez of Vero Beach, FL. Davis (4-0, two KO's) won a four-round unanimous decision over Darus Somieari on the August 3 Millersville card. Chavez (3-3-1) was stopped by Neuky Santelises in the first round on May 15 in New York City in his last outing.
Also on the card will be rookie DC junior featherweight Marcus Bates who will take on John Portillo (0-1) of Lancaster, PA. Bates won his pro debut with a first-round TKO over Joshua Hinnant on June 8 in DC. Portillo lost his pro debut in June by unanimous decision against Antonio Dubose in Valley Forge, PA.
In an all-beltway matchup, DC junior welterweight Ty "Showtime" Wright will end a 4-year layoff against DC's Benjamin Olinga (0-2). Wright won his pro debut in June of 2009 in Salisbury with a unanimous decision over Hugh Hinds. Olinga has been off for two years following a devastating knockout at the hands of Kevin Womack in Upper Marlboro in November of 2011.
Tickets are available online at www.keystone-boxing.com (direct link http://goo.gl/spFOnz) and at the Keystone Insurance Agency in Marlow Heights, MD. Ringside tickets are $60.00 each. A limited amount of general admission tickets are still available at $40.00 each, but are not expected to be available at the door. For more information, contact Keystone Boxing at (301) 899-2430. All bouts are subject to change.
Related Articles: