Categories:
Pre-Fight Jabs
|
Comments Off

on Senchenko world title defense vs. Malignaggi On PPV in U.S. April 29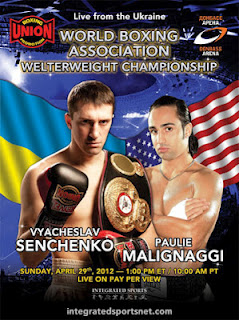 HOBOKEN, NJ (March 22, 2012) – Integrated Sports Media, the pound-for-pound king of sports distribution in North America, announced today that it will distribute the World Boxing Association ("WBA") Welterweight Championship fight between undefeated champion Vyacheslav Senchenko and No. 2-ranked challenger Pauli "Magic Man" Malignaggi, April 29 live from Donboss Arena in Donetsk, Ukraine.
Senchenko vs. Malignaggi," presented by Union Boxing Promotion, is being distributed in the United States by Integrated Sports Media for live viewing at 1:00 PM/ET – 10:00 AM/PT on both cable and satellite pay-per-view via iN Demand, DIRECTV, DISH Network and Avail-TVNfor a suggested retail price of only $29.95. Senchenko vs. Malignaggi will also be available via on-line PPV on Ustream.tv at http://www.ustream.tv/integratedsportsppv.
"We're pleased to be presenting this interesting match-up to American fight fans," Integrated Sports Media president Doug Jacobs said. "Senchenko is an unbeaten, highly- decorated boxer, as an amateur and pro, who most American fight fans have never had the opportunity to watch until now. Malignaggi is a charismatic, former world champion who has that Brooklyn swagger. It's a very interesting clash of styles and personalities. A solid undercard will soon be announced."
"I am very happy that Ukrainian boxing has now made it well beyond Europe," promoter Yuri Ruban noted. "Now, with the help of Integrated Sports Media, boxing fans will be able to watch this high-quality fight in the United States. I would like to thank Integrated Sports Media for organizing a live feed of this fight for the WBA World title between Vyacheslav Senchenko (Ukraine, "Union Boxing Promotions") and Paul Malignaggi (USA, "Golden Boy Promotions"), which will take place on April 29 at Donbass Arena."
Senchenko, a 2000 Ukraine Olympian, is rated No. 5 by The Ring Magazine. He captured the WBA 147-pound title in 2009, winning a 12-round decision against previously undefeated Yuriy Nuzhnenko. Vyacheslav has successfully defended his world title belt three times against Motoki Sasaki (DEC12), Charlie Jose Navarro (DEC12) and Marco Antonio Avendano (TKO6) last August in his last action.
Malignaggi (30-4, 6 KOs) won the International Boxing Federation ("IBF") light welterweight title in 2007, when he took a 12-round decision from defending champ Lovemore Ndou. Pauli defended that belt twice versus Herman Ngoudjo (DEC12) and Ndou (DEC12) in a rematch, before losing to Ricky Hatton (TKO11). Since moving up to welterweight, after losing a WBA title fight to Amir Khan (TKO11), Malignaggi is unbeaten with victories against Michael Lozada (TKO6), Jose Miguel Cotto (DEC10) and Orlando Lora (DEC10).
Related Articles: