Categories:
Pre-Fight Jabs
|
Comments Off

on United Boxers Stacks Card at Dubai Nightclub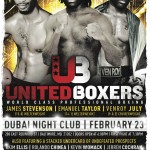 ON THURSDAY, FEBRUARY 23RD PLANS FOR BIG SPRING IN BALTIMORE
BALTIMORE, MD (January 25, 2012) United Boxers returns on Thursday, February 23rd with DUBAI FIGHTS 1, a stellar professional boxing card featuring some of the finest prospects in the country at Baltimore's Dubai Nightclub.
Advance tickets, priced at $35, $40, $50 and $100 for VIP Ringside can be purchased at EventBrite (www.eventbrite.com). The Dubai Nightclub is located at 200 East Redwood, in the Inner Harbor area of Baltimore, Maryland. Doors will open at 6:30 P.M. with the action commencing at 7:30 P.M.
Among the sensational prospects appearing in separate six round bouts will be Baltimore based welterweight James "Keep Em Sleepin" Stevenson, 15-0 (10KO's), junior middleweight Cecil McCalla,
13-0 (5KO's) of Randallstown, MD, Edgewood Arsenal junior welterweight Emmanuel "The Tranzformer" Taylor, 14-1 (10KO's) and cruiserweight Venroy July, 9-0-2 (3KO's) of Suitland, MD.
Featured in separate four round bouts will be newcomers, featherweight Jerren Cochran, 4-0 (3KO's), who is originally from Houston now fighting out of Alexandria, VA, also originally from Massachusetts, now fighting out of Baltimore, middleweight Akeem Ellis, 2-0 (2KO), lightweight Rolando Chinea, 2-0 (2KO's) of Lancaster, PA and exciting Baltimore junior welterweight Kevin Womack Jr.,
2-1 (1KO).
"These are all excellent prospects, among the eight of them there is only one loss. They're a terrific group, some of who have recently moved here which will allow fans the opportunity to watch world class fighters train and fight here on a regular basis." said Chris Middendorf, President of United Boxers.
"Watching fights at the Dubai Nightclub will be as good as it gets. It's a small room with a balcony overhanging the ring; no seats are more than fifty feet from the ring. It will be a memorable experience to be on top of the action and see this group of fighters."
"Our next show will be at The DuBurns Arena on March 24th and then we will be back at the Dubai Nightclub in April. This will allow fans a unique opportunity to see the progress of these prospects and newcomers on a continuous basis."
United Boxers was founded in 2010 by Chris Middendorf. The goal of the company is to develop world-class professional fighters and promote them to the championship level. For further information or to be added to their mailing list, go to their website, UnitedBoxers.com.
Related Articles: