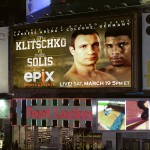 EPIX TO PRESENT THE BROADWAY DEBUT OF THE HEAVYWEIGHT CHAMPIONSHIP OF THE WORLD  EPIX to Simulcast Klitschko vs. Solis Live on Times Square Jumbotron
This Saturday!  March 19 at 6 P.M. ET  at
http://verizon.epixhd.com/klitschko-vs-solis/
NEW YORK (March 16, 2011) – Not since Jack Dempsey's Broadway Restaurant closed in 1974 has a heavyweight champion graced The Great White Way — until this week.  EPIX will present the closed captioned simulcast of the Vitali Klitschko vs. Odlanier Solis WBC heavyweight championship on a jumbotron screen in Times Square (Broadway at 44th St.), This Saturday!  March 19, beginning at 6 p.m. ET. 
            EPIX, the multiplatform premium entertainment service, will exclusively televise Klitschko vs. Solis live in the U.S., beginning at 5 p.m. ET, with select undercard bouts, followed by the main event World Heavyweight Championship at 6 p.m. ET.  EpixHD.com will stream the fights live, beginning at 5 p.m. ET,  as part of a free two-week trial offer.
             "EPIX believes The Heavyweight Championship of the World is very big and very important to the sport of boxing and its fans," said Mark Greenberg, president and CEO of EPIX.  "That is why we are broadcasting it live, streaming it live, and for free, and putting it on the big screen in Times Square."             
            Klitschko (41-2, 38 KOs), of Ukraine, a three-time heavyweight champion, will be
making his sixth title defense of his current reign against 2004 Cuban Olympic gold medalist Solis (17-0, 12 KOs), who is the number one contender and mandatory challenger.  The fight will take place in Colgne, Germany.
**************
Vitali Klitschko vs. Odlanier Solis
WBC World Heavyweight Championship on March 19
WBC Champion Vitali Klitschko will defend his title against Cuban Odlanier Solis at LANXESS Arena Cologne, Germany, on March 19. Solis is ranked #1 in the WBC and Klitschko's official mandatory challenger.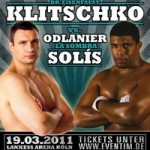 Odlanier "La Sombra" Solis is 30 years old and lives in Florida. He has an impressive amateur fight record of 241 fights and 227 wins. Solis is a three times world amateur champion as well as Olympic gold medalist in Athens 2004. Solis scored a 10th-round disqualification victory against Ray Austin in the title elimination bout in Miami on December 17 to become Klitschko's mandatory challenger. As a professional, Solis is unbeaten and owns 17 wins with 12 KOs.
39 year-old Vitali Klitschko stands at 41 wins (38 KOs) and just two defeats due to injuries. Klitschko's knock out percentage is a record- high 92 percent. Vitali Klitschko is the fourth boxer alongside Muhammad Ali, Evander Holyfield and Lennox Lewis to win a heavyweight belt for the third time. In his last fight, Klitschko defeated former Champion Shannon Briggs in a unanimous decision in Hamburg in October. In Cologne, it will be Klitschko's 14th World Championship fight.
Vitali Klitschko: "I have heard and read different quotes from Solis saying that I tried to avoid him. This is nonsense. There's a reason why I'm WBC Champion and I am proud of holding the same title that Muhammad Ali, Mike Tyson and Lennox Lewis held. I will show inside the ring that I am the strongest heavyweight champion and I am 100 percent sure I will successfully defend my title. But I know Solis is a very tough opponent and I will not underestimate him."
Odlanier Solis: "The Klitschkos seem to think that I am just another opponent like the last tomato cans they cherry-picked so Vitali could easily beat them up. But I am not only the mandatory challenger. I have been the best amateur fighter in the world and I will prove that I am the best professional fighter as well. Klitschko should be afraid to lose his title. I will end his career."
Bernd Bönte, Managing Director of Klitschko Management Group (KMG): "We are glad we have a signed contract and a go for March 19 in Cologne. Solis is definitely one of Vitali's toughest opponents. I think it's a very interesting fight for the audience."
In Germany, Klitschko vs. Solis will be shown live and exclusively on RTL. Ticket sales start on January 26 and will be available on www.eventim.de<http://www.eventim.de>. Prices start at 25 euro.
Related Articles: