Categories:
Pre-Fight Jabs
|
Comments Off

on WBA Cruiserweight Title Eliminator
By Michael Amakor
On Saturday at the Gund Arena in Cleveland, Ohio, former WBC Cruiserweight Champion Wayne "Big Truck" Braithwaite (21-1, 17 KO's) battles dangerous slugger and former WBA Fedelatin and WBC Latino Cruiserweight Champion Guillermo Jones (21-3-2, 25 KO's) for the right to challenge Jean Marc Mormeck for the WBA title.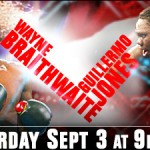 Wayne Braithwaite is the vastly more experienced fighter, who made three defenses of his old title which he seized in tough pre-fight circumstances from defending champion Vincent Cantatore's lion den in Italy. Apart from being a former NABF titlist, he is also an angry and brutal power puncher who breaks his knuckles looking for the knock out, if you watched his latest fights against Louis Azille, Ravea Springs and Jean Marc Mormeck you will truly appreciate his ferocity. He even came to the attention of James Toney and sharp words were exchanged, but that fight, much to my disappointment, never materialized.
In his only defeat to date, Big Truck lost a unanimous twelve round decision to Mormeck, in an exciting unification bout, and although Wayne lost that fight, some boxing analysts believed he simply employed the wrong tactics in the fight, but he showed true fire as he rose up from a flash knock down and fought back even more valiantly. In one of the highlights of the fight in the eight round, the referee blocked Wayne's view and docked him a point for holding, when the referee backed away he left Big Truck off guard and exposed as Mormeck leapt in from around him, but unlike the previous episode in the seventh round, this time Braitwaite was focused and spun out of the trap to unleash a staccato flurry of 26 unanswered punches that had me and the fans in the crowd jumping for joy, to this day I am amazed that Mormeck managed to absorb that tremendous barrage and counter back with straight rights that put Big Truck in reverse en-route to losing the fight.
I don't know much about Guillermo Jones, but anybody that knocked out former IBF champion and Tyson look alike "Koncrete" Kelvin Davis in stunning fashion in the fourth round deserves a second look over. Another curious piece of information about him is that he rose all the way from the Light Middleweight Division where he twice battled Laurent Boudounani unsuccessfully for the WBA title before climbing up to the 200 pound limit cruiserweight division. Many unheralded fighters have made such dramatic upward moves into vastly heavier divisions with little success, the only one I can remember at press time who struck gold is current IBF Heavyweight champion Chris Byrd who made a similar jump from the Middleweight division straight into heavyweight division
Jones' record, his current momentum, confidence and knowledge about the significance of this fight to his career may signal the early warning signs of an upset in the making, and he has vowed that "I will blow his tires" referring to Wayne Braithwaithe. But alas his pre-fight bravado may end when Big Truck hits him with one of his heavy handed bombs, that will not allow Jones collect his scattered wits in time to avoid being knocked out flat on his back, with a new awareness to perhaps scale back down to any of the lower weight divisions.
Enough said, May the best man win
Related Articles: