Categories:
Predictions
|
Comments Off

on HOW THEY PICK 'EM: MOST EXPERTS THINK MIJARES IS CLEAR FAVORITE
HOW THEY PICK 'EM: MOST EXPERTS THINK MIJARES IS CLEAR FAVORITE TO DEFEAT DARCHINYAN AND UNIFY TITLE SHOWTIME CHAMPIONSHIP BOXING
Saturday, Nov. 1, 2008, at 9 p.m. ET/PT On SHOWTIME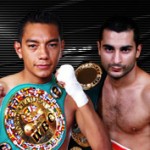 LOS ANGELES, Calif. (Oct. 28, 2008) – Both WBA and WBC super flyweight champion Cristian Mijares and IBF 115-pound kingpin Vic Darchinyan will look to add to their belt collection when they square off in a highly anticipated world title unification fight in the main event this Saturday, Nov. 1, live on SHOWTIME CHAMPIONSHIP BOXING at 9 p.m. ET/PT (delayed on the West Coast).
So who is going to triumph? The experts think Mijares is too skilled a boxer to let the power-punching Darchinyan beat him. Of the 32 boxing media members who participated in a SHOWTIME Prediction Poll, 26 picked Mijares and six liked Darchinyan.
Here's how they see the Mijares-Darchinyan world title unification fight:
Michael Amakor, FightKings.com (Mijares): "I will pick the southpaw boxer every day over a banger like Darchinyan. Mijares is younger and appears calmer too. Mijares will win."
Robert Morales, Los Angeles Daily News/Long Beach Press Telegram (Mijares): "Mijares is a more technically sound fighter. He is going to frustrate the wild-swinging Darchinyan. Mijares will wind up hurting him late with counter shots. Not sure he will stop Darchinyan, but he might."
Kevin Iole, Yahoosports.com (Mijares): "Mijares is a brilliant boxer. Darchinyan throws wide punches and Mijares will have no problem seeing them and getting out of the way of them. It should be a boxing clinic by one of the game's best-kept secrets. Mijares wins by decision in 12 rounds."
J. Michael Falgoust , USA Today (Mijares): "Mijares is a terrific boxer, but Darchinyan's boxing skills leave much to be desired. Darchinyan has a puncher's chance, of course, because Mijares sometimes nullifies his height. He is often found bending over at the waist which obviously gives up his height advantage, and other times he stands too tall and in range of an opponent. That said, Darchinyan is not without a chance, but Mijares wins a decision."
Steve Kim, MaxBoxing.com, (Mijares): "Not only do I think that Mijares is a master boxer, he's also the natural 115-pounder. Mijares will outpoint the puncher (Darchinyan)."
Tim Smith, New York Daily News (Mijares): "Darchinyan is a good fighter but the thing I don't like about him is the thing that makes him good: his fool-hardy aggressiveness. Mijares will take advantage and win by seventh-round TKO."
Dan Rafael, ESPN.com (Mijares): "This could be a lot like Mijares' fight against another hard-puncher, Jorge Arce. Darchinyan is an exciting, aggressive guy but Mijares is more skillful, faster and knows how to avoid punches. Simply, he is a much better overall fighter. Mijares wins a lopsided decision in what probably will still be an exciting fight to watch."
Steve Farhood, SHOWTIME (Mijares): "Mijares wins all 12 rounds. It's about time American fans came to realize just how good this guy is."
Chris Cozzone, Fightnews.com (Mijares): "Darchinyan has already shown flaws against a superior boxer. I believe Mijares has the chin to check anything Darchinyan throws at him. Mijares by decision."
Michael David Smith, AOL (Mijares): "Darchinyan has good punching power for a man his size. I wouldn't be surprised if he sends Mijares to the canvas. But Mijares is the best boxer under 120 pounds in the world and he will wear Darchinyan down over 12 rounds and win a decision."
Paul Upham, SecondsOut.com (Darchinyan): "Mijares should be the favorite going in, but Darchinyan's aggressive nature and punching power have been irresistible on all occasions which is one of the reasons why SHOWTIME has taken such a liking to the Raging Bull from Armenia . Mijares' skills and toughness should give Darchinyan some problems, but if Vic detonates one of his power shots, the Mexican will need to be strong to resist the KO. Darchinyan wins a close points decision."
Ramon Aranda, 411mania.com (Mijares): "This one could go either way especially with Darchinyan's awkward style and punishing bombs. Vic could very well stun Mijares early in the fight but with Mijares' increasingly proficient boxing skills, he'll weather Darchinyan's storm and outbox him for the remainder of the bout. Mijares will win by a comfortable margin."
Darius Ortiz, ESPN.com (Darchinyan): "If Cristian Mijares thinks he'll handle Vic Darchinyan the same way he did Jorge Arce, he has a whole other thing coming. Darchinyan throws punches from angles and positions that no Mijares sparring partner can possibly replicate. I say the Armenian pit bull sinks his teeth into Mijares by the middle rounds and takes him down in the ninth."
Jake Donovan, Boxingscene.com (Mijares): "Not to take anything away from Darchinyan, who still remains one of the best fighters in the lower weight classes, but Mijares is in another league and enjoying a Fighter of the Year campaign. He should prove to be far too resourceful for Vic. This will be a more competitive version of Mijares-Arce, but still a clear-cut win for Mijares. Mijares by unanimous decision."
Michael Swann, 15 Rounds.com (Mijares): "Cristian Mijares is a talented stylist who is in his prime at 27. Vic Darchinyan is all offense and can end it with one punch but, at age 32, will he be able to avoid the shots before he delivers? Mijares scores a unanimous decision."
Phil Woolever, TheSweetScience.com (Darchinyan): "While it's no stretch of the imagination to foresee Mijares pitching a southpaw shutout, I think that being derailed and defeated strengthened Darchinyan's resolve to the point he'll be able to work his way in effectively enough to win."
Scott Swerbinsky, TheClevelandFan.com (Mijares): "This is potentially the fight of the year.
Speed and counter punching will be the difference. Mijares by a close, hard-fought decision."
Daxx Kahn, Saddoboxing.com ((Mijares): "In his bout with Nonito Donaire, Darchinyan was exposed on his ability to deal with a clever boxer that has solid whiskers. While Mijares is not a big puncher, he has a solid chin and counters well. Look for Mijares to fight smart and land counter punches, using Darchinyan's jerky style to his advantage. Mijares wins a unanimous decision."
Rob Scott, Doghouseboxing.com (Darchinyan): "Mijares has the boxing ability much like (Nonito) Donaire, but he also has to have his mental stability as well. He will be hit harder than he probably ever has. Once hit, Mijares must not fold, but stay with the game plan of chipping away at Darchinyan's armor. It's Mijares' fight to win or lose because a good boxer can beat a good puncher. Mijares will step up his game, but it's Darchinyan's great punching power that will prevail. Darchinyan wins by decision – or possible late stoppage."
Neil Fletcher, British-Weekly.com (Mijares): "Mijares is a good boxer with excellent movement. Darchinyan is a power punching southpaw who must chase his opponent down and land his left to be effective. Too close to call with any certainty, but the call is Mijares by decision."
Lyle Fitzsimmons, Sportsnetwork.com (Mijares): "Darchinyan is clearly the puncher and is more likely to record a highlight-reel victory, but absent of that, I can see Mijares simply confusing and out-skilling him. If he avoids the fireworks early, look for him to spread the margin in the homestretch. Mijares records a decision."
Jason Jackson, Boxingconfidential.com (Mijares): "Mijares will use his superior defensive skills to neutralize Darchinyan's powerful left hand and take a unanimous decision.
Elisa Harrison, Braggingrightscorner.com (Mijares): It's hard to pick a winner because both men are talented and each has a specific forté. So, do you pick the boxer or the puncher? SHOWTIME is showing what the fights fans want to see and this one should not disappoint. Mijares wins a hard-fought decision.''
Ernest Gabion, BoxingScene.com (Mijares): "Vic has something to prove, but instead of it being an asset it will be a hindrance as he will try and press a supreme boxer. Mijares will take Vic's aggression and nullify most of it with countering. Mijares wins by unanimous decision."
Hesiquio Balderas, El Tuxtepecano (Mijares): "Mijares is going to win because he is a smart boxer who creates angles and openings and can put his combinations together. He is a very smart, technical fighter and also his timing is perfect as he showed against hard punchers such as Alex Muñoz and Jorge Arce. Mijares registers a 12-round decision."
Dan Hernandez, RingSideReport.com (Darchinyan): "With the heavyweights in such a dismal state, it's good to see the lower divisions doing their best to be the standard bearers for boxing. Darchinyan's power, determination and skill level will prevail. A knockout victory would not be a surprise."
Phil Santos, Overhandright.com (Mijares): "Vic has the punching power but he does not possess the technical skills to outbox Mijares or penetrate his stellar defense. The match will unfold much like Mijares-Arce with Cristian controlling the action and decisively outclassing the ever-aggressive Darchinyan. Mijares unifies the belts by unanimous decision or late stoppage."
Rusty Rubin, Ringsports.com (Darchinyan): "Darchinyan has been through the wars and will have to work hard to win this tough battle with Mijares. It's tough action fight and probably will have some blood flowing. I'll take Darchinyan by a late stoppage."
Ace Freeman, FightFan.com (Mijares): "This is a classic boxer vs. puncher matchup between two exciting fighters. Mijares is somewhat of a hidden gem when it comes to pound-for-pound discussions, but he will soundly outbox Vic and catch him with some big counter punches en route to a late stoppage."
Carlos Rivera, Cox3 News (Mijares): "Styles and personalities aside, Mijares will retain his WBC/WBA belts (and capture the IBF) in a decision."
Diane Bennett, DiamondBoxing.com (Mijares): "It should be an exciting 12 rounds with Mijares bringing his tool box of skills, which include speed, defense and counter punching abilities to the ring to offset the Darchinyan power. Mijares will box his way to a decision victory and keep his six-year unbeaten streak in tack."
Henry Bedoy, Boxingstars.net (Mijares): "Mijares is simply too fast and crafty for the vulnerable Vic Darchinyan. Mijares by late TKO."
Related Articles: