Categories:
Predictions
|
Comments Off

on PREDICTIONS FROM ESTEEMED BOXING WRITERS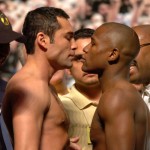 PREDICTIONS FROM ESTEEMED BOXING WRITERS
Michael Amakor – Fightkings – My heart tells me Oscar cause he is bigger, stronger and has faced better opposition , my mind tells me Mayweather cause of his speed, defense and activity while Oscar has been semi-retired. There are so many intangibles that I am torn in predicting a winner. I will opt instead for a draw that will open up our wallets for a rubber match.
Jane Amakor – FightKings.Com – Oscar will Win
Brian Bizzack, Amatoboxing – "I like Oscar by close (and perhaps controversial and split!) decision. I don't think the fight will be a 'barn-burner', but a strategically compelling bout that will maintain our interest throughout."
Robert Mccinnis, FightKings.com – After considering it all and being a true and loyal Oscar Delahoya fan, and although the odds are against him I am going with Oscar by split decision.
Robert Mccinnis (5/4/07) FightKings.com – Oscar Dela Hoya by TKO in the 5th, you heard it here first.
Ted "The Bull" Sares- Eastsideboxing.com – If Floyd punishes and frustrates De la Hoya with quick in-and-out movement, he will prevail. Styles make fights, and the styles here suggest a less than exciting bout. PBF's overall skill-set and career momentum will result in a UD victory.
Phillip, Amatoboxing – Money on Floyd, Heart with Oscar. Floyd will be on his bike until he feels Oscar slow down then he'll look to sit down on his punches. Oscar legs are old and he will feel Floyds percise body attack. It won't be a left hook that gets Floyd, it will be a sneak lead straight right hand if he times it. I think it will be to hard to find that chicken running around the ring ala RJ Jr. Don't be surprised if its a boring fight. I've been saying it since it was announced.
Olabisi Olaniyan, Fightkings – Mayweather will win
Jim Slater, AFP – Mayweather by Split Decision – "It's this close in the final rounds but Mayweather finishes well to take it."
Greg Beacham, Associated Press – Mayweather in 6 – "Too fast, too smart, too unhittable. It's his moment in time and his best chance to transcend the sport. Pretty Boy won't blow it. He might even do something spectacular."
Tim Dahlberg, Associated Press – Mayweather by Decision
" Oscar has a puncher's chance with his left hook and there are questions about the durability of Mayweather's often injured right hand. But Mayweather is quicker and a great defensive fighter, and he figures to frustrate De La Hoya. That could make for a boring fight, but one that Mayweather will win."
T.K. Stewart, Bangor Daily News – Mayweather by Decision
" I like Mayweather by decision. Although Oscar won impressively against Mayorga, he was caught clean several times and he looked heavy on his feet to me. A De La Hoya victory would be the best thing for boxing in my opinion, but I just don't see it transpiring."
Mike Hirsley, Chicago Tribune – Mayweather by Decision
"Each man has his strengths, but I see Mayweather's edge in speed as the determining factor, especially in the later rounds."
Mario Concha, El Diario – De La Hoya TKO in 10
David Cummings, ESPN the Magazine – Mayweather by unanimous decision
" I think Floyd is a superior boxer and he has been waiting for a big fight like this his entire career. For Oscar I feel that this is more of a business decision than a fight decision."
Dan Rafael, ESPN.com – Mayweather Decision
Bert Sugar, Expert Boxing Historian – Mayweather Decision
" However, I've got it so close that I can see Oscar winning. I think that Oscar can hurt Floyd but Floyd can't hurt Oscar."
David Mayo, Grand Rapids Press – Mayweather
"De La Hoya is a live underdog, but athleticism and activity are hard to beat. Mayweather has risen to the occasion from the time he was 16 years old, went to the 1993 National Golden Gloves without an open amateur bout, and won it. I'll take the boxer-businessman over the businessman-boxer."
Keith Idec, Herald News – Mayweather unanimous decision
"Floyd is too fast, too smart, too technically sound and is more motivated than ever now that he has the opportunity he always wanted."
Rafael Ramos, La Opinion – Oscar in 9
"If Oscar does not win by the 9th round, Floyd will win."
Robert Morales, Los Angeles Daily News – De La Hoya by Decision
"Because of all of Mayweather's trash talk, De La Hoya is in that special frame of mind where he just does not lose. Some fighters don't perform well with this kind of psyche, but De La Hoya is at his best under these circumstances. All he has to do is land that left hook on the chin once and it will change the complexion of the fight. As good as Mayweather is defensively, De La Hoya has enough patience to ride out the storm until he has the perfect moment to strike. It wouldn't shock me to see De La Hoya stop Mayweather late."
Bill Dwyre , Los Angeles Times – Mayweather, 10th Round
"I think De La Hoya's best chance is to land something early. The biggest unknown is Freddie Roach, and what different approaches he has taken while preparing Oscar."
Lance Pugmire, Los Angeles Times – De La Hoya by Decision
Steve Springer, Los Angeles Times – De La Hoya in 11 by TKO
"De La Hoya 11 Round TKO because Oscar is confident that Floyd doesn't have the power to hurt him. He will cut him down the ring, and wear him down with body shots. "
Tim Smith, New York Daily News – Mayweather 12 round decision
"Mayweather is faster and I think his speed is the major difference between him and De La Hoya. It is also the determining factor in the match. That makes Mayweather harder to hit. I don't think Mayweather has the power to stop De La Hoya, but he has the boxing ability to win a decision. Mayweather 12 round decision."
George Willis, New York Post – Mayweather by Decision
" Younger, faster, hungrier."
Richard Sandomir, New York Times – De La Hoya by Decision
Marcus Henry , Newsday – Mayweather by Split Decision
"Floyd Mayweather will win a split decision. While Oscar De La Hoya proved is mettle against Mayorga, Mayweather's quickness and defense will probably be too much for him to overcome. De La Hoya will make him work for it."
Sergio Abarca, Notimex – De La Hoya by KO
"I have covered 17 fights of De La Hoya, and I know him well. I think he has the skills and punch to knockout Mayweather. De La Hoya is stronger than Floyd."
Carlos Gonzalez, Primera Hora – Mayweather by Decision
"The way I see it, De La Hoya is going to look good in the first couple of rounds because of the adrenaline and he is going to feed off of the energy of the fans. We have to see if his condition will hold up for the 12 rounds. Mayweather will win by close decision."
Mike Indri, Retired Boxers Foundation – Mayweather by TKO
"In what will be the biggest, and most profitable, non-heavyweight fight of all-time Floyd Mayweather will prove just how "Flamboyant", and how truly GREAT he really is!The speed will be the difference, and while De La Hoya will come up short in this one, he won't be a loser – with all the money he will be making from this historic bout. "Flamboyant" Floyd Mayweather defeats Oscar De La Hoya via late round TKO."
John Whistler, San Antonio Express News – Mayweather by Decision
"If he doesn't fade in the latter rounds, De La Hoya could make it interesting. But Mayweather's speed will win out, by close decision."
Richard Hoffer, Sports Illustrated – Mayweather by Decision
"Mayweather is too fast."
Brian Doogan, Sunday Times – De La Hoya
Norm Frauenheim, The Arizona Republic – De La Hoya in 9 by TKO
"Oscar De La Hoya wins a ninth-round stoppage. Floyd Mayweather will go into the late round with a big lead on the judges' scorecards. In an attempt to score an in impressive victory, he'll try go for the knocout. That's when a bigger De la Hoya will hurt him enough to win by TKO."
Franklin McNeil, The Star Ledger – Mayweather by unanimous decision
"De La Hoya is the bigger, stronger guy who has a tremendous left hook — but he does not have one-punch knockout power. His most difficult fights were against a quick-handed opponent (Shane Mosley) and an elusive one (Pernell Whitaker). Mayweather possesses Mosley's hand speed, Whitaker's elusiveness and unmatched stamina. Plus Mayweather can match, maybe even surpass, De La Hoya's ring intelligence. This will prove too much for De La Hoya to overcome. Mayweather wins by unanimous decision."
Rafael Hernandez Brito, Univision Radio – De La Hoya by Decision
"De La Hoya's size will be a big factor."
Chuck Johnson , USA Today – Mayweather by Decision
"Oscar has been the pound-for-pound best. Floyd is the pound-for-pound best now. In a great fight, the Pretty Boy beats the Golden Boy by decision to stay unbeaten."
Thom Loverro, Washington Times – Mayweather by Decision
" It is hard not to pick the younger, faster fighter, so I have to go with Floyd Mayweather. He is as talented a fighter that has come along, well, since a young Oscar De La Hoya, and has a good sense of ring presence. I don't think he will get drawn into a slugfest. If Oscar can win, it will have to be by imposing his size and strength, since Floyd is moving up. I pick Mayweather by a decision."
PREDICTIONS FROM BOXING CHAMPIONS
"De La Hoya has the stronger punch. Mayweather is not used to facing bigger men. [ Carlos] Baldomir didn't have the talent of De La Hoya and Mayweather couldn't finish him. If De La Hoya cuts him early, Mayweather is going to be limited. De La Hoya by decision." Roberto Duran, Former World Champion
"As far as my prediction, I lean toward Oscar. I've changed my mind a couple of times. But Oscar has a little bit more desire, strength, size. Oscar has never one that big one, the most defining moment in his career. I think that this allows him to rise to the occasion. But if Mayweather wins then he can be called great, because right now it's premature, but if he beats Oscar that label fits him fine." Sugar Ray Leonard, Former World Champion
"I'm looking forward to seeing De La Hoya and Mayweather on May 5th. I think is going to be a great fight and it's a fight that's good for boxing, but I think Floyd's speed and youth will work well for him in this fight. I think the fight will go 12 rounds with Floyd winning a close decision over De La Hoya." Jermain Taylor, Middleweight Champion
"…On paper you would have to say that Oscar comes into this fight having all of the intangible advantages experience, power, quality of opposition, and I believe maybe just a bit more focused for the job at hand. In order to counter those advantages you're gonna need someone with natural God given talent and ability. That is when a fighter as gifted as Floyd Mayweather has a great chance of over coming all the advantages with raw speed and the will to win at all cost. I like his chances, so your guess is as good as mine." Antonio Tarver, Former Light Heavyweight Champion
"I think De La Hoya's naturally bigger size is going to make a difference. I think Oscar will dominate Floyd with his left jab that will carry him to a decision victory." Juan Diaz, WBA, Lighweight Champion
"De La Hoya vs. Mayweather will be a great fight, it will go the distance, and I think Oscar has a slight edge, but I do not know who will win." Vernon Forrest, Former Welterweight Champion
De La Hoya vs Mayweather "The World Awaits" is for the WBC super welterweight championship, Saturday, May 5 at MGM Grand in Las Vegas, Nevada. Promoted by Golden Boy Promotions, the fight will be broadcast live on HBO Pay-Per-View at 9 p.m. ET/6 p.m. PT and will be available to more than 61 million pay-per-view homes and in 176 countries around the world.
The final episode of the four-part HBO series "De La Hoya/Mayweather 24/7" premieres Thursday, May 3 at 9:30 p.m. ET/PT. All four episodes will air on Friday, May 4 at 8:00 p.m. ET/PT and Saturday, May 5, starting at 10:00 a.m
Related Articles: