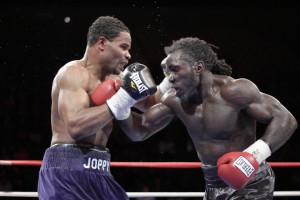 By Michael Amakor | March 5, 2011 | Photo By Mike Greenhill
Former two time WBA Middleweight champion William Joppy (39-6-2, 30 KOs) collides with Maryland State Super Middleweight champion Cory "Black Ice" Cummings (17-4-1, 13 KOs) in a grudge rematch on March 12.
Gone almost unnoticed because it was not featured on any of the premium TV cable networks, both Joppy and Cummings engaged in a brutish and savage display of guts and will in a fun and macho toe to toe free flowing and crowd pleasing action fight that had the fans whooping in delight on November 6th last year.
Before the fight, precious little was known about the unheralded Cory Cummings except that he had come up short against former world champions Montell Griffin and Keith Holmes, and Chris Henry for the NABF light heavyweight title all by decision respectively. As indicated by that record he came to fight and turned the well promoted and projected 40th win for the 40 year old William Joppy on yet another comeback into a nightmare. The underated Cory basically turned a supposedly easy fight for Joppy on paper into a highly attritive affair and stretched Joppy to the very limits of his conditioning through constant and relentless pressure that kept Joppy busy all night forcing him to pull out all the punches from his proverbial boxing bag of tricks to earn a majority draw after weathering a tough tenth round when Cory rained it on in his desperation to close out the fight by knockout.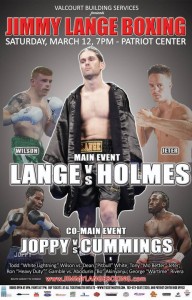 The fight was ruled a majority draw, but both combatants seemed ready to immediatly go another ten rounds to rectify that error and talks of a rematch began almost immediately post fight. However before that rematch could be made, Joppy got scheduled to fight on the under card of the unification title fight between Beibut Shumenov and Juergen Braehmer for the World Boxing Association (WBA) / International Boxing Association (IBA) and World Boxing Organisation (WBO) Light Heavyweight titles in far away Kazakstan. A golden opportunity emerged for Joppy when Braehmer abruptly pulled out of that unification fight and Joppy was shooed in as the substitute but lost by sixth round stoppage.
Boxing, a primal sport, is sometimes regional and based on street level domination, and so returning back to the DC beltway, Joppy a popular trainer at LA Boxing gyms perhaps angered at missing out on clinching the titles from Shumenov but determined to clinch another title shot may have decided to subdue any mutiny against his supremacy by dealing with the Black Ice Uptown boxing gym based insurgency once and for all.
I am ready to fight right now, "He (Joppy) didn't get a chance to slip on Black Ice cause he didn't get knocked out "Cummings would later say at various points when interviewed on FightKings Radio.
One thing is for sure, look forward to another brutish encounter in this rematch that will not be televised, but will be the co-main event to the ever popular Virginia based boxer Jimmy Lange who will be making the first defense of his North American Boxing Association's 154-pound title in the main event on the same night. If you are in the DC metro area pick up your Tickets through Ticketmaster and join the masses who will be trooping into the Patriot Center at George Mason University in Fairfax Virginia to watch this rivalry. DON'T MISS OUT!
Stay Tuned.
Listen to Cummings Interview on FightKings Radio
Related Articles: